Everyone has noticed the surge of new construction in Missoula recently, but what's surprising is it looks like that growth is only accelerating.
In the first nine months of 2016, the city's Development Services staff issued 1,220 building permits for projects worth a total market value of $214.5 million. That's a pace that's already shattered the previously unprecedented $184 million in construction projects permitted in all of 2015.
According to the city's Development Services office, single-family home construction permits are up 77 percent over where they were at this time last year, with 71 new permits issued from July to September compared to 40 in the same period in 2015. The only time when homes were springing up faster was for a short period back in 2006 before the recession. In September alone, the city issued building permits for 19 single-family homes, one duplex and 281 multifamily units, including the 164-unit Front Street Partners student housing project.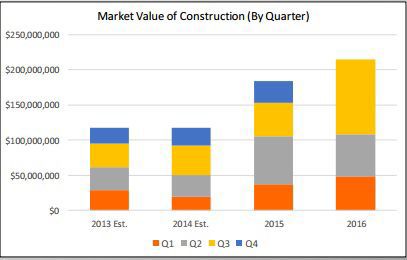 Because there are mountains to the south, north and east of Missoula, the western edge of the Garden City is the scene of much of the development. Nowhere is Missoula's housing boom more evident than at the Ranch Club in Missoula, a golf course and planned community on Mullan Road. It consists of higher-end homes where business partners Alex Duman and Jesse Fortune of DAFJ Enterprises bought 173 undeveloped lots last year.
"In the last 12 months, there were 105 bare lots sold on the MLS in Missoula, and a third of them have been sold out here," Fortune explained.
Walt Willey, president of Vanguard Gold Management, the company that owns and manages the clubhouse and course, said that those lots are rapidly turning into single-family homes.
"We've got quite a few of those big homes being built right now," he said. "We've got a spec home worth over $1 million under construction right over there. There's a lot of activity and a lot of homes going up."
Fortune said that planned communities experience more growth as they start to fill in and people recognize it as an actual neighborhood.
"The community here is finally getting some momentum," he said. "You see kids on bikes and people jogging. It's a little different when you're the first one out here and build a house when nobody else is around. It's finally a community with kids. I live out here. There's a three-acre park and you see people playing t-ball games and practicing football."
The Washington Corp. built the semi-private golf course and called it Phantom Hills in 2002. It was renamed when John and Colleen Powers took over in 2007. First Interstate Bank took over in 2012 before Vanguard finally bought it in 2015.
"I attribute the growth to stability," Willey said. "When a bank owns a property, it's kind of a negative thing. I think there's some stability out here finally and some future plans. They're not solidified yet, but we want to do some neat new things out here. On the golf course end, since January we've sold 43 memberships, which is a lot. We have 340 or 350 members out here now. We are member driven but we are open to the public for golf and the restaurant. I think the magic number is 400 and we'll go totally private then. Right now we want to keep people coming through the doors."
Of course, all that growth comes with challenges.
Missoula County struggles with affordability. The per capita income in Missoula in 2015 was $26,594, but the median home price was $245,000 in August of 2015 and climbed to a record $270,000 in the Missoula Urban Area in August of this year. According to the Missoula Organization of Realtors, it would take a household income of more than $80,000 to afford a median priced home here.
The county is also running out of space. According to Missoula County's Community and Planning Services Staff, almost 29,000 acres of farm and ranch land in the county have been converted to subdivisions or other non-agricultural uses since 1986.
Last year, the Missoula County Board of Commissioners voted down a recommendation from the planning staff to implement subdivision regulations aimed at mitigating losses of ag land. Instead, the county relies on voluntary conservation easements, one of which is in the works right next to the Ranch Club.
The growth boom has been good for other parts of the economy. Home inspectors in Missoula are completely booked right now.
Kevin Kivela of Spire Inspections said he has had to put customers on a seven- to 10-day waiting list.
"I saw a little lull after school started but the last couple of weeks it's been super busy again," he said. "I don't know what to (attribute) that to, whether it's lack of inventory, of housing or what it is."
Kivela said new construction is probably only about 5 percent of his business.
"A lot of people don't pay to have their home inspected if it's new construction, but it depends on what their comfort level is," he said. "Just because it's new doesn't mean there isn't human error. I had a client that didn't get a home inspection on a new home, but after three months of living there they noticed a foul odor coming from the crawl space. The plumbing for the shower had not been hooked up to the main drain system, so all that water went into the crawl space for three months. Sometimes things get missed, even in new homes."
Kivela estimated there are a dozen licensed home inspectors in Missoula, and all of them are busy.
"I don't know where all these people are coming from," he said. "The housing inventory is still low. All these homes are going under contract the day of listing and they all have multiple offers. It's been really busy."