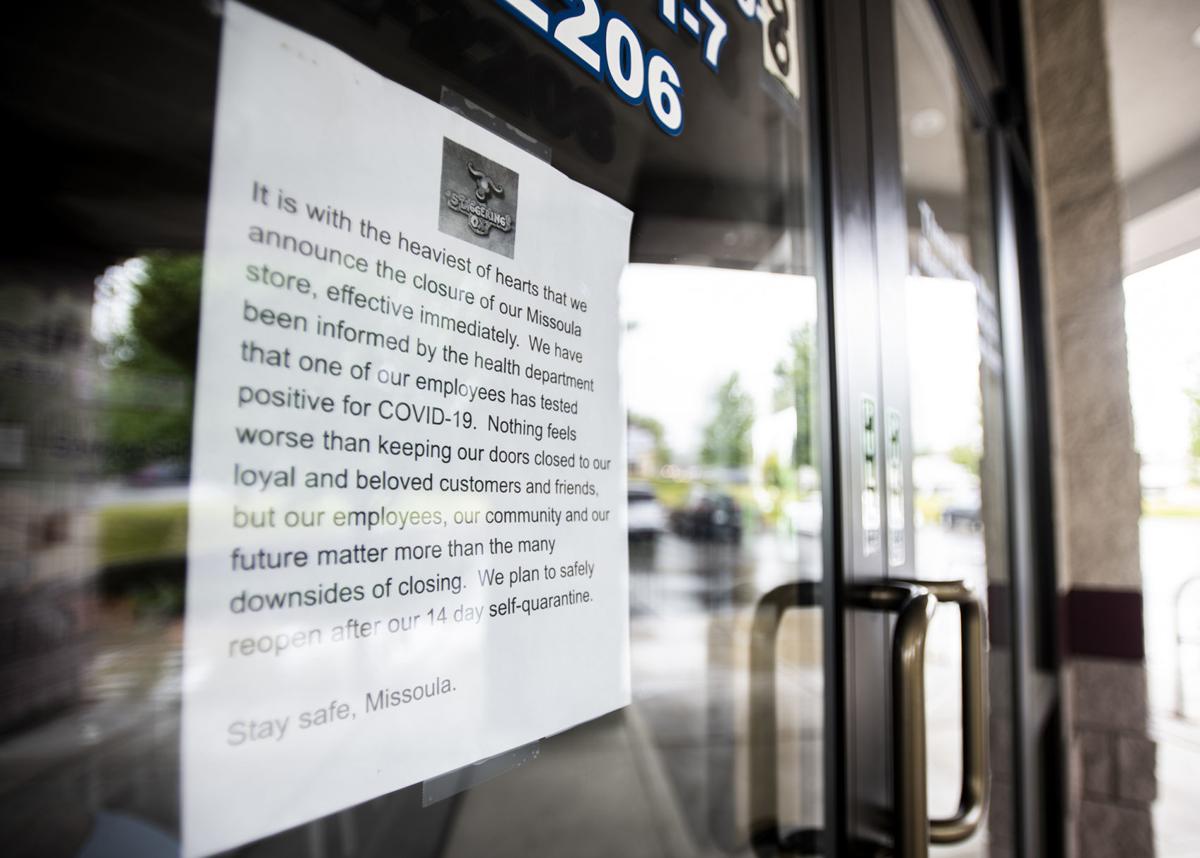 Missoula County on Monday had 45 active COVID-19 cases including 12 added over the weekend, according to public health officer Ellen Leahy, as the state recorded its highest one-day new case total, 56, since the pandemic began. 
Leahy said the Missoula City-County Health Department is monitoring 265 contacts to those cases, contacts who are now in quarantine.
"That is a lot of spread. It's very concerning and even those of us who expected this type of leap in spread, as we begin examining the cases and seeing how quickly it happens, it can be very alarming," she said.
That spread occurred a week to two weeks ago, Leahy said, and she expects more cases are spreading in the community "right now," which will be uncovered in a week or two.
"The spread has involved a lot of community spread, us not knowing exactly where a person got it in the community," she said. 
According to the local health department, Missoula has had 75 cumulative cases since the start of the pandemic, as of June 26. The state COVID-19 response website on Monday listed a lower count than local officials: 66 cumulative cases, 24 of which are active, according to the state website. That difference may be due to local health departments receiving testing results earlier than state health officials.
Some of Missoula's spread includes travel, Leahy said, although she emphasized that the cases found by the health department have been Montana residents who traveled out of state and returned.
A number of workplace-related cases have cropped up and developed into a spread within those workplaces, Leahy said. Some businesses and the City of Missoula Fire Department have made announcements about cases within their own employees, Leahy pointed out. Investigations by the health department have found, in some cases, spread is happening through inconsistent use of masks, especially when employees go on breaks, she said.
"This virus is extremely, extremely catchy. It doesn't take a break when you do," Leahy said. "One of the things to ask people to think about in their workplace, whether it's a public facing business, like a restaurant, or not, is when you get it in your workplace, the chances of infecting your co-workers or being infected by your co-workers is extremely high."
Leahy lauded businesses and organizations that have adjusted operations or canceled community events altogether, calling the decision to do so "the right decision." 
Montana saw its highest case count yet on Monday, with 56 new cases; the last highest daily case count was 35 new cases four days earlier. The state reported no new cases in Missoula in its Monday count, so the total count for Montana could be higher due to the cases reported by the Missoula health department. 
The Missoula PaddleHeads on Monday announced their July 3 Independence Day fireworks celebration will go on, albeit in limited fashion.
The event at the ballpark begins with a happy hour at 6 p.m. and an 8 p.m. showing of Shrek, followed by an "Independence Day Fireworks Extravaganza."
Social distancing guidelines will be in effect at the ballpark with five different options, including 10-foot-by-10-foot pods for up to four people, 20-foot-by-10-foot pods for up to eight people, bowl seating "via socially distanced algorithm," fire pit seating for four to six people, or dugout seating for up to 10 people. 
Missoula's Minor League baseball organization has posted its COVID-19 Readiness Plan on its website, which includes social distancing and crowd control measures, one-way concourse walkways, cleaning, disinfecting and sanitizing practices, staff training, PPE guidelines and symptom checks for all staff. Those in attendance are strongly advised to wear face coverings, diligently practice social distancing at all times and stay home if experiencing any COVID-19 symptoms, according to Monday's press release.
As the Paddleheads organization reaffirms Friday's event, others are shutting down, including the second Missoula restaurant to close its operations following a confirmed COVID-19 case among its staff. 
The Staggering Ox, a longtime Missoula sandwich staple, posted a notice on its front door that could be seen Monday. On June 26, Paradise Falls announced on Facebook it would also close temporarily after one of its own employees tested positive for the novel coronavirus. 
Staggering Ox said in its notice the restaurant would reopen after a 14-day quarantine. 
"It is with the heaviest of hearts that we announce the closure of our Missoula store, effectively immediately. We have been informed by the health department that one of our employees has tested positive for COVID-19," the sign reads. "Nothing feels worse than keeping our doors closed to our loyal and beloved customers and friends, but our employees, our community and our future matter more than the many downsides of closing.
"We plan to safely reopen after our 14-day self-quarantine." 
In a follow-up Facebook post, Staggering Ox said its employee worked June 20, 21 and 22 between the hours of 10 a.m. to 4 p.m.
Providence Montana, which operates hospitals in Missoula and Polson, announced on Monday it will return to prohibiting inpatient visitors beginning Wednesday in response to the increase in statewide positive COVID-19 cases, as well as evidence of community spread in Missoula and Lake counties. Community Medical Center on Monday also announced it was reverting to a no-visitor policy for inpatients beginning on Wednesday. Both health care providers said it would make exceptions for end-of-life care, maternity centers and cognitive issues or developmental delays.
Leahy on Monday asked for support in wearing masks at all times, including family gatherings like funerals, to help prevent further spread.
"We're getting very busy and we appreciate your cooperation, and we're going to need it, more than ever," Leahy said.
Concerned about COVID-19?
Sign up now to get the most recent coronavirus headlines and other important local and national news sent to your email inbox daily.