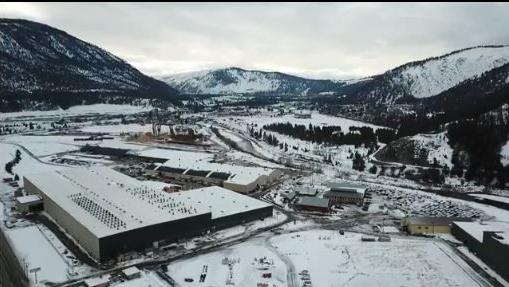 Despite threats of a lawsuit and accusations they were unfairly targeting a business without consultation, the Missoula County Board of Commissioners voted unanimously Thursday to adopt emergency interim zoning regulations on cryptocurrency mining for one year.
One of the major stipulations is that all new or expanded cryptocurrency companies must purchase or build new sources of renewable energy to offset 100 percent of their energy demands. The county says that is needed in order to meet a city-county resolution pledging to use 100 percent clean energy by 2030.
The county's staff say that a company located in the Bonner mill industrial zone called Hyperblock currently uses as much electricity as one-third of all homes in the county, and plans to triple its current usage.
Although that company uses renewable hydroelectric power for its massive bank of computer servers in the Bonner warehouse, county commissioners say that energy use displaces other potential buyers of renewable energy who must then purchase greenhouse gas-emitting coal-fired power.
"That water wouldn't just be spilling over the dam (if Hyperblock wasn't buying it)," Commissioner Dave Strohmaier said. "There are buyers for the power, so it's not as though this is renewable energy that is otherwise being wasted. Near as I can tell cryptocurrency is using exponentially more energy; it's a grotesque amount of energy and we've got to take steps to address it."
Strohmaier called climate change, which a broad coalition of scientists says is caused by fossil fuel emissions, "absolutely a planetary emergency and it is an emergency in Missoula County."
"We've got to utilize new renewables if we're going to address climate change," he said. "Short of that we're just rearranging deck chairs on a sinking ship."
But the Bonner mill's owners, their lawyers and the managers at Hyperblock say they weren't asked to discuss a solution and the new regulations might very well result in job losses. They said they might have to fight it in court.
"We are on the same side of the fence here when it comes to issues of the environment and the core issue is how do we get there," said Hyperblock manager Dan Stivers.
"Approximately two weeks ago we were informed by the county that this was emergency and we were informed that we were a greenhouse gas contributor, but there was no determination of where those greenhouse gas emissions are actually coming from."
Stivers said his company runs on 100 percent renewable energy, as it has from the day it started several years ago.
"We could have used (coal-fired) Colstrip energy just like the county does," he said. "It was cheaper."
He also said the company uses a licensed recycler to deal with its electronic waste.
"Yet we are being persecuted as if we don't care about the environment," he said. "Somehow none of that's enough. It is a viable business model and if we had not moved in as anchor tenants, there would be no Bonner mill as we see it today."
Steve Nelson, a co-owner of the Bonner mill site, said he's fine with committing to a clean energy goal by 2030, but wondered why Hyperblock is only being given two weeks.
You have free articles remaining.
"We've shown that as developers and Hyperblock we were willing to sit down and work on the noise issue with cooling fans," he said. "Why didn't we get together and have a conversation about it? And suddenly emergency zoning comes along and you ram it down our throat. I do take it personal.
"I think if you put Hyperblock out of business, I think you'll put us out of business. I'm not excited about it and 400 people working out there wouldn't be happy about it. I urge you to sit down with us so everyone is happy."
Commissioner Cola Rowley noted that the new regulations wouldn't affect Hyperblock's current operations; they would only be required to build or purchase new renewables if they expand.
"(Hyperblock) came here with the idea that they could grow and expand," Nelson responded. "They have a plan to grow to a certain level and if you don't let them grow they're not going to make it."
Jason Vaughan, the site manager for Hyperblock, said the company has 19 full-time employees and the jobs start at around $16 per hour.
"We are looking to expand, and you've known about that for a year," he told the commissioners. "We're knee-deep in this already, we have a budget set out and a path set out. We all want clean energy, but again you guys have blindsided us just kind of out of nowhere. You guys have not invited us to the table. We want to do things right, but we thought we were already doing things right by buying hydroelectric power."
Vaughan said he's a UM graduate that was stuck in a dead-end job before he was recruited to work at Hyperblock, and it changed his family's life.
A lawyer for Hyperblock hinted that the company may have to file a lawsuit in the future.
Several people spoke in favor of the regulations, including Gary Matson of the Milltown area.
"I see no evidence that cryptocurrency mining benefits more than a few people," he said. "Climate change is an emergency and I appreciate your efforts in taking action."
Diana Manetta, the county's energy conservation and sustainability coordinator, said about two-thirds of the comments submitted to the county were in favor of the regulations. The regulations would also only allow crypto-miners in certain industrial districts.
Commissioner Josh Slotnick said he believes the one-year interim zoning designation allows the county to buy time to sit down at the table with stakeholders and come up with a long-term solution.
"This buys us a year so let's work together and come up with a way to do it," he said.
Rowley called climate change a "global crisis" and a "local crisis."
"There's absolutely a consensus that Hyperblock and Bonner Development have been great neighbors," she said. "You guys stepped up and made great changes."
However, she said, the county is worried that other companies might not be so accommodating. She noted that the county's policy is to factor in public health and the environment when promoting economic development.
"You are wonderful people, but we can't count on the goodness of people's hearts to mitigate issues for public health," she said. "We need to move forward researching what the best way to do that is."