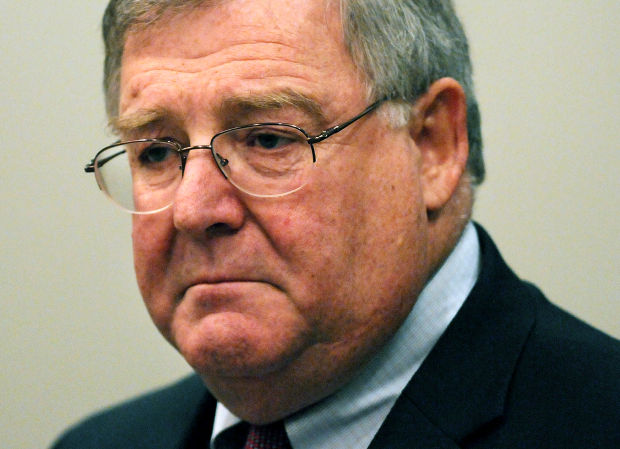 A California lawyer is crying foul after Missoula County Attorney Fred Van Valkenburg sent him "vitriolic" emails in response to an online letter on Missoulian.com – attacks he said could have a "chilling effect" on First Amendment rights if leveled at other critics.
Jim Ghidella, a San Francisco-based attorney and Missoula enthusiast, wrote a letter published on Missoulian.com that was critical of Van Valkenburg's decision to use $50,000 of public funds to sue the U.S. Department of Justice.
The suit, filed in early February, came nearly two years after the DOJ began an investigation into the alleged mishandling of sexual assault cases by the Missoula County Attorney's Office. It asks a federal judge to rule on the DOJ's authority over county prosecutors.
As a frequent visitor to Missoula, Ghidella said he wrote the letter because he cares deeply about Missoula and follows Missoula's goings-on in the newspaper. He flies to Missoula for frequent fishing trips and supports the Lady Griz basketball team.
Even so, he didn't see Van Valkenburg's caustic response coming.
"I don't know if I challenged him. I stated a different opinion. All I did was present another side to the story that is not being represented," he said. "It's incredible that he responded like that."
In a desire to see the "cloud hanging over Missoula dissipate," Ghidella wrote the letter, which was published online last Thursday.
"Acting with righteous indignation – especially at taxpayer expense – will always be trumped by conciliatory efforts," Ghidella wrote. "Instead of consensus being reached across the table, were this litigation to continue, it will more likely be settled by federal consent decree."
In his letter, Ghidella, who specializes in mediation, also criticized the city of Missoula's decision to spend $125,000 on a study to determine the need for one-way streets.
Ghidella said he was flabbergasted by the scathing email he received from Van Valkenburg.
From his personal email address, written while on vacation, Van Valkenburg fired back at the California attorney, challenging Ghidella to write a legal memorandum in opposition to the county's suit against the DOJ.
Van Valkenburg signed his email: "A 44 Year Resident of the Community You Like to Visit So Much."
"I mean so what if I disagree with him," Ghidella said Monday. "It's hard to believe that he would even respond to a letter to the editor."
Ghidella responded to Van Valkenburg's email, sent late last Thursday night. He wrote that he regretted the "vitriolic tone" of Van Valkenburg's note. Ghidella also asked Van Valkenburg if he thought his actions really helped clients or the Missoula County Attorney's Office.
"Starting an expensive war with the federal government over jurisdiction when the underlying subject is violation of constitutionally protected rights … is unwise without at least trying (to) sort things out across the table" Ghidella wrote.
Ghidella signed the email with his name, after wishing Van Valkenburg luck in his endeavors.
Van Valkenburg's response, written Friday at 5:29 p.m., left Ghidella baffled.
"You regret the vitriolic tone of my email?" Van Valkenburg wrote. "You ought to be regretting the arrogance you showed by claiming to know something about our suit against the DOJ which you obviously don't know."
"I don't think you know what the word regret means," Van Valkenburg added.
Van Valkenburg continued the email saying that he doesn't believe the DOJ is accountable to the law, and that belief "benefits my office and my clients (me.)"
He chided Ghidella's understanding of the law before ending the note with another insult.
"I think you ought to stick to mediating or, even more so, fishing," he said.
Ghidella said in an interview Monday he doesn't feel threatened by Van Valkenburg, but called the elected official's affront "unprofessional and sophomoric."
"I think those kinds of personal rebukes by a public official have a chilling effect on First Amendment rights in general," Ghidella said.
Montana Attorney General's Office spokesperson John Barnes said he couldn't comment on the email exchange. Missoula County Commissioner Jean Curtiss said that it was not the commissioners' responsibility to comment on the affairs of another elected official.
Van Valkenburg responded to the Missoulian's request for comment Monday evening. He vehemently defended his e-mail correspondence with Ghidella, arguing that the out-of-state man is not an ordinary citizen, but another attorney who was unfairly criticizing him.
"(Ghidella) ought to be able to take a small amount of criticism in return," Van Valkenburg said.
The word clients, he said, references him and his office in the lawsuit against the DOJ – not the victims of violent crime in Missoula County. He also included the definition of the word "regret" in his e-mail, arguing that his statement "I don't think you know what regret means" was not a veiled threat directed at Ghidella, but should have been interpreted literally.
"Just because I'm a public official does not mean that I'm a punching bag for everyone who wants to take a shot at me," Van Valkenburg wrote. "I have a right to respond to unfair criticism and I will, especially when it comes from an out-of-state lawyer."