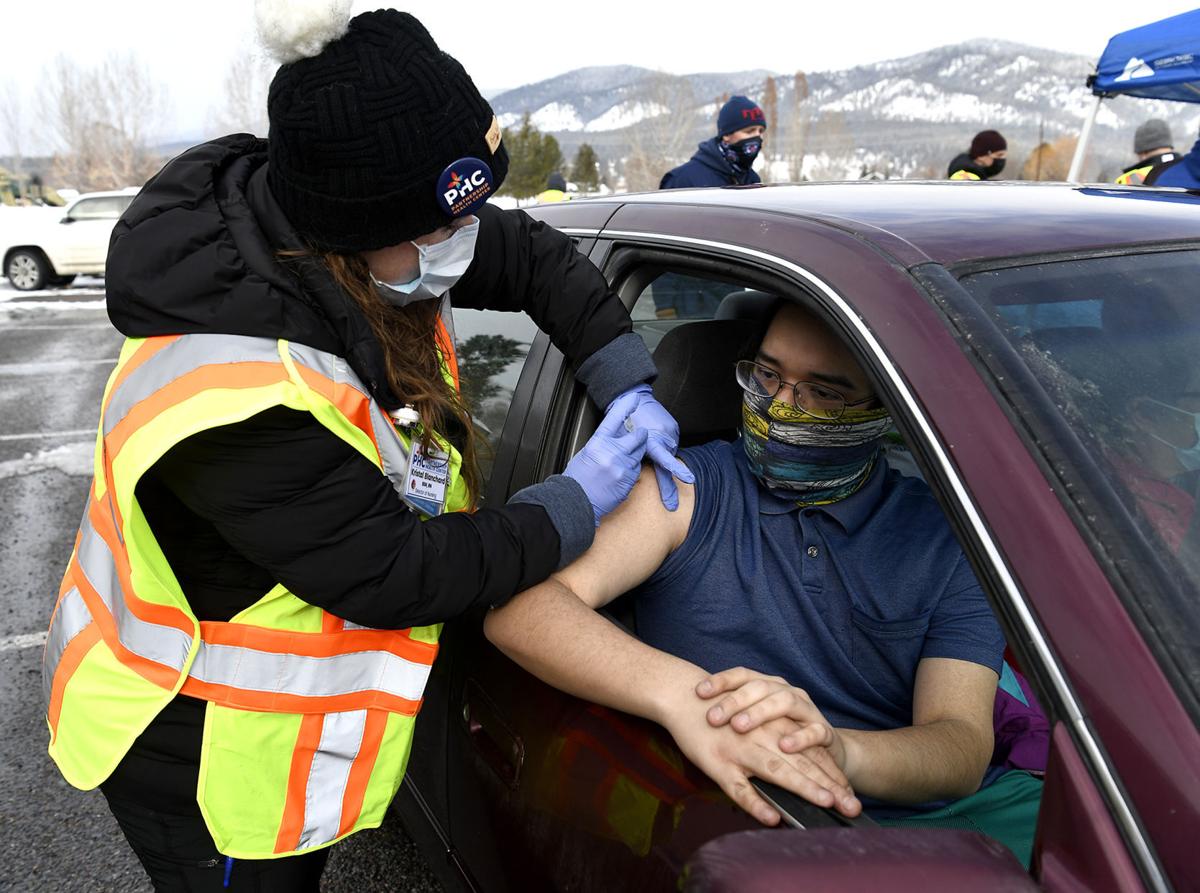 A decision on how, or whether, Missoula County will change its COVID-19 vaccination plan following Gov. Greg Gianforte's announcement that  the state has moved into vaccination Phase 1B+ has yet to be decided.
A county spokesperson said a decision may be reached Thursday.
The county has gone about its vaccine distribution slightly differently than what the state has proposed. Phase 1B in Missoula County put people age 70 years or older, as well as Indigenous and other people of color, first in line after health care workers. Those with qualifying medical conditions were bumped slightly down.
Counties were allowed by the state to sub-prioritize certain groups.
"In those larger health jurisdictions it might be difficult, if not impossible to get the entire 1B population in one subcategory," said Bekki Kirsch Wehner, Montana Communicable Disease Control and Prevention Bureau chief, to the Missoulian on Feb. 26. "They can, if needed, take the 1B population and put it in phases of their own, as long as they stay within the guidelines of what's already been said."
The reasoning for this in Missoula County was supply of the vaccine, which has steadily increased, and more people under the age of 70 with qualifying medical conditions have been vaccinated. At the start of the vaccination process, Missoula County was only getting around 1,500 first-shot doses of vaccine per week.
"If the only qualifier that you need to be eligible is age, or Native American, or people of color, that adds up," Missoula County Health Officer Ellen Leahy said to the Missoulian on Feb. 26. "Just 70 years or older, we have 12,500 county residents and 4,000 Native American. So right there, you've got 16,500 people."
State guidelines for Phase 1B+, which begin on March 8, allow for people age 60 and older to receive the vaccine. It will expand the state's qualifying medical conditions to include asthma, cerebrovascular disease, cystic fibrosis, people with immunocompromised state from bone or marrow transplants as well as HIV and usage of immune weakening medicines, neurological conditions such as dementia, liver disease, pulmonary fibrosis and thalassemia. 
Those are in addition to the state's other qualifying conditions: cancer, chronic kidney disease, COPD, Down Syndrome, a variety of heart conditions, people in immunocompromised states due to organ transplants, severe obesity, sickle cell disease and Type 1 and 2 Diabetes.
As of Wednesday morning, 18,247 people had received the first doses of either the Pfizer or Moderna two-shot vaccine in Missoula County, with 11,319 fully vaccinated.
Missoula County did say it had received 900 doses of the Johnson & Johnson vaccine. 
Also on Wednesday, three cases of the UK variant of COVID-19 were identified in Gallatin County, the Montana Department of Health and Human Services confirmed.
"We have been preparing for this, conducting surveillance for COVID-19 variant strains for several weeks, so this comes as no surprise," a statement from DPHHS read.
"We are aware that the specimens are from Gallatin County, and we are working with the state health department to investigate the source and timing of those specimens," Gallatin City-County Health Officer Matt Kelley said in the statement.
"It should not come as a surprise that a variant strain of the virus is in Montana. Well over 40 other states have identified the virus, so it stands to reason that it is in Montana as well. This is a good reminder that this pandemic is not over and the importance of everyone doing all they can to help us slow down transmission. That means practicing physical distancing whenever possible, wearing face coverings in public settings, staying home when we're sick, washing our hands, and getting a vaccine when one is available," Kelley's statement read.
All three Montanans who tested positive for the strain have recovered, according to DPHHS. A statement from the agency also encouraged people to get a vaccine when it is available to them.
The Billings Gazette contributed to this article.
Jordan Hansen covers news and local government for the Missoulian. Contact him on Twitter @jordyhansen or via email at Jordan.Hansen@Missoulian.com