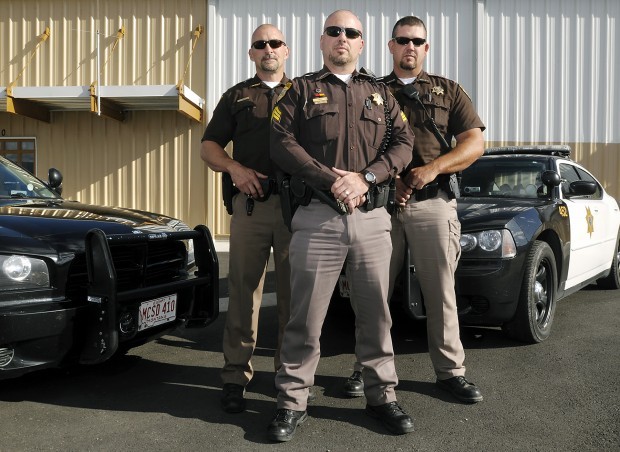 It sounds so scary, and colorful, too, what with the subzero weather and the marauding bears and the occasional domestic terrorist.
Which is the whole point of "Frontier Force: Montana," the latest entry in what might be called the adventure policing genre from National Geographic TV. For the last two years, the channel has brought viewers "Alaska State Troopers: Frontier Force." This year, its focus turned south.
"Auto theft, drug overdoses and trespassing grizzly bears are all in a day's work for the Montana police," the tease for the show promises.
So are two frightened little girls. That's what it came down on a cold night last March, when Missoula County Sheriff's deputies responded to a tip that an East Missoula woman was moving a 90-pound meth shipment.
The deputies - and a "Frontier Force" production crew from PSG Films in Seattle - swung into action and ended up with an episode called "Meth Van Takedown." It features a jittery, high-tension soundtrack, a fistful of syringes pulled from a pink backpack, and a woman protesting that the tracks on her left forearm came from a bad stick at the doctor's office. Sgt. Tony Rio pointed to her right. "What's up with that arm then?"
"Me and my kids were wrestling around earlier."
But the woman assured him that she hadn't used until after she'd put the kids to bed.
Rio and Deputy Duncan Crawford exchanged long glances.
At that moment, the meth shipment ceased to be the issue.
PSG first approached the Missoula County Sheriff's Office nearly two years ago, when it was looking for a follow-up to its Alaska State Troopers show. Then-Sheriff Mike McMeekin put Deputy William Burt in charge, and for about month, the PSG crew hung out with him, going on ride-alongs and collecting footage for the pitch they'd send National Geographic to persuade it to fund the new show, Burt said.
"We got to be pretty good friends," Burt said of the crew. "But we got into arguments about keeping it accurate." Sometimes the film crew folks wanted more dramatic action from the deputies - say, drawing a gun when they normally wouldn't. But crew members backed down when the deputies refused, he said.
So, an image of Burt stalking through the woods, rifle at the ready, aiming watchful glances into the trees, actually was shot in Burt's back yard rather than on the job. "In Montana," a voice intones on the video, "the Wild West is still being fought."
McMeekin took one look at the brief promo and deemed it "too police-y," Burt said. Missoula County's participation was a no-go.
Which was a problem. PSG had already snagged a new contract from National Geographic, based on its pitch. "So they ended up going all over the state" for episodes, Burt said.
Fast forward to November 2010 and the election of a new Missoula County Sheriff, Carl Ibsen.
Burt knew PSG was still shooting in Montana. "I went back through the chain of command" at the Sheriff's Office with a plea that Missoula County be included. "I saw this as an opportunity or people to get to know who their law enforcement is," he said.
So did Ibsen - especially after Burt told him about Arkansas' experience with a similar show, after which the State Police there saw recruitment numbers "go through the roof."
Which is how the PSG crew came to be back in Missoula County in March, cameras running as deputies peppered the admitted meth user with increasingly urgent questions about the whereabouts of her small children.
That's the thing most people don't realize about law enforcement, particularly in rural areas, said Abby Lautt, who produces PSG's "Frontier Force" shows for National Geographic.
There's way more wordplay than gunplay.
"The law enforcement people in Montana are so good at communicating with people," said Lautt, who now works in Seattle but who grew up in Hardin and graduated from the University of Montana in 2006. "It's because they're alone a lot of the time. They can't go in there and be a jerk. ... So they talk to them. They don't want them angry."
Another surprise about the show is that despite an opener showing a rifle-totin', cowboy-hatted sheriff in a duster with a couple of grizzlies looming behind him, a fair amount of the action in "Frontier Force: Montana" takes place on city streets.
In one episode, officers spent an evening breaking up the fistfights that are an inevitable part of the alcohol-soaked celebration that is the annual Bucking Horse Sale in Miles City. Of course, the scene has a distinctly Montana flavor - the episode is named "Cowboy Mardi Gras." A similar flavor pervades an episode shot in Gallatin County, in which a man stopped on suspicion of drunken driving lectures deputies about the Constitution and then repeatedly hollers, "Ron Paul 2012!" as he is driven away.
And the show features a scenic mountainside rescue of an injured hiker, also in Gallatin County. But when "Frontier Force" turns to Missoula County, the issue is drugs. Other than the fact that there are fewer passing cars, the scene could be any gas station in any big city.
"People come here thinking they're going to get the Old West," said Rio, who grew up in Missoula and remembers when now-congested Reserve Street was a gravel road. "But they bring all their problems with them. ... We end up with big-city problems in a rural setting."
The particular big-city problem they faced in March seemed very close to home when the woman with the needle marks on her arms mentioned her children.
"We all have kids," said Burt. "It wasn't so much an issue of getting somebody charged and jammed up, but of giving those kids some opportunity" to get to safety.
When the deputies went to the woman's home, two little girls walked out of a bedroom.
"Are you going to be mean to us?" asked the older one, about 7.
"The little one said, 'Can I have a hug?' " Crawford recalled. "It almost made me cry."
The deputies - even Deputy Jim Agnew who said he never watches cop shows - gave the show high marks for getting their jobs right.
"We're community members as well," Burt said. "This isn't (just) an issue of finding the bad guys, but to better the community we live in."
Get local news delivered to your inbox!
Subscribe to our Daily Headlines newsletter.