The Missoula County Board of Commissioners revealed their preliminary budget for fiscal year 2021 during a conference call on Thursday, and the budget includes a roughly 2% increase in property taxes.
The new budget has a focus on improving social equity and environmental sustainability initiatives, according to the commissioners, and they're seeking public feedback.
On a property with an assessed value of $350,000, property taxes would increase by $17.34 a year or $1.45 a month if the budget is approved. On a home with an assessed value of $175,000, property taxes would increase by $8.67 a year. The assessed value of a home can be found by entering the address at itax.missoulacounty.us.
According to county chief financial officer Andrew Czorny, the fiscal year 2021 budget requests include funding for eight main areas: Diversity, equity and inclusion, justice services and reform, environmental sustainability and climate change, safe and secure elections, responsible growth and development, public safety, government efficiency and oversight and information security.
"These values reflect conversations we've had with constituents and feedback we've had over the last year and our own desires to take action," said Commissioner Josh Slotnick. "We want to make sure racial and economic inequities don't result in poor representation or lack of good services, and we're attempting through this budget to address those things as best we can. Same with environmental sustainability."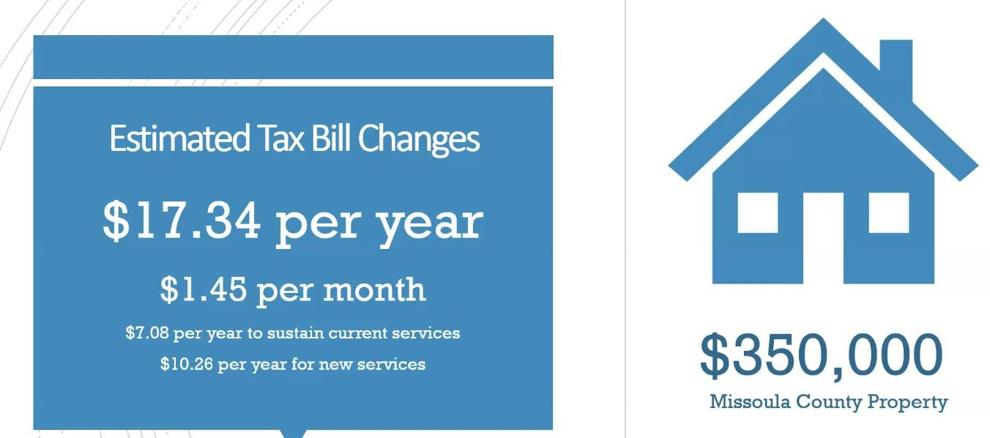 The budget requests include (most numbers have been rounded to the nearest thousand and are not exact):
$744,000 for debt services for improved water and sewer and for restoration of historical buildings at the Missoula County Fairgrounds District.
$70,000 for an affordable housing initiative that would fund a full-time position to oversee a study and help carry out the resulting strategy; $38,000 would come from property taxes and $32,000 would come from cash savings.
$100,000 for an equity coordinator and initiatives. This would fund a staff member to evaluate systems and processes with a concentration on social equity. Czorny said it would ensure the county meets the needs of everyone and that employees and contractors hired would represent the diversity of the community; $43,000 would come from cash savings and roughly $57,000 would come from property taxes.
$117,000 for improving the criminal justice system response. This would fund Crime Victim Advocates and a justice response coordinator for victims of sexual and relationship violence and stalking if a federal grant falls through.
$37,000 for a solar array at the Missoula County Detention Center. Some of this would be paid back by cost savings.
$35,000 for a clean electricity initiative paid for by cash from previous years.
$30,000 for climate action and resiliency contracted services.
$27,000 for a climate resiliency coordinator position.
$50,000 for a Missoula County/City Mobile Crisis Team. This is a matching fund for a pilot project team of two mental health professionals with basic medical training to assist a person in crisis and a peer support specialist or case manager to ensure the person receives follow-up treatment and mental health services.
$35,000 for a county zoning code update.
$75,000 for an impact fee study. The study would inform commissioners of potential revenue the fees could generate for the county to offset the expenses of additional development in the form of communications for 911, etc.
$150,000 for county courthouse security upgrades, including cameras and an information/security desk at the main lobby.
$84,000 for an additional prosecutor. Czorny said there's been an "uptick in crime" and the county's existing attorneys are overworked and understaffed. He said the new position would help prevent burnout.
$55,000 for information security upgrades.
$75,000 to digitize historical records to allow more public access.
$63,000 for prepaid postage for the mail-in election that should be reimbursable through the CARES Act.
$39,000 for a HIPAA compliance coordinator.
$15,000 for justice services strategic planning to be paid for by cash savings.
$19,000 for a criminal justice services division data analyst that Czorny said could make data-informed decisions that would cut the cost of prosecutions, bookings and court processes.
Not all the new budget requests have been listed here.
The public is encouraged to review budget documents, which are posted online at http://missoula.co/budgets. In addition to commenting during public meetings, residents can comment by leaving the commissioners a voicemail at 406-258-4877, emailing bcc@missoulacounty.us or mailing comments to the Commissioners' Office, 200 W. Broadway St. Missoula, MT 59802.   
Commissioners will hold a virtual public hearing on the final budget at 2 p.m. Thursday, Sept. 3. They will consider any additional public comment before voting to adopt the final budget at an administrative public meeting later that month. 
"We had to be as frugal as possible while also recognizing we're in the midst of a global pandemic," said county Commissioner Dave Strohmaier. "We recognize we need to set ourselves up for success but also invest and prepare for economic recovery. There's a balance there and it's not been lost on us that this is a difficult time we are all living through. Nonetheless, we need to be responsive to the community."
Strohmaier said the budget proposal is the result of months of planning and crunching numbers and spreadsheets.
County Commissioner Juanita Vero said they based the budget of community values.
"This isn't just a transactional experience, this is a road map that has been created," she said.
The budget for fiscal year 2021 includes $170.2 million in overall revenues and calls for expenditures of $168.6 million. About 2.5% of the budget is going to cover increases in wages for the county's 850 employees, about 85% of whom are covered by collective bargaining agreements. The county expects about $3.4 million in COVID-19-related expenses.