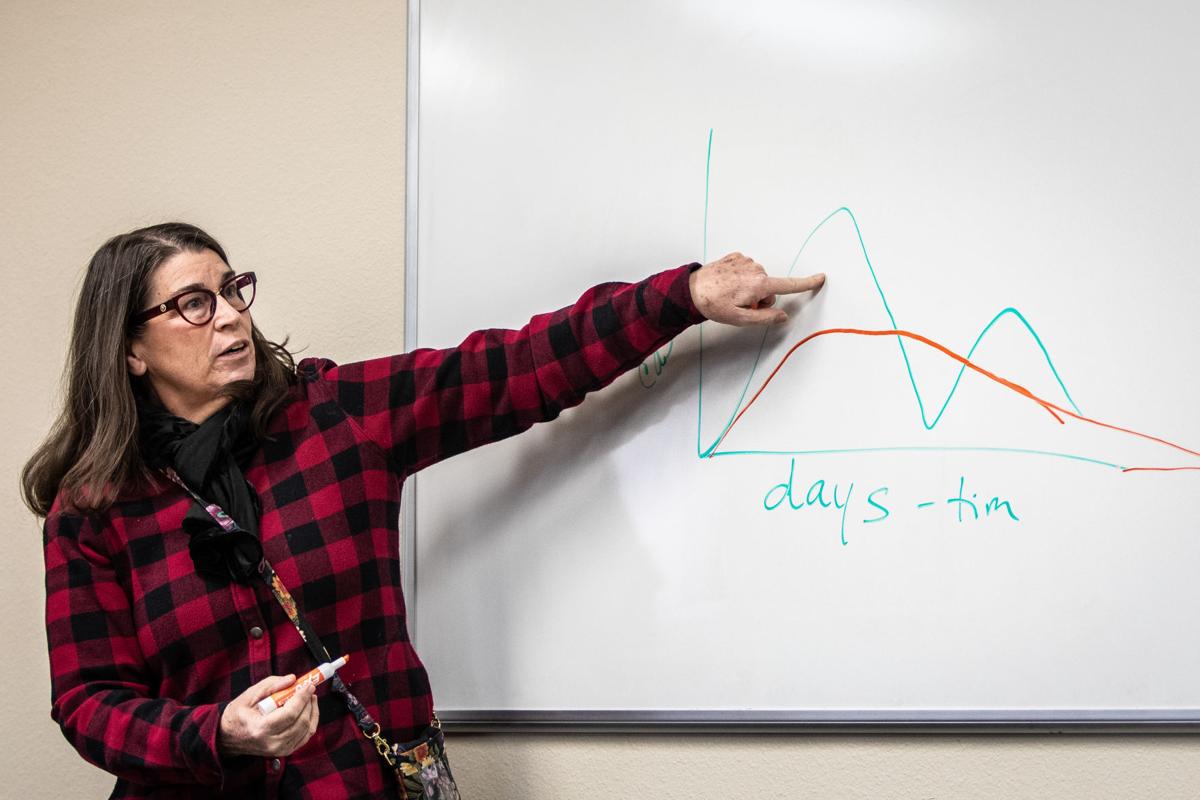 "It's going to get rough."
That's the bottom line for staying ahead of COVID-19 testing in the next few months, with cases on the upswing statewide and flu season ahead, according to Ellen Leahy, director of the Missoula City-County Health Department.
Thursday, Leahy and Cindy Farr, incident commander for the local health department's COVID-19 response, provided an update on the county's response to the coronavirus to the Board of County Commissioners. Although the health officials are keeping a close eye on testing supplies and anticipate a difficult flu season, they also shared some encouraging data — at least for the time being — and positive developments in Missoula.
Missoula County has acquired an Abbott machine from the state and anticipates it likely will be running next week after a protective hood is installed. Leahy said the hood is precautionary and not required, and Farr said patients will receive results quickly. A second Abbott machine is expected to be shipped to Missoula in September.
"The patient will stay right there, and they will have the result within 15 minutes," Farr said.
In the first 30 days with the Abbott machine, nurses will take two samples from each person in order to confirm results, Farr said. "Nobody likes getting things shoved down their nose twice. But we need to do that to validate the machine," she said. Subsequently, the county can move to a quality control phase and send a smaller number of samples, maybe five a week, to the state to ensure the local machine is calibrated.
Farr said the state provided one machine to the county and will pick up the tab for the cost of tests, which will amount to roughly 240 samples a week. The county will rent the second machine at no cost with a commitment to run some 900 tests a year at $40 a test; the county will seek reimbursement from the federal government, possibly the Centers for Disease Control and Prevention, for that estimated $40,000 for the year.
Farr said the second machine will allow the county to run an additional 300 tests a week.
Currently, the county is getting results within 48 to 72 hours, Leahy said. But the health department is still waiting on results from 300 tests taken roughly three weeks ago; the state lab grew overwhelmed and farmed out samples to a private lab, and then that facility became backlogged and transferred samples to another lab, Farr said.
"We are still waiting for those results," she said.
As such, Leahy said there may be cases the county hasn't been able to control. However, she also said the rate of spread in Missoula County is on the lower end, currently at 0.9. That means each infected person transmits the virus to fewer than one other person, "which is good," she said. She also said it's lower than the overall rate of spread in Montana, at 1.5.
On the other hand, Missoula County is seeing the disease grow, with 2.37% of tests last week coming back positive compared to 2.99% this week, Farr said; in her daily briefing, she noted the cases in Missoula are spread across the county, from the urban core to rural areas.
But Leahy said the community continues to "buy time" by cooperation from people, businesses and large groups with prevention methods and by having its own testing site. Missoula County has been able to hold its number of active cases steady at roughly 60, and it counted 62 on Thursday, she said. By comparison, Yellowstone County had 568 active cases on Thursday, according to data from the Montana Department of Public Health and Human Services.
"It's going to get harder before it gets better. There's no doubt," Leahy said.
Farr said some 30% of the cases in Missoula are tied to a known contact, and 34% are due to community spread. Clusters of cases often are linked to workplaces, where people are generally wearing masks and socially distant when interacting with the public, but then toss caution to the wind when interacting with coworkers outside of work.
"It all just goes out the window," Farr said.
Leahy said the largest cluster is from a workplace where 13 coworkers represent the situation Farr described.
As flu season approaches, Farr said she hopes the supply chain is anticipating the need for more swabs and vials in particular, and will ramp up availability. "We are definitely trying to not overwhelm our supply chain, but we definitely want to have some back stock … in order to continue testing."
Currently in Missoula, she said Community Medical Center, Providence St.Patrick Hospital, and Curry Health Center at the University of Montana all have equipment that does rapid testing, although the hospitals have been using machines only for critically ill patients.
This summer, the University of Montana is holding a class on contact tracing, Leahy said: "We here in the health department will be able to include some of those folks in our hiring as we expand our contact tracing capability."
Please sign up on Missoulian.com to subscribe to Under the M, the weekly email about the University of Montana and higher education news in Montana.
Concerned about COVID-19?
Sign up now to get the most recent coronavirus headlines and other important local and national news sent to your email inbox daily.