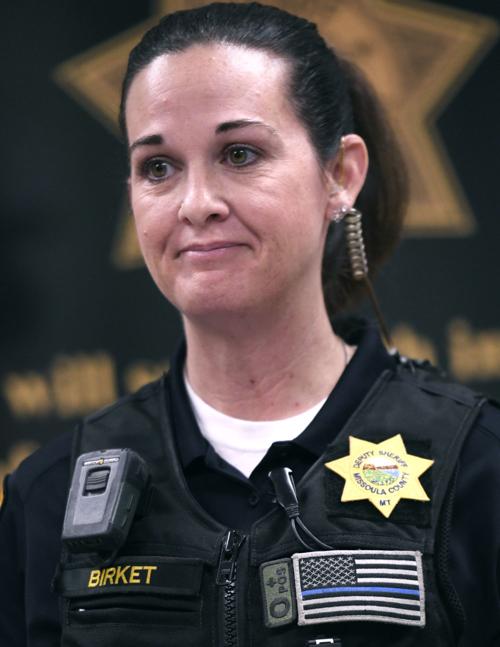 Frenchtown School District Superintendent Randy Cline has had his job for 12 years now, and has sought a dedicated school resource officer the whole while, bringing up the issue each time a new sheriff is elected.
On Wednesday afternoon, after working with Cline and other superintendents around the county, Sheriff T.J. McDermott announced that the department is bringing the position back. Detective Rebecca Birket will be the new school resource officer.
"We haven't had a school resource officer with the sheriff's office for beyond a decade," McDermott said. "We saw a need and we wanted to concentrate on relationships. In law enforcement it's all about relationships with our public partners and specifically the schools and our children."
Cline said he views Birket as being able to play a larger role than just dealing with potential criminal matters, saying he views the position as similar to that of a counselor. He said he hopes Birket will work to build positive relationships with students and remove any stigma or negativity they might have toward officers.
"The SRO position is not just a position of someone who is going to come in and strictly enforce the laws," he said.
Cline, as well as Bonner Superintendent Jim Howard, Lolo interim Superintendent Dale Olinger and Target Range Superintendent Corey Austin were all present at Wednesday's news conference announcing the school resource officer program. The district heads thanked the sheriff for working with them to make Birket's new role a reality.
"It's long been a need and we're very excited to have Deputy Birket kind of on our staff," Olinger said.
As part of her new assignment, Birket — whose two children go to school in Lolo — will work with 11 schools in the county including those in Lolo, Clinton, Frenchtown, Bonner, Target Range, DeSmet, Potomac, Seeley Lake and Condon.
Birket thanked the sheriff for giving her the opportunity, and said she's already attended a weeklong training seminar in Colorado.
"It's a much-needed position and I appreciate all of the support that you have given to us," she told McDermott.
In addition to dealing with potential issues at school, Birket said she also wants to make sure she has the ability to help students and parents with problems that might arise at home.
"There's a lot of stuff that goes on at home that transfers over to what goes on at school," she said.
Birket doesn't have a set schedule yet of when she will be at each school, and is working to familiarize herself with the needs of each to see where priorities are.
Both the sheriff and Birket said they will evaluate how a dedicated school resource officer is working out, but hope to add more school-based deputies in the future. During the summer, McDermott said Birket will focus her detective work on criminal cases involving juveniles.
Birket said that while working in the schools, she probably won't wear the external ballistic vest and equipment carrier that has become the standard issue for deputies since shortly after McDermott took over.
The plan is to go back to a vest under her uniform and carry whatever equipment she needs on her belt. However, she said she's found students aren't put off by the amount of gear a typical deputy carries strapped to the loops and hooks of a vest.
"They are not intimidated by the uniform in any way," she said, adding that the students she's met are just curious. "They just go, 'What does that do? What is that for? Can you Tase me?' And I say, 'No, I'm not going to Tase you.'"
Get local news delivered to your inbox!
Subscribe to our Daily Headlines newsletter.