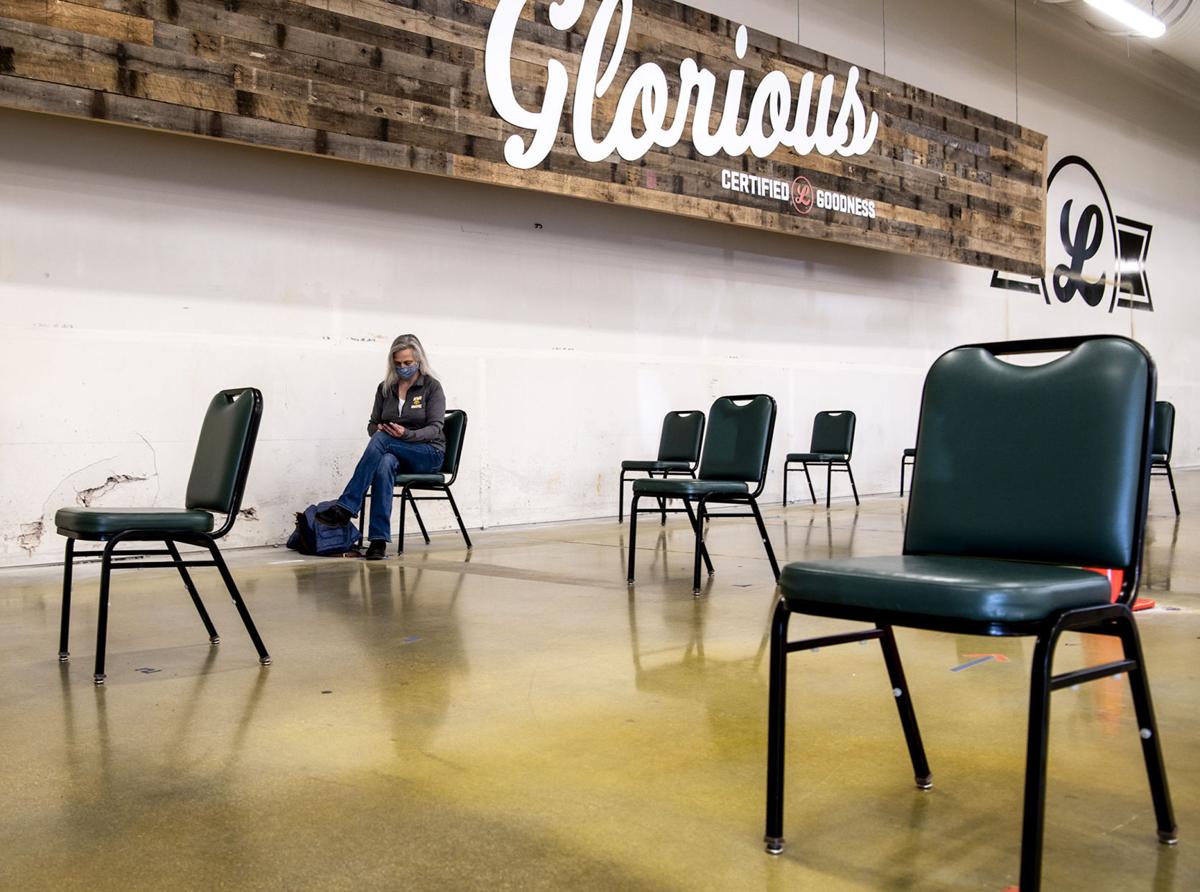 A new Missoula health department campaign seeks to push back against COVID-19 vaccine misinformation and help educate the public on how to get a shot.
Called "Come Together: Vaccine for every Montana," the campaign is a partnership between the county, local organizations and businesses. It will provide branding opportunities for businesses and seeks to push out as much up-to-date and correct information as possible.
Recent vaccination clinics have been slow to fill up, even though they are available to all Missoula County residents 16 and older.  
"It seems like we went from not having enough vaccines to vaccinate the number of people wanting it to, now we've got more vaccines than we can give away," said Cindy Farr, local COVID-19 incident commander, to the Missoulian on Friday. "We've been really trying to look into some different ways, like number one, identify why people are not wanting to get the vaccines.
"If we look at that, then there's a lot of different reasons."
For some, it is the result of misinformation regarding how long protection against COVID-19 will last. Originally, the Centers for Disease Control and Prevention said the vaccine will only offer protection for three months — this has since been expanded to six months.
In other cases it is a matter of convenience, Farr said. Many of the clinics have taken place during work hours. The health department is looking into evening vaccinations as well as an expansion of weekend hours. They've scheduled their first walk-up hours starting Sunday and into next week at the former Lucky's Market. 
Similarly, some have conflicts with scheduling the second appointment for Pfizer and Moderna vaccinations. A time that works one week may not work weeks later and the second doses for those vaccines have to be administered exactly 21 and 28 days later, respectively.
There is also the issue of side effects. Farr said there was the potential that some University of Montana students might be wary of getting their first dose now, knowing their second dose would likely be administered during finals week.
For those who have not contracted COVID-19, the second dose can bring on side effects such as arm pain, fatigue, fever and headaches. The first dose often produces more side effects for those who have contracted COVID-19 prior to vaccination.
It is critical to understand the risks involved with not getting vaccinated against a virus that has killed 2.9 million people worldwide and 560,000 in the United States alone, said Sophia Newcomer, an assistant professor at the UM Center for Population Health Research.
Newcomer has spent 10 years as a vaccine safety researcher. She currently focuses on vaccine safety and why people do and don't get vaccines. 
"I think what's important to keep in mind here is the risk-benefit decision that is being made here. Yes, these vaccines do have some non-serious side effects. They can be uncomfortable, but they do pass," she said. 
"You have to weigh that against the risk of actually getting COVID, which, you know, in that case the implications can be far worse."
In addition to fearing short-term side effects, some may believe the vaccine's development was rushed. In fact, the only rush behind the COVID-19 vaccines was in supplying funding to researchers. Securing funding can be the lengthiest part of the research process. Some people are fearful of long-term effects or simply do not believe in the science behind vaccinations.
History of skepticism 
Skepticism around vaccines is nothing new. 
In fact, there are pamphlets from 100 years ago attempting to scare people from getting vaccinated, Newcomer said. What is different now, however, is how widely these ideas can spread via the internet.
In a particularly widespread claim, anti-vaccine groups have falsely pushed for decades that childhood vaccines cause autism. This undercurrent erodes trust in public health and puts lives in danger. That myth has long been dispelled by credible research, and the physician who promoted it has since had his license revoked.
It is one of the many reasons some public schools require vaccinations before a child can be admitted, though all states provide medical exemptions. Some states also offer exemptions for religious or philosophical reasons.
These swirling ideas have helped provide a base for those who do not believe the COVID-19 vaccine will work or that it is dangerous. 
"What we do know is that (COVID-19 vaccinations) are safe," Newcomer said. "We know this from clinical trials. And we know this from studies that are ongoing."
To push back against claims the COVID-19 vaccine is actively harmful requires transparency, and this is one of the reasons why the local health department has launched its new campaign.
Its goal is to help educate the public, not shame individuals who are nervous or fearful about getting the COVID-19 vaccine.
"If someone is really worried about the vaccine, it's really important that they get their information from reliable sources and not from social media," Farr said. "We just want to encourage people that, you know, if you are hesitant and you're kind of holding off, or you're just not sure, then it is really important to get the best information coming from reliable sources, such as our website, or the CDC, or the FDA.
"It's just really important that people are not ... feeding into that misinformation that's out there."
A balancing act
Managing vaccine allocation and expiration is a logistical issue the county navigates in order to get shots in as many arms as possible and at the same time, avoid wasting doses.
Both the Pfizer and Moderna vaccines can last for up to six months frozen. But once they are taken out of deep freeze, the Pfizer vaccine lasts just five days, while Moderna will last for 30 days in a refrigerator.
Once a vial of the vaccine is opened, it needs to be used quickly. There are some ways around this as an entire tray of Pfizer — around 1,200 doses — does not need to be unfrozen at once.
It still presents a time crunch, however, and Farr said that Missoula County recently received some vaccine from another county because it was nearing its expiration date. 
"That's the bigger thing we're up against right now," Farr said. "It's just making sure vaccines are not being wasted because it's hitting the expiration date."
In the most recent set of data, 73,201 vaccine doses have been administered in Missoula County and 26,898 people have been fully immunized. Around 2,800 first doses are received by the county from the state each week and some medical providers have direct access to the COVID-19 vaccine supply, increasing the total number of shots than can be administered.
Each week, the county asks for a specific amount of vaccine after consultation with medical providers and pharmacies. This process has been streamlined since January and the cooperation has worked well.
County officials do not feel there is a risk of not being able to get as many doses as needed in the future, and they do not want to over- or under-order vaccines, Farr said.
"It really is kind of a balance," Farr said.
One solution might be for vaccine manufacturers to switch manufacturing to single-dose syringes. Many vaccines do come in those type of dosages, but according to an article by the British Research Journal, the massive amount of demand for the vaccine led to vials instead.
Making single-dose syringes is a more labor-intensive process, the article explained. 
In any case, vaccinations are a race against time in Missoula County and elsewhere. The COVID-19 virus has already mutated several times. While  those who are vaccinated are likely protected against the mutations, that could change if the virus continues to spread significantly.
"We are dealing with a pandemic, we're dealing with a disease that has caused widespread hospitalizations and deaths," Newcomer said. "We have an intervention, we have a tool, a vaccine that can help bring protection both to individuals and communities.
"It's really going to be the way we get out of this pandemic."
Jordan Hansen covers news and local government for the Missoulian. Contact him on Twitter @jordyhansen or via email at Jordan.Hansen@Missoulian.com