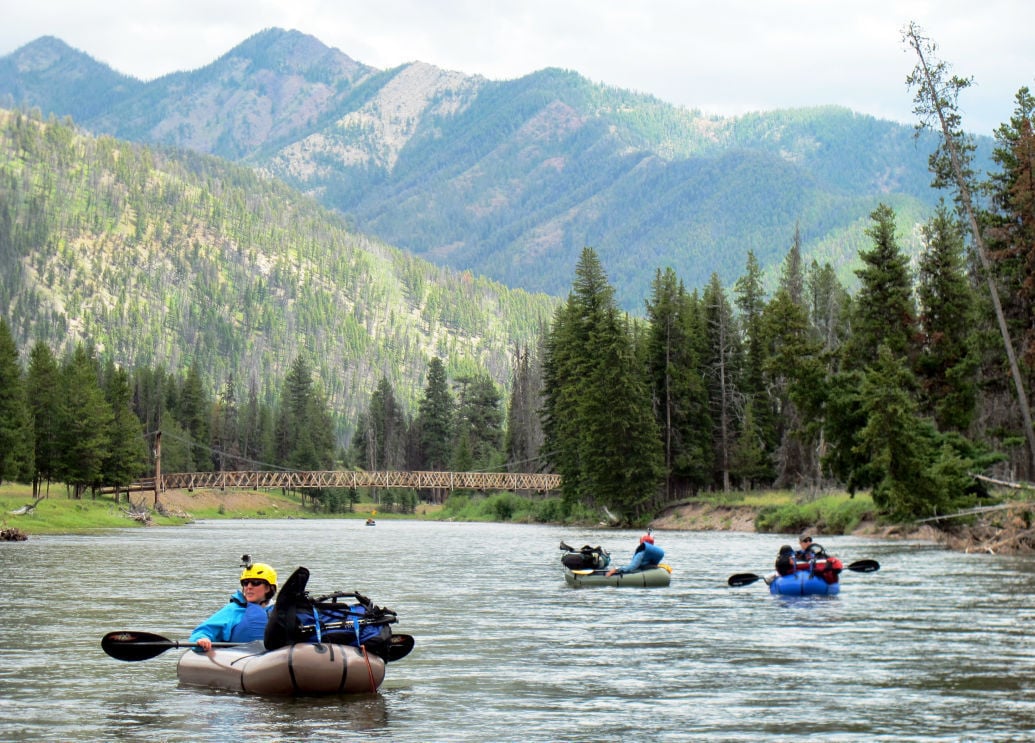 KALISPELL – The owners of a Missoula outdoor film company, and an associate, have paid almost $6,000 in fines after receiving more than four dozen federal and state citations for illegal activities, the bulk involving multiple violations of bull trout fishing regulations.
Authorities say brothers Zack and Travis Boughton of Missoula, owners of Montana Wild, made more than 2,200 videos from a 2013 fishing trip into the Bob Marshall Wilderness and South Fork of the Flathead, plus more while they were intentionally fishing for bull trout on the Spotted Bear River and North Fork Blackfoot River.
"Numerous videos showed the Boughtons and Anthony Von Ruden (also of Missoula) intentionally fishing for bull trout in tributaries such as Youngs Creek, White River, Big Salmon and Little Salmon Creeks" according to Montana Fish, Wildlife and Parks spokesman John Fraley.
All are closed to fishing for bull trout, which is listed as a threatened species under the Endangered Species Act.
FWP criminal investigator Brian Sommers said video evidence shows bull trout caught during the commercial filming were also over-handled, some for up to 12 minutes or longer after being netted.
In one case, according to Sommers, a bull trout was caught, netted, handled, and released with the hook and line still attached so the Boughtons could film the fish under water and being reeled in, netted, handled and released again.
"The over-handling of bull trout that took place by these individuals on this trip will no doubt have negative impacts on the bull trout fishery," Mark Deleray, FWP Region 1 fisheries manager, said.
The Boughtons did not respond Friday to requests for comment sent via email and Facebook.
Montana Wild's website says "we capture the adventures that are found in our backyard here in Montana. Our goal is to create visually appealing and inspiring pieces about fly fishing and hunting. We specialize in outdoor marketing, social media, cinematography, photography, video editing and a new line of apparel."
Authorities seized five computers, 13 hard drives, two cellphones and other items while executing a search warrant at Montana Wild during the investigation.
Fraley said the investigation was launched early in 2014 after a U.S. Forest Service district ranger informed USFS law enforcement officer L. Kevin Arnold about the possible existence of a commercial film regarding fishing for bull trout in the Bob Marshall. 
Commercial filming is not allowed in congressionally designated wilderness areas, and a permit is required to do so on National Forest System lands lying outside a wilderness area.
"Arnold conducted a preliminary investigation of the company's website and found substantial evidence that they did in fact commercially film on national forest lands in the Bob Marshall Wilderness," FWP said in a news release.
The USFS law enforcement officer then requested that Sommers and Game Warden Perry Brown assist in the investigation, and Sommers obtained the search warrant.
Arnold and Brown "knew the videos were from the South Fork Flathead River drainage and its tributaries based upon their experience and knowledge gained from patrolling the Bob Marshall Wilderness," Fraley said. "Footage on the website, specifically a teaser clip for an upcoming video to be introduced at the Fly Fishing Film Tour debuting in Missoula, showed individuals fishing for and catching bull trout in waters that can readily be identified as not being on the main stem of the South Fork Flathead River."
Active or intentional fishing for bull trout can only occur on the main stem of the South Fork Flathead, and only by anglers in possession of a bull trout catch card, according to FWP regulations.
FWP Warden Capt. Lee Anderson said the U.S. Fish and Wildlife Service sets the rules and regulations that FWP must follow in order to allow anglers to fish for a threatened species, and "We have to show people we're abiding by the rules. That's why those tributaries are closed, because they're spawning areas."
The privilege of fishing for bull trout "could go away" if people abuse it, Anderson said.
Fraley said the joint investigation revealed "numerous" other instances of hunting and fishing videos that were taken by and for Montana Wild on federal, state, tribal and private lands without commercial-use permits.
The videos, he added, were done "in conjunction with sponsors who were endorsing Montana Wild in exchange for advertising in the videos," which would be sold or shown at film tours, film festivals and film rendezvous.
The Boughton brothers and Von Ruden received 38 state citations in Flathead and Powell counties for intentionally fishing for bull trout in closed waters, failing to immediately release bull trout, and failing to report a bull trout on the FWP Bull Trout Catch Card.
Portions of the wilderness area are located in both Flathead and Powell counties, and violations occurred in both, Anderson said.
The Boughtons were cited for 11 more federal violations for unlawful commercial filming activating without valid permits on U.S. Forest Service lands.
FWP says the three men entered into plea agreements with Powell County, which included the Flathead County charges, and the Boughtons forfeited collateral on the federal charges.
The three paid a total of $5,950 in fines. They could have lost their hunting, fishing and trapping privileges for a period of time as well, Anderson said, but avoided that in the plea agreement.
"While the regulation preventing someone from intentionally fishing for bull trout can be difficult to prove, it is extremely easy for the angler to follow," Anderson said. "Every angler out there knows if they are intentionally fishing for bull trout."
Get local news delivered to your inbox!
Subscribe to our Daily Headlines newsletter.