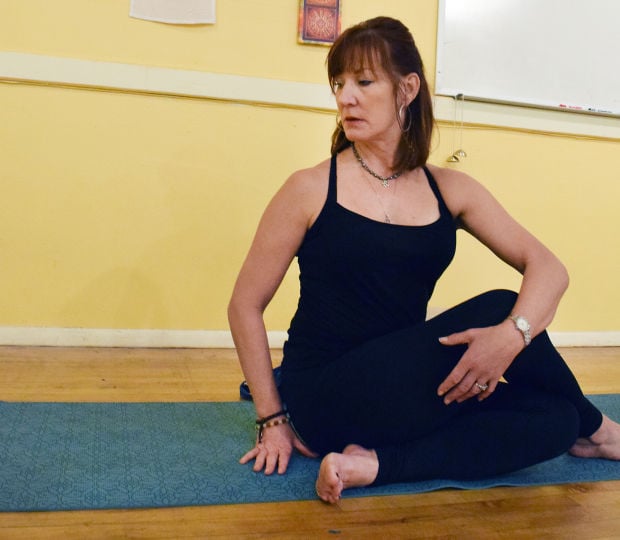 It's not Laura Bender's typical yoga class.
Dressed in jail-issued orange uniforms and socks sticking out of their matching flip-flops, the eight teens trickle into the gymnasium, lackadaisically forming a circle around her.
Bender, who specializes in holistic personal training in Missoula, normally serves an older, more affluent crowd. But every Tuesday and Thursday, she teaches a yoga and meditation class at the Missoula County jail for juvenile offenders.
"When you take somebody that's a teenager and you lock them up, you are locking all that energy and all those hormones," Bender said. "I mean, they're kids, but they have all impacted my life."
The program is one of a kind in Missoula and across the state, and serves as a way for the juveniles to relieve stress and deal with the excess energy in a positive way.
And some of the juveniles have a lot to stress over: unstable homes, addiction issues and even being prosecuted as an adult. 
One afternoon last week, Bender began the class by instructing the teens to raise their arms toward the ceiling in a sun salutation variation before transitioning into balancing poses and then – when the teens were warmed up – moving onto the cold, cement floor for some downward and upward facing dogs. 
For the most part, the inmates – all between the ages of 13 and 17 – followed along, but occasionally one stopped to poke a friend or another fell out of a pose.
That's OK, explained Gary Evans, the Juvenile Detention Department head.
 "It's just a lighthearted chance for them to let go of some of that stress," he said from his office Thursday afternoon. Evans was watching the class via a monitoring system wired into his computer.  
"It may be the only time in their life they get to try yoga, or a positive pursuit," Evans added.
Unlike adult inmates, the juveniles have a wilder imagination and can be quite impulsive.
A few months ago two juvenile inmates attempted to break out of jail, scaling the fence of the outdoor space, Evans recalled. Sometimes the juveniles aren't thinking about the consequences of their actions and only think in terms of the present.
But this exercise class, along with their school work, gives them the structure they need to get back on track and think about the future. 
"It keeps them occupied and gives them something to look forward to," Evans said.  
He's even spotted a few of them practicing yoga in their cells when no one else is watching. 
Bender, too, is not your typical yoga instructor. She said she connects with the kids she teaches on a more personal level. Like them, she too got into a bit of trouble as a teenager. The self-proclaimed "hell-raiser" said there wasn't a party she didn't know about when she was in high school.
"I can relate to every single one of them," she said.
Bender said that she became a certified meditation instructor in 2012 and it changed her life. She wanted to share her stress-relieving skill with the other people.
"When you meditate, you become personally responsible and it's not responsibility based on judgment," she said. "It's responsibility based on knowing who you are – truly knowing who you are – and what you want. And it's also an opportunity to live a calm life in the eye of the storm."  
Bender is smaller than all the teenage inmates she instructs. There are no guards in the gymnasium with her, but she said she never feels intimidated or even uncomfortable around the young offenders.
"They are no different from any other kids," she said. "Even though these kids have made mistakes they can make different choices. That's why I teach them meditation and yoga."
And she makes sure the teens know the rules. There's no bad language and no fighting in her class, but over the course of the eight months she's been teaching, there have been only two instances when she had remove a teen from class.
Thursday wasn't one of those instances. The group seemed engaged with their teacher as she led them through the 30-minute routine. At the end of their session, the teens sat silently in a state of meditation.
"When they can lay down on the floor and quiet their mind, even for five minutes, they will begin to make different choices," she said.