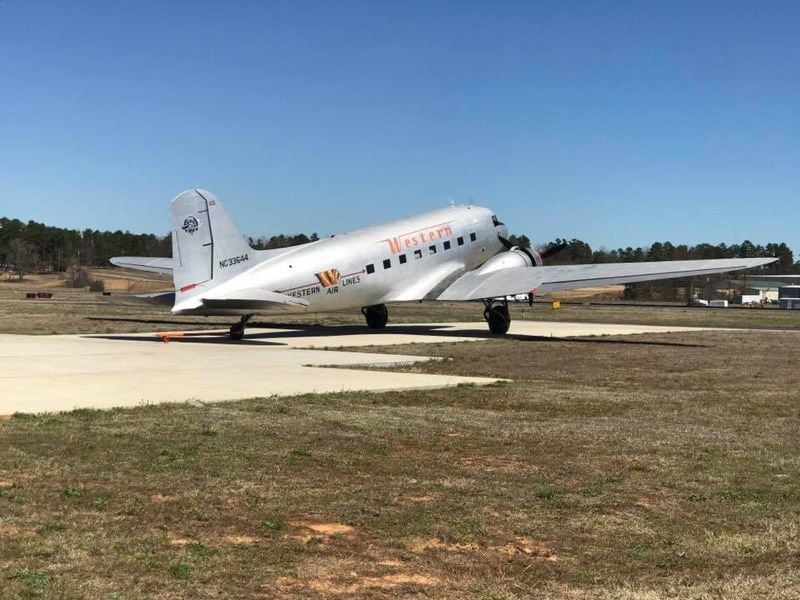 Miss Montana has a flying partner.
Another Douglas DC-3 airplane with a fascinating history will soon be in the fold at the Museum of Mountain Flying in Missoula, but not before it takes care of some business in Oregon.
The former Western Airlines passenger plane will be used to train pilots who'll be flying Miss Montana and other C-47s (the military version of the DC-3) to Normandy, France, to help commemorate the 75th anniversary of D-Day on June 6.
Volunteers are working feverishly at the museum hangar on Miss Montana, with plans to remount her two engines soon and have the airplane ready for the initial test flight the first week of April.
Fifty flying hours are needed on Miss Montana's engines and inner workings before the plane can leave for Normandy. A May 4 sendoff gala is planned.
The museum's Dick Komberec and his family recently bought the Western DC-3 from a collector in Mena, Arkansas. Komberec and another pilot, Paul Bazeley, will travel to the west Arkansas town to fly it north this week, weather permitting. Bazeley is director of maintenance at Aerometal International in Aurora, Oregon, south of Portland, where the training will take place throughout April.
Komberec, a former Delta Airlines captain and aviator for Missoula's Johnson Air Service, bought the airplane now called Miss Montana from a charter service in another Arkansas town and flew it to Missoula in 2001. It became the central exhibit in the Museum of Mountain Flying at the Missoula airport but hasn't been flown since.
The Western aircraft is airworthy. It was manufactured in 1941, three years before Miss Montana, which is also known as the Mann Gulch plane for its part in the 1949 wildfire disaster north of Helena.
You have free articles remaining.
"It's an original Western airplane, one of the few Douglas Sleeper Transports left," Komberec said of the new purchase. "United (Airlines) bought a bunch of them trying to get a leg up on the other airlines, and this was one."
The Sleeper Transport was a luxury sleeper with seven upper and seven lower berths and a private forward cabin.
Western bought this one in 1942, but as World War II raged the U.S. military "grabbed as many of the DC-3s as it could" to press into service, Komberec said. For two years it operated through Great Falls into Alaska to support the Aleutian campaign.
After the war, Western refitted it for commercial passenger service and used it until 1958. A leasing company and a retired Western pilot in Seattle owned it for the next 58 years before Arkansas Round Engine of Mena picked it up in 2016.
Komberec said the plane looks and feels just as it did when Western Airlines operated it.
"It's like walking into history. It's absolutely like you have gotten into the airliner in 1950 — the galley, the seats, the baggage compartment," he said.
Komberec had hoped to be in Arkansas last Friday and fly the aircraft to Missoula over the weekend.
The idea, he said, was to "kind of stir up the pot, if you will, and give some hope to those people working 24 hours a day on Miss Montana that these things fly."
He won't know for sure until Monday, he said, but it looks like snow and freezing rain may force them to skip Missoula for a more southern route to Oregon. When flight training is done in Aurora after 30 days or so, the museum's newest addition will head east to its new home at the museum.