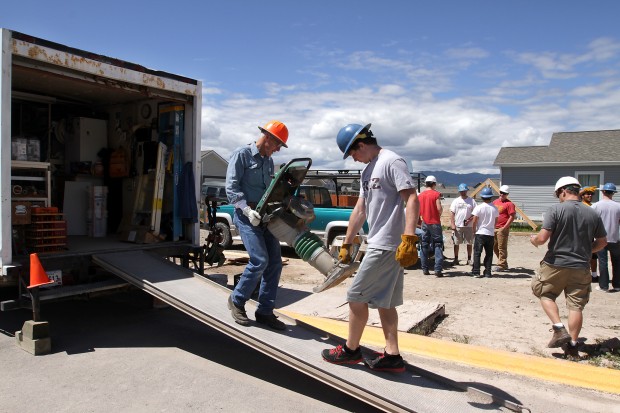 The city of Missoula has received a $600,000 grant to assist low-income households to provide down payment and closing cost assistance to prospective homebuyers, according to an announcement from Gov. Steve Bullock and Montana Department of Commerce director Meg O'Leary.
The funding comes through the Montana Home Investment Partnerships Program, which is funded by the U.S. Department of Housing and Urban Development and administered by the Department of Commerce.
"Providing these funds to the City of Missoula will give some of our fellow Montana citizens the extra boost they need to become homeowners and strengthen the social and economic ties to their neighborhoods and community," Bullock said in a statement.
The city is working with the District XI Human Resource Council to distribute the financial assistance, which can provide each income eligible household up to $35,000 of assistance.
"The city is pleased to be able to continue providing down payment assistance funded by this grant to low-income Missoula families through the very successful work of the District XI Human Resource Council," said Mayor John Engen. "That first home purchase is often a key to future economic success, and provides Missoula residents with the stability and pride that comes with homeownership."
Jim Morton, the CEO of the District XI Human Resource Council, said that the money will go to provide second loans to qualified homebuyers. The income level is determined by the area median income, which varies by county. In Missoula County, a family of four with a household income of less than $48,000 is considered below moderate income.
"Households have to apply to a local lender to buy a home, and local lender decides how much they will be lent," he explained. "After that, then they look at what they need for their particular family. They're usually working, they have good credit and a local lender will lend them money to buy a house. Let's say a local lender will loan them $150,000. Because of their family size, they may need a house that costs more than $150,000. We can loan them up to $35,000 on a second loan. They take the $150,000 and add the $35,000 if they need it, so they can buy a home at $185,000."
Morton said that the goal is to level the playing field, especially in high-cost areas like Missoula.
"In rural areas the costs are different but in some respects the housing in some rural counties doesn't meet the quality standards or inspection standards," he said. "What we're trying to do is get low income households into housing. We also have a program outside the city."
Families don't have to pay the loan back until the house is sold or they pay off their regular 30-year mortgage with the bank.
"We loan the money to the family and defer payment until title of the property is transferred, which usually mean it's sold," Morton explained. "We don't have them make payments, because that would decrease the amount of money a bank will lend them because it's too much money going out every month. We are paid back when the house is sold. If they have a 30-year mortgage, when that loan is paid off they have to start paying us at a normal interest rate similar to the Montana Board of Housing interest rate."
Morton said the program is very effective.
"We think it's a great program for working families who have part-time jobs, good credit risk, but not enough income given the housing prices," he said. "They don't get an automatic $35,000. They have to go out to the market and find out what's there and talk to our staff and find out what they can buy."
Get local news delivered to your inbox!
Subscribe to our Daily Headlines newsletter.