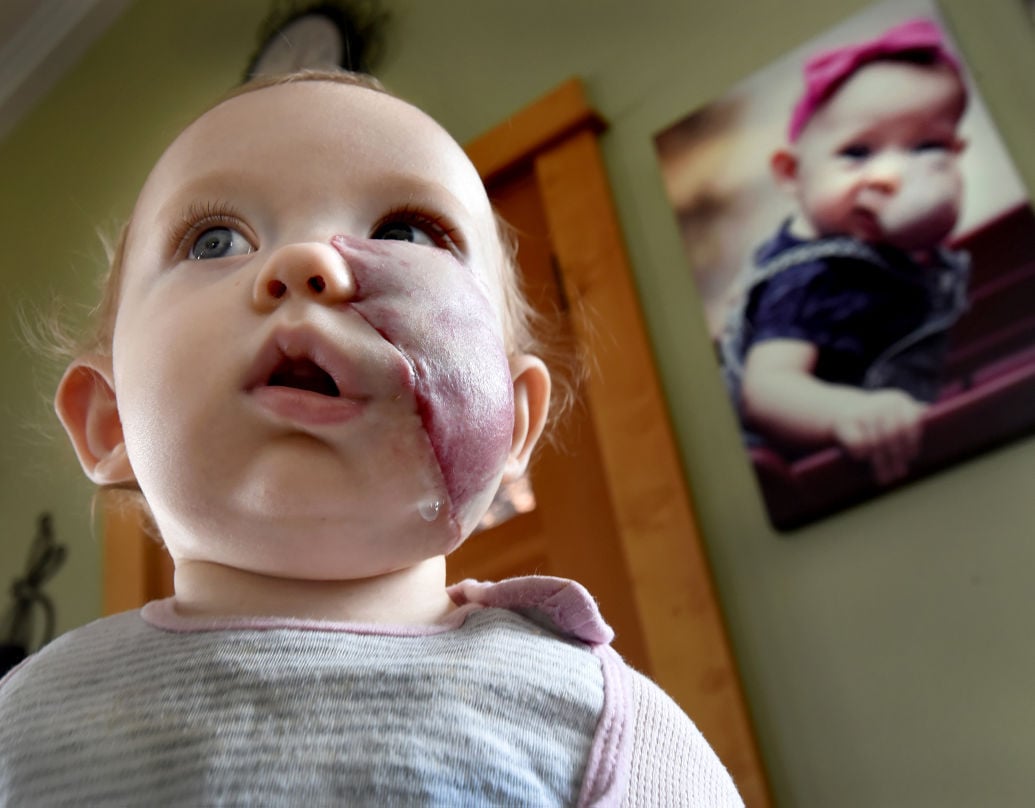 With her first birthday now just a month away, Sloan McGillis is smiling and happy to be back home in Missoula following a major surgical procedure.
Sloan and her family started 2016 with a trip to New York City, where the 11-month-old girl underwent surgery to remove the vast majority of a benign vascular tumor called a hemangioma that had covered her left cheek since birth.
After seeing different specialists around the country for the condition, Sloan's parents Joe and Jenny began to work with Dr. Milton Waner, one of the world's foremost experts in vascular anomalies. He was also the one who performed the procedure at Lenox Hill Hospital on Jan. 6.
The surgery involved making incisions below Sloan's eye and along the side of her nose and mouth to open her cheek up, but Jenny said the doctor was able to remove around 90 percent of the growth.
In a followup appointment a week later, Dr. Waner used a laser treatment to burn some of the blood vessels below the skin on the side of Sloan's face, which will help her normal skin color come back. Jenny said they can already see a marked improvement, and medical staff told them the color should continue to get better in the coming weeks as the remaining swelling from the surgery goes down.
The family doesn't yet know what follow-up procedures Sloan might need, but the most likely will be fixing her lip where extra skin bunched up during the surgery. When she gets older, she could also have another to help make the scar along her nose and mouth less noticeable.
"Everything now will be mostly cosmetic," Jenny said.
Jenny has been keeping a Facebook page documenting Sloan's medical journey since her daughter was born. In the months leading up to the surgery, Treasure State Bank in Missoula had set up a medical fund in Sloan's name to help the family pay for her care, and an online fundraising effort through a site called YouCaring brought in more than $33,000, including a single anonymous donation of $10,000.
"All we know about them is a message that they had a child treated by Dr. Waner as well," Jenny said.
At the end of October, the McGillis family received its largest donation for Sloan, when the Hannah Storm Foundation included her as one of the children it would raise money for during its annual fundraiser, where professional athletes, television actors and journalists serve guests at a celebrity-waiter dinner.
The day after the dinner, Jenny received a phone call telling her the Hannah Storm Foundation had raised enough money to cover all of Sloan's surgery and hospital stay while she was in New York City. Jenny said even she doesn't know the exact dollar figure the foundation raised for her daughter, but an earlier estimate for the procedure had placed it at $100,000 or more.
"Everything we were worried about just fell away," she said. "We didn't have to worry about how to pay for all of this."
Joe said the giving nature of the Missoula community and everyone else who has heard about Sloan has been overwhelming. At the start, it was difficult for them to accept help at all.
"They aren't donating to us, they are donating to her, and it was tough to wrap our heads around that for a while," he said. "Sloan's changed us, she's made us stronger and made us better people."
Recently their family has had even more people reaching out and offering ways to help them. Jenny said her most common answer now is asking that instead of donating to Sloan, they make a donation to the Jadyn Fred Foundation, a Missoula-based nonprofit that helps Montana children who require specialized medical treatment.