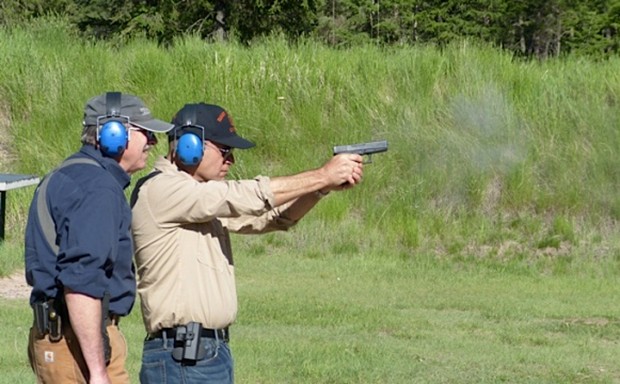 Ashley Rice was raised by hippie parents who taught her guns are not the answer.
Then she moved to Missoula to get her master's degree, and Montana's gun culture surrounded her.
The Nebraska woman, a firm believer in educating herself, decided that instead of being afraid of guns, she would sign up for a firearms safety course.
The first time she pulled the trigger, she hit the bull's-eye.
"It was a very strangely empowering thing," Rice said. "I felt really capable, and I've never felt capable through anything outside of education before in my life. That was a really weird thing for me."
Rice is among the many students who are flocking to Gary Marbut's firearms safety classes this year. Marbut, a firearms expert and author of "Gun Laws of Montana," holds three or four full classes in a typical spring.
This year, to keep up with demand for the $100, full-day course, he's teaching twice as many. So far, he said more than half of his enrollment has been made up of women, and some common themes are boosting the count: uncertainty about the political future, lack of security in the economy, and concerns about sexual predators in Missoula.
"I think all of those three things are causing interest to spike, which I think is good," Marbut said in a recent interview. "People need to learn how to be responsible for themselves and learn how to be in charge of their personal security."
As soon as Rice picked up the two books Marbut assigned for a class in May, she started wondering what she was getting herself into.
"I sent him (Marbut) this frantic email. 'I haven't even touched a gun before. I'm so scared. Are you sure I can do this?' " she said.
And she remembered his response: "Of course you can do this."
In fact, Marbut, president of the Montana Shooting Sports Association, said women who have no experience with firearms are his favorite students because they're aces at listening and learning. And learn Rice did.
In the classroom portion of the day, Marbut talked about the power of guns, the reasons for them, the correct ways to treat firearms, and how to take responsibility for owning weapons, Rice said. By the time she headed for the shooting range to fire an actual gun, she felt 100 percent at ease with a concept that once had troubled her.
"He has you so comfortable with the thought of what you're going to be doing and what you're holding in your hands, it was easy to pull the trigger the first time," Rice said.
When her pacifist mom learned she was taking the course, her mom texted her a joke about guns. But Rice believes her dad and brother, a U.S. Marine, are proud she's become knowledgeable about guns.
Rice doesn't plan to buy her own firearm anytime in the near future, and neither does Rachael Sparks, who also took the class this spring. Sparks, too, was afraid of guns before she enrolled, and she also described feeling "empowered" after taking the class.
Even if she doesn't ever own a firearm, she now knows how to tell someone to do so safely if she perceives they aren't; she knows how to get out of harm's way if she ever needs to remove herself from a dangerous situation that involves a gun; and she knows how to use the firearm safely herself if necessary.
Sparks also knows how to use a gun well, and to her own surprise. The first time she took a shot, she figured it flew off the mark.
"Being the first time I had shot a gun, I was convinced that I had missed the target completely, that it was way up in the hills," Sparks said.
But that bullet and the rest of her first round went straight through the prime target in her silhouette, which she saved as a souvenir. Friends back home in Massachusetts can't believe she took a shooting class, but Sparks is glad she did and credits Marbut with making newcomers feel welcome, capable and empowered.
"It's something I'm very proud that I did," Sparks said.
Even Montanans who are seasoned with firearms sign up for Marbut's course. Bruno Friia, who took the class about a year ago, is in no way a newcomer to guns, but he wanted to learn more about them.
"I've always been a sportsman. I've always had firearms around the house, and I just thought it would be nice to take a formal class, learn all the protocols, and learn all the idiosyncrasies that you don't learn when you're learning from your dad or your uncle," Friia said.
Friia, for instance, has kept a gun in a gun safe at his home. Now, he knows how to have a personal weapon available that's at home, outside the locked safe, but in a way that's safe for anyone in the household.
His daughters are familiar with hunting and fishing, and they're active in their own self-defense, but Friia found the class so beneficial, he wants the 26-year-old twins to take it as well. He said they'll probably do so this fall.
"He's a great instructor," Friia said of Marbut. "He communicates really well, and there's nothing left to not understand."