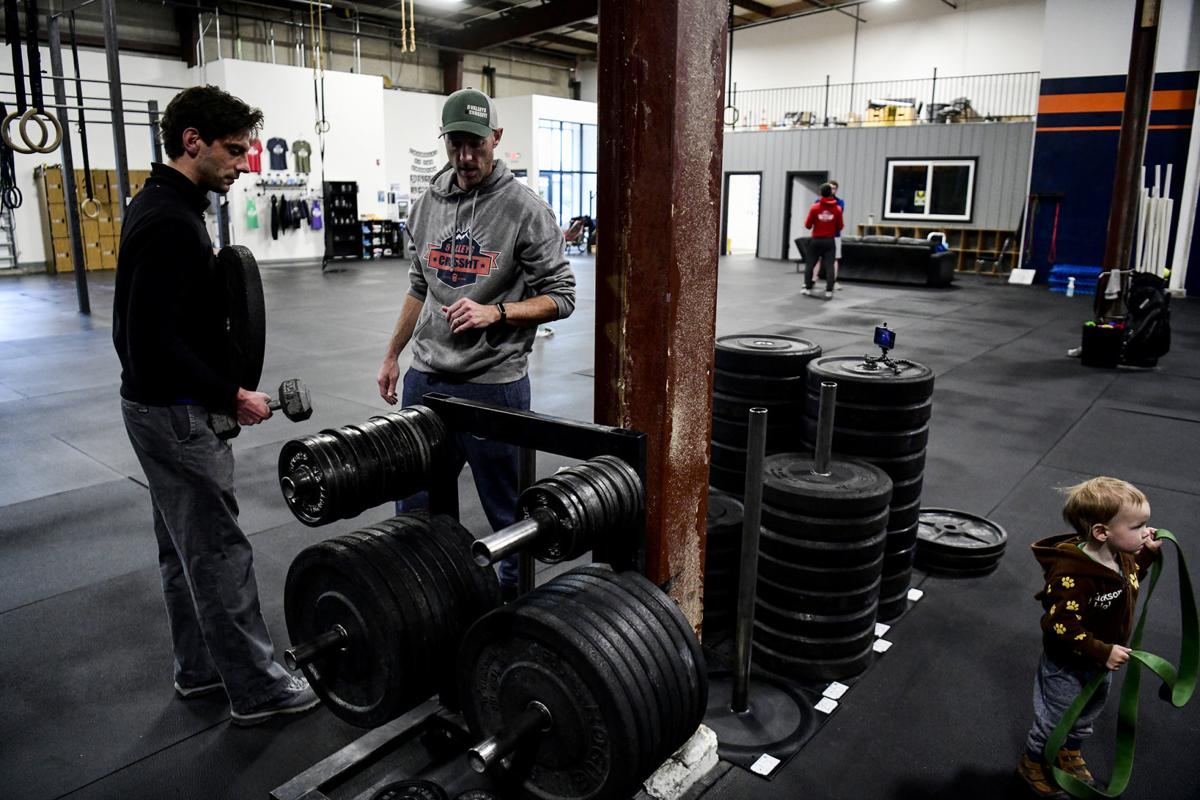 Normally at 5 p.m. on a Monday, the 5 Valleys CrossFit Gym would be humming with activity and drenched in sweat.
Instead, gym owner Ian Marshall is checking out dumbbells, kettle bells and weight plates to a few members trickling in to use at home. Due of course to the coronavirus pandemic, classes have been fully online since last Monday, when he made the decision to temporarily close the gym to in-person workouts as it became apparent the city and state would soon force the business to shutter its doors.
Gyms across Missoula and the rest of the country have been forced to grapple with the problem of keeping their members in shape while still abiding to social distancing measures, and many have come up with the same solution Marshall did — push it all online.
"We're just trying to keep people safe and healthy and help support them through this time," said Marshall, who has owned the gym for five years. "It was a challenge to flip over, but we're getting lots of positive feedback from the members. It's been an interesting week, but everyone seems to be doing well."
The Missoula YMCA recently launched a fitness challenge running from now until April 23 in which members can track their progress on an online platform. It's a free 30-day challenge that has already attracted over 4,500 YMCA members nationwide.
Similarly, PlanetFitness sent an email to its members last week announcing it would have classes and online instruction for its members.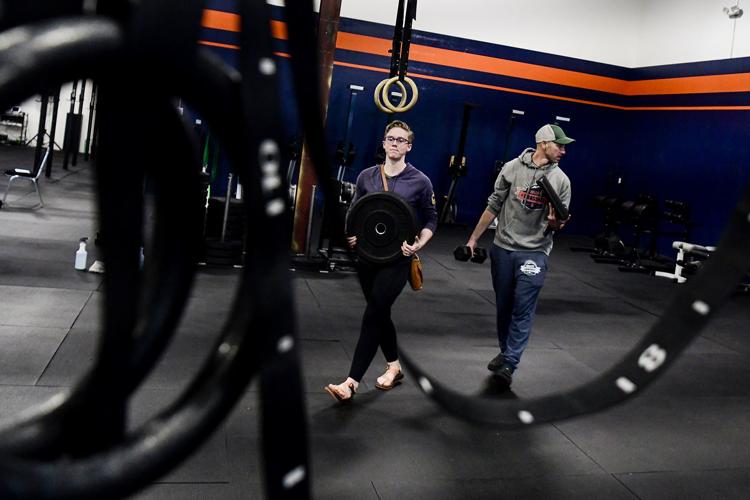 At 5 Valleys, Marshall and his five coaches use Zoom, the video conferencing software that many businesses and organizations across the country have adopted over the past few weeks, to stream their workouts.
The 160-some gym members have the option to tune in at one of three times during weekdays and once on Saturday. With the gym normally having a number of classes throughout the day, timing has been a little difficult, but as instructors hear feedback from members of the gym, Marshall and his coaches have made adjustments.
"It's just been a little bit of a learning curve, that's all," said Jessie Kwasney, who is the head coach at the gym. "We're still engaging with athletes the way we would in person. Now there's just this little barrier in front of us. So beyond just learning new ways to motivate people and to get the point across or explain what you're trying to do without that one-on-one, in-person type of visual thing."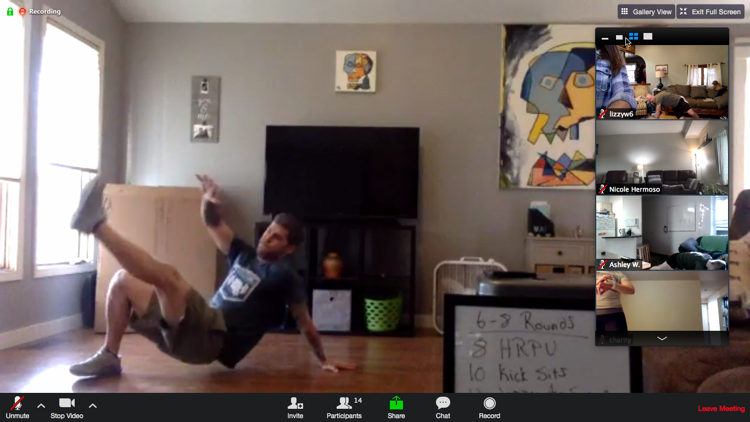 The social aspect of the gym workouts was one of the reasons Marshall and 5 Valleys decided to use Zoom, as the program allows for people to talk with one another during their workouts. That's been key for both the gyms owner and the community it serves.
"People come to our gym because a lot of is the social interaction, the people and the coaches stuff, and we're trying to create the chance for them to do that online," Marshall said. "We've gotten really good support and really good engagement from our members."
There were some technical hiccups first, as one class went longer than Zoom's conferencing calls allow and it cut out in the middle of the workout. But it did not take long for them to develop a system that's working for members. 
The video sessions allow athletes to watch their instructor, interact with other members and be coached at the same time. The gym equipment they will be using is now checked out and on hand, and many of the exercises are things most members have previously done.
One challenge has been to figure out the intensity of the workouts. Exercise is directly related to good health, but over-training can weaken the immune system and the central nervous system, so the coaches recommend just a little moderation for a group that loves to push things to the limit.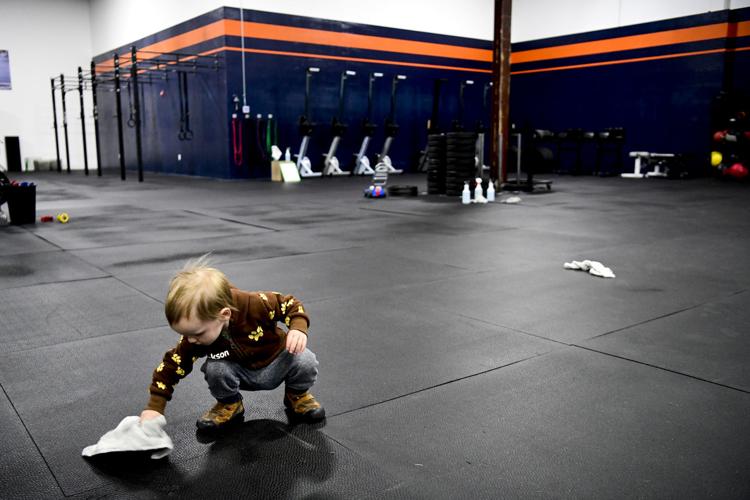 "It's just making sure all the members know that, 'Hey, in this time, we're not trying to go 100%, we want to pull back a little bit,'" Kwasney said. "We want keep the mind and body active, but we want to be healthy about doing that at the same time."
With CrossFit using a lot of body movement exercises, some of the objects they can use in their workouts, like stools or water jugs, are things many people have around the house. But Marshall soon realized that they could do even more if they checked out equipment for the duration of the pandemic, which he soon started doing.
The response has been strong, Marshall said, and many of the gyms members are grateful they're still able to get a workout in.
"It's very essential, mental health and everything else," said Bridger Pierce, a member of the gym who dropped by to pick up a weight plate and several other small pieces of equipment this week. "I think that's what everybody's trying to get through right now at home is how to stay sane when life's a little different and the world is a little different.
"I think being able to be at home and get up and work out every morning and get a good sweat in, it's huge."
Jordan Hansen covers a bunch of stuff for the Missoulian and 406 Sports. Shout at him on Twitter @jordyhansen or shoot him an email at Jordan.Hansen@406mtsports.com
Concerned about COVID-19?
Sign up now to get the most recent coronavirus headlines and other important local and national news sent to your email inbox daily.