Adam Snobar and his dog Buttercup headed to the 11th annual Project Homeless Connect on Friday, an effort of the At-Risk Housing Coalition. Snobar, like many who come to the event, isn't homeless but his situation is precarious.
The program brings together community services once a year to help those who are homeless or who are at risk of becoming homeless. The goal is to set participants on a path to self-sufficiency.
There was medical, vision, dental and mental health care, food, clothes, addiction recovery support, legal advice, housing assistance, employment and financial counseling, personal hygiene services, haircuts, pet services and more.
"I'm on disability," Snobar said. "We can barely afford the place we have. Missoula needs cheaper housing."
It's the life of living paycheck to paycheck that makes it difficult for many in Missoula to meet their basic needs.
Project Homeless Connect brought 75 organizations to the Missoula County Fairgrounds on Friday – a change in location from years past.
"We wanted to try having more space, be more spread out," said Theresa Williams, United Way of Missoula County's Reaching Home coordinator.
This was Williams' first year running the event.
Parking was always an issue downtown, she said, when the event was at the First United Methodist Church, Missoula Children's Theatre and the Missoula Public Library. 
At the fairgrounds, parking was easier, though the lot was still packed. And the event was spread through six buildings, with a map guiding participants around and volunteers placed strategically to help those who were lost – or warn them of ice patches.
Williams said 350 people came to the event last year, and they planned for 500 this year because of the new location.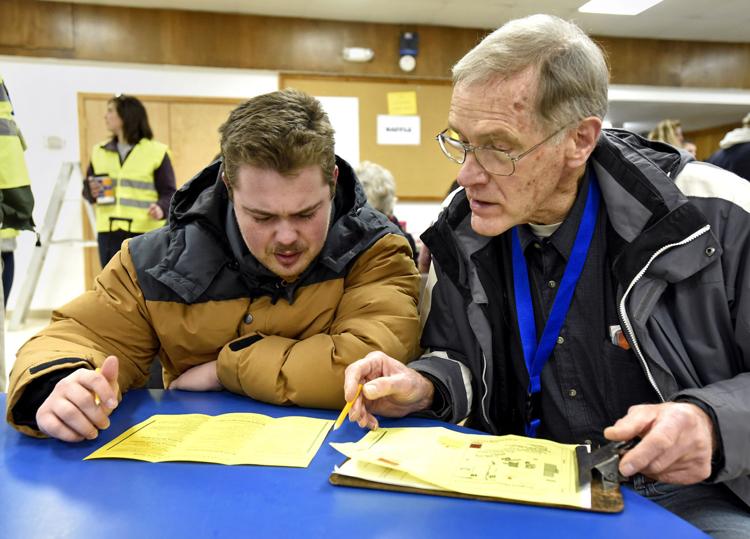 It comes down to outreach, she said. Thursday night, she spent two hours at the Poverello Center registering people for the event. Other volunteers headed to shelters around town. More rode Mountain Line buses Friday morning, registering people.
It coincides with the Point-in-Time survey, one used nationwide to try counting how many are in our homeless population. As participants walked in to register, they were asked where they slept the night before.
In 2016, the survey identified 395 homeless individuals and families in Missoula. Of those, a third were families, including 78 children.
About 60 were considered "chronically" homeless, meaning they had a disability and were homeless for a year or longer, or they had a disability and had been homeless at least four times in the last three years.
Workers spread the word through fliers, and on the radio, online and on Facebook. Many participants come year after year, knowing it's around the same time every year. They could take a survey this year to let Williams know what worked and what didn't. Eventually, she'd like to see this event more than once a year.
You have free articles remaining.
The idea came from an effort of the same name in San Francisco, which began in 2004.
"It sometimes takes months to get your needs met," Williams said. "We try to make this as simple as possible, all in one stop."
More than 200 volunteers headed to the fairgrounds to help this year.
"I'm in awe," Williams said. "It's great to see so many people come and get these opportunities.
"I just get emotional talking about it. I'm running on excitement, hope and faith."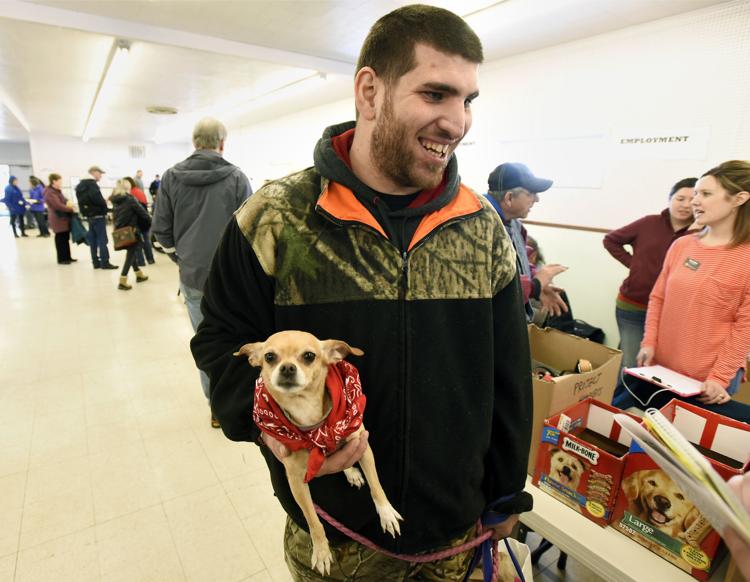 Peggy Armer has lived here since 2009 but had never heard of Project Homeless Connect before.
She wishes she'd known sooner.
"My mental health case manager told me about it," she said. "I was in Phoenix before and I bounced all over the place. They had me on 30 different medications. (My doctor) at Partnership took me off all of it, and we started over.
"I have those connections here where I didn't in Arizona. It needs to be out there more what's in our community."
The Missoula Police Department and Missoula County Sheriff's Office have learned that lesson, as have the people they respond to who are in crisis – who often don't trust law enforcement.
The Crisis Intervention Team (CIT) has been in place for two years now, and this was their first year at Project Homeless Connect. It's a program that trains law enforcement, emergency responders and mental health providers on responding to and working with people in a mental health crisis.
"It's mainly getting law enforcement and mental health services working together so we know what's here, we can get people reconnected and divert them from the state hospital or detention center," said school resource officer Jeff Lloyd.
With CIT, officers know all of the options available in the community. They become a "funneling to the gateway of services," he said.
"They're services that cops generally don't even know about," said sheriff's Detective Sgt. Jeremiah Petersen. "We're hopefully getting them (the citizen) somewhere that helps, rather than just a Band-Aid."
Patrol officer Ryan Kamura went through CIT training last year, and "right out the gate" got a call about a homeless woman having a mental health crisis.
"She didn't trust law enforcement," Kamura said. "She had had bad experiences before. So I walked and talked with her for 20 minutes. She kept saying, 'You're going to take me to St. Pat's for an eval.'"
He didn't, instead explaining different options available for her. It "de-escalated" the situation, he said. The next day, she thanked him.
"This breaks down the stigma of mental health and what people are going through," Lloyd said. "Knowing what's around, it takes down the fear of the unknown. Because we're never going to see a reduction in the number of people who have mental illness. It's a human condition."