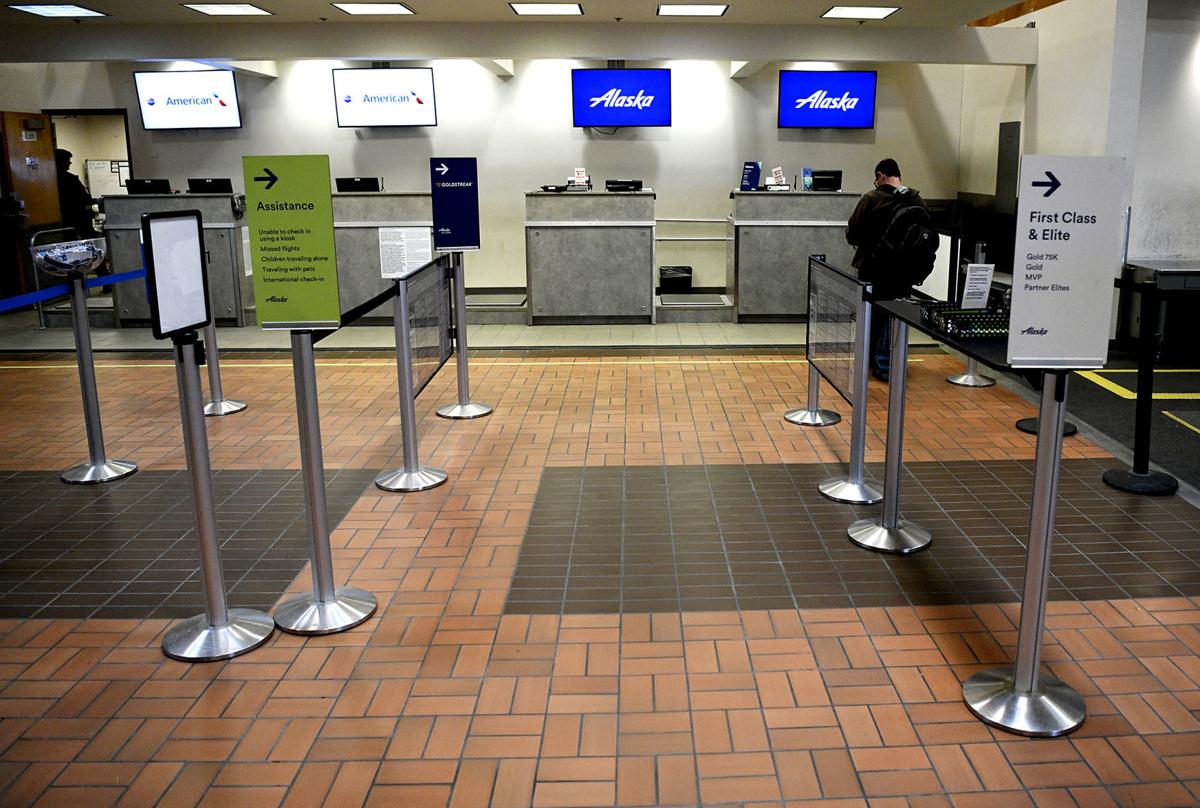 Commercial traffic at Missoula International Airport is down 80 percent as the coronavirus pandemic grounds planes and potential passengers.
"We've been running in the neighborhood of 200 passengers a day, some days a little more. Today we're actually a little below that," airport director Cris Jensen said at mid-day Thursday.
A single Airbus could carry all 200, and more, if they weren't spread across five carriers en route each day to and from eight cities. Three Delta Airlines flights to Salt Lake City were canceled Thursday, as were two United flights from Denver and one of two Alaska Airlines flights between Missoula and Portland, Oregon.
The steep drop-off is symptomatic of air travel everywhere.
"I'm not aware of any airport that's doing well right now," Jensen said. "I just completed a State of Montana Airports call with directors this morning. They're all experiencing the exact same things we are."
On Thursday, you could still purchase a ticket for a Friday flight on Delta leaving at 6:05 a.m. or 2:30 p.m. from Missoula to Salt Lake City. United has canceled its afternoon and evening flights to Denver and is selling seats for only its 6:15 a.m. flight through April 14. But Jensen said even with tickets in hand you might run the risk that your flight will be canceled.
The airlines seem to be adjusting their flights "more or less on a 24-hour advance schedule," he said. "Likely what they would do is re-accommodate you on a different flight. They're trying to put more people on the aircraft they do fly."
The crunch comes during a years-long surge in commercial air traffic, in Montana's major airports and elsewhere. Last year, Missoula set a record for passengers in and out of the airport for the sixth straight year, topping 900,000. Officials went into this year planning on another 7 percent rise.
Construction proceeds on a $64 million south terminal, work that clogged security lines during peak times last summer. That's not an issue these days.
It's not deserted, but the airport is visibly impacted by the coronavirus. Besides the radical drop in travelers, a skeleton staff is on hand to keep things running.
"Air cargo and general aviation, medical flights, corporate air traffic, things like that are still happening," Jensen said. "To keep our staff safe and things operational, we've split into an A team and a B team."
He's working from home this week, while deputy director Brian Ellestad holds down the administrative fort at the airport. Next week they'll swap.
"We've done that with the entire staff," Jensen said, adding that layoffs will be a last resort. "We're not necessarily cutting employees, but we're definitely cutting budgets for the current fiscal year and the upcoming one that takes effect July 1."
The monthly airport authority board meeting set for next Tuesday, March 31, will be conducted by teleconference, with the agenda stripped of everything except financials. Selection of a food and beverage concessionaire for when the new terminal is open in 2022 has been moved to the April 28 meeting.
Jensen said some airport employees were already in retirement mode before the coronavirus scare hit. Their positions won't be filled. Neither will two new positions in the upcoming budget year.
"We're also looking at pay cuts and potentially reduced hours, but those things are farther down the road," he said.
There may be help coming from Washington. The $2 trillion federal stimulus bill passed by the U.S. Senate late Wednesday designated $50 billion for the airlines, half in grants and half in loans. After lobbying efforts from airports, it included another $3 billion in grants for airport contractors.
The House is expected to approve the measure Friday, and President Trump has said he'll sign it into law.
Jensen isn't counting his chickens too soon.
"We're still not sure if the federal bill will offer us relief," he said. "All those things are on the table."
He said talk that airports across the nation will be shut down during the crisis is not coming from anyone in authority.
"I've not had that communication from any of the industry groups or the airlines that it could happen," Jensen said.
Under normal circumstances, social distancing might be a challenge in commercial air travel.
"Today, though, it's possible with so few people on the aircraft," Jensen said.
Concerned about COVID-19?
Sign up now to get the most recent coronavirus headlines and other important local and national news sent to your email inbox daily.