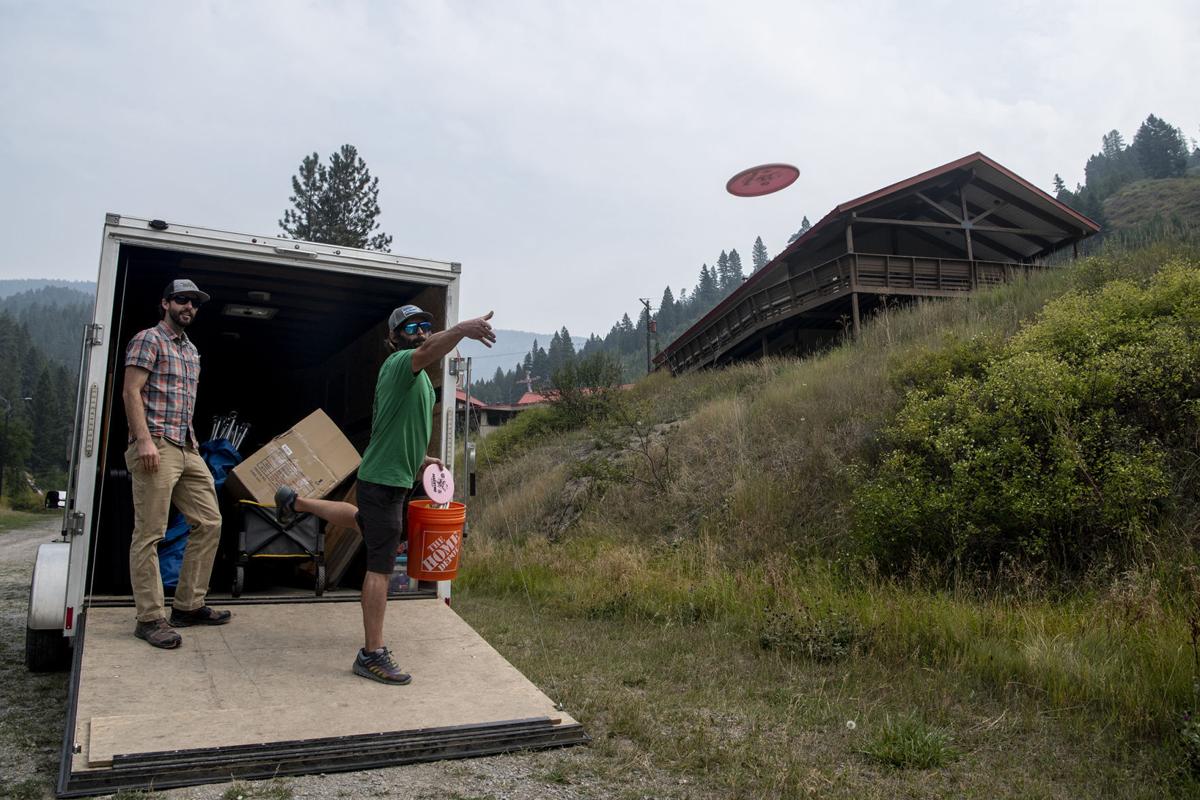 Marshall Mountain will be host to a party Sunday featuring free smoothies, disc golf, live music, bike races and other festivities. 
The get-together, which kicks off at 1 p.m., is more than just a party, as city officials seek to gather input on what the future of the area will look like.
Signage has been erected around the area and trails have been mapped for hikers and mountain bikers. But what will be done with the buildings on the site, including ski lifts, is yet to be determined.
The overall look of the park will be up for discussion as well — it could end up having anything from a coffee shop to a trailhead with a pit toilet. There are many unknowns, but the guiding group for the project wants to know what Missoulians want.
"Our big goal is to get folks up here who haven't been up here in a long time, or never, and folks who represent all different types of users and ages just to interact with the site, get a feel for the site," said Morgan Valliant, Missoula's Ecosystems Services superintendent. "It's going to be a real kickoff for our community planning process.
"One thing that we've known since we signed the lease back in June is what it's going to cost to acquire the property. But we don't really know what we're going to do."
That's on purpose — the parties involved want the public to have significant input on the future of Marshall Mountain, Valliant said.
The city of Missoula, Missoula County, Five Valleys Land Trust, Mountain Bike Missoula (MTB), Izzy Dog LLC and other community partners have formed a steering group for the project.
They collectively came up with a set of guiding principles, which any project decisions made will have to abide by. There are 20 in all, including being a high-use, all-season, all-access public outdoor recreation and education area.
Also included are programming opportunities, trails built specifically for mountain biking and hiking, adaptability for events, and honoring the legacy of the area.
Marshall Mountain has been a property the Missoula community has enjoyed for years and many longtime residents of the valley have strong memories associated with it.
Following a public outcry over a potential private interest taking ownership of the land, the city of Missoula secured an 18- to 24-month lease of Marshall Mountain with the intent to eventually purchase the area.
City officials have said they want to fund the project through public and private partnerships. Federal money, like grants, could also be a potential funding source, as could partial funding from the 2018 City/County Open Space Bond, Valliant said.
Missoula spending taxpayer money on the former ski resort has become a talking point, especially in the city council and mayoral elections. One of the questions raised has been about how a public entity will manage something successfully where private enterprise has failed in the past.
Making the site financially viable is a stated goal in the guiding principles, but having the space be free and open to the public is as well.
"There's not a ton of examples of city-owned ski areas. There are certainly a lot of examples of city-owned, open-space lands," Valliant said. "The Whitefish Legacy Project is a pretty good example of large partnerships that have come together, have multiple entities managing different parts of the system.
"Looking at these other examples where communities have built something like this, that would be kind of a higher-end recreation area, and we have been able to learn from their successes and failures."
He added: "I do think though, the trap you run into, is that you want to try and copy something from one community and put it in another and I think we would do a disservice to the community if we did that."
Valliant also noted there has been significant support for the project in the Bonner, Milltown and East Missoula communities. Marshall Mountain is close and easily accessible for those areas.
Right now, a new information kiosk has been erected and significant time and effort went into trail marking and safety. Some outlying buildings have been torn down and there have been fences erected in some places.
Some trails are reserved for mountain bikes, others for hiking. Valliant is hopeful that by designating those from the beginning, there will be fewer conflicts between different parties recreating in the area.
He also is happy with the signage — it's pretty hard to get lost now.
"Our most intuitive, best directional signs in the entire city open space system are on Marshall Mountain," Valliant said. "You can't get lost; every intersection has the direction on it and that's because we did it all from scratch."
Sunday's event ends at 4 p.m. and parking is limited. A shuttle will run from the MonTEC parking lot every 30 minutes from 12:30 p.m. to 3 p.m.
"(It's) just a great opportunity to come up, spend the afternoon in the beautiful weather, learn about where we are in the process that we're about to kick off and become involved," Valliant said.
Jordan Hansen covers news and local government for the Missoulian. Shout at him on Twitter @jordyhansen or send him an email at Jordan.Hansen@Missoulian.com