Missoula city leaders met with developers Wednesday for an update on the planned $150 million Riverfront Triangle Project downtown, which would transform the equivalent of three neglected city blocks into a splashy combination of a hotel, conference center, medical offices, retail space, restaurants, housing and green space.
Mayor John Engen called for the informational presentation in front of the City Council's Committee of the Whole to gauge council members' comfort level making a commitment to help pay for the construction and operations of the new conference center in partnership with a private development group, Hotel Fox Partners.
That group has been granted the exclusive right to negotiate a development agreement with the city for its portion of the property, which includes the parking lot just west of the Orange Street Bridge on the north side of the Clark Fork River.
Over the past four years, the scope of the project has grown by leaps and bounds into what would be one of the two largest urban infill projects in Montana history, the other being the development of the Old Sawmill District across the river to the southwest. The developers recently transitioned from grand ideas to talking to potential tenants who would be interested in investing in the site or locating there.
The mayor is driving the push for a public-private partnership to build the conference center for several reasons.
The first is conference centers are rarely, if-ever, self-supporting. They don't make money on their own, but they are an economic driver for communities, drawing visitors and spending. A consulting firm hired by the city also indicated that conference centers bring a plethora of intangible benefits, including spin-off development, community branding and a higher quality of life.
"We have been trying to figure out what to do with the Riverfront Triangle for the better part of 20 years now," Engen said. "We believe we are as close as we've ever been to having a project that makes sense for the community, makes sense for the site and makes sense for the future. We have talked for a very long time about doing something great here because we believe the site is great and deserves something more than average."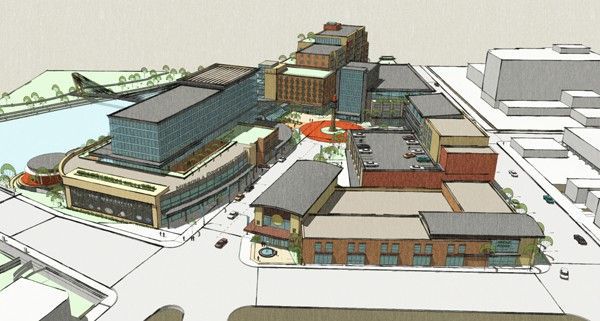 The developers said they expect the project will generate more than $27 million in spending in Missoula by out-of-town visitors and would create 356 good-paying, permanent jobs. The developers have switched from plans for a 175-room hotel and a smaller boutique hotel to plans for a single 200-plus room hotel.
Designs also call for a 35,000-square-foot Riverfront Triangle Conference Center at the corner of Orange and Front streets. A pedestrian bridge would span the Clark Fork, and two restaurants with outdoor dining would overlook a public green space on the riverfront.
"We have an opportunity for a public-private partnership that we believe makes sense in the long term," Engen said. "This is not a giveaway, but also benefits the long-term health of downtown, the local economy, creates jobs, cleans up the riverfront and builds the tax base – all things we're pretty interested in – and in the long term creates another destination in the community and makes us competitive in ways that we don't think we are today. This is a catalytic project. The opportunity here is great."
Jeff Crouch, a senior project architect at CTA Architects and Engineers in Missoula, gave a detailed update on the developers' plans.
"One exciting development is we've transitioned from creating ideas about this space to actually speaking to companies and individuals that are interested in being on this land," he said. "For us, that's a real shift in the reality of this project. We're actually working with some people who are interested in being tenants on this property."
Crouch said designs are fluid and ever-changing. However, initial plans call for a residential development on the western edge of the three blocks.
"The last thing we want is for it to become a ghost town at 5:30 p.m., so we have a mix of residential, commercial, office space and hotel," he said. "It's going to be a very vibrant, dynamic new part of our downtown. It's downtown for the next 50 years."
There would be a greenbelt for bicyclists and pedestrians.
"It gives us a nice way to access downtown if you are on a bike," Crouch said. "It becomes a key connector to the Riverfront Trail. One of the key mandates of this project is to make the riverfront area something everyone can enjoy, to make sure you can connect from the Riverfront Trail up to the sidewalk, so people will have a good gateway downtown. There are plans for a future pedestrian bridge at the railroad trestle, so that will be a great way to connect over to McCormick Park."
The site would have layered public and private access for multiple uses.
"It's a site that could be used on a First Friday for a public event, but also for a private wedding," Crouch said. "We'll have restaurants with outdoor seating. We're layering public and private access. That is important to creating exciting, vibrant spaces that people want to visit. We will be celebrating the river as one of the key elements of our existence downtown, but also focusing on public interaction with the site."
The old Fox Theater sign would be restored as part of a new roundabout, and Crouch said the area would create a "very powerful" east-west access on Front Street all the way to a proposed new library project farther east.
"All the sudden we have a new Higgins Avenue," he said.
Bill Krueger of Convention Sports and Leisure International, a consulting firm that conducted the feasibility study for the city, called the project "exciting."
He said if Missoula built a large conference center, the primary market would be state and regional, mainly due to airline access issues. He said an "unmet" market demand exists in the region that Missoula could exploit. He noted that his company often tells cities that similar projects are not viable, but that is not the case here.
The analysis they conducted for Missoula showed the market could support a 150-room hotel with conference center that would have a 25,000- to 30,000-square-foot multipurpose room. He said the market would support a center with an additional 10,000- to 12,500-square-feet of breakout meeting rooms. 
"The whole goal of that is to build a bigger amount of conference space than you would otherwise have gotten (from private development)," he said. "That then benefits other hotel properties in the city, but also, importantly, brings more visitors and tax dollars and more spending into the community than you otherwise would have gotten."
Krueger estimated a conference center that is funded mainly by taxpayer dollars but with private assistance could draw 67,063 non-local visitors every year, the majority of whom would be overnight guests. He said the estimated annual economic impact would be more than $17 million in direct spending, $10 million in indirect spending and 356 new jobs.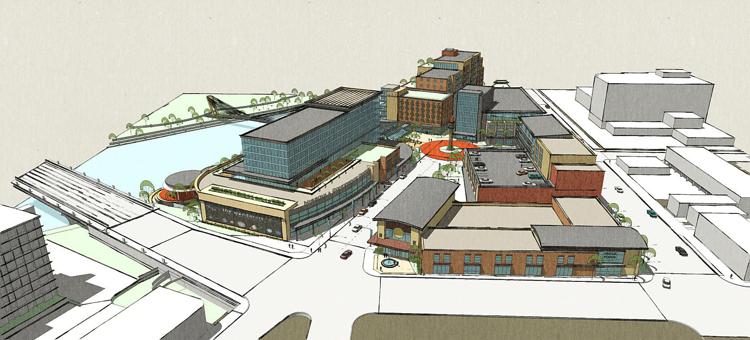 Krueger also drew up a cost-benefit analysis of a hypothetical scenario in which the city would pay for a $21 million conference center. The center would generate more than $16 million every year in net new economic output, but taxpayers would be responsible for more than $1 million every year in construction debt service and $200,000 annually for an operating subsidy.
If the city were to pay for about 75 percent of a new conference center that cost only $11.7 million, it would generate $12 million every year in net new economic output. However, the total assumed city costs would only be about $418,000 every year.
He told the City Council that there's an "arms race" among communities in the country to build bigger and better conference centers, so Missoula leaders have to be wary of competition from places like Billings.
"This project could be a real difference-maker that goes beyond the box," he said.
There are many, many steps ahead before the project becomes reality. The developers have estimated they will close on a land transfer with Providence St. Patrick Hospital this year and begin construction in 2017. In general, City Council members expressed support for the project, including self-proclaimed "huge skeptic" Harlan Wells.
"I'm happy so far with what I'm seeing in the project," said committee chair Marilyn Marler.
"We believe we have a project that will make a hole in the ground something we can all be proud of," Engen said.