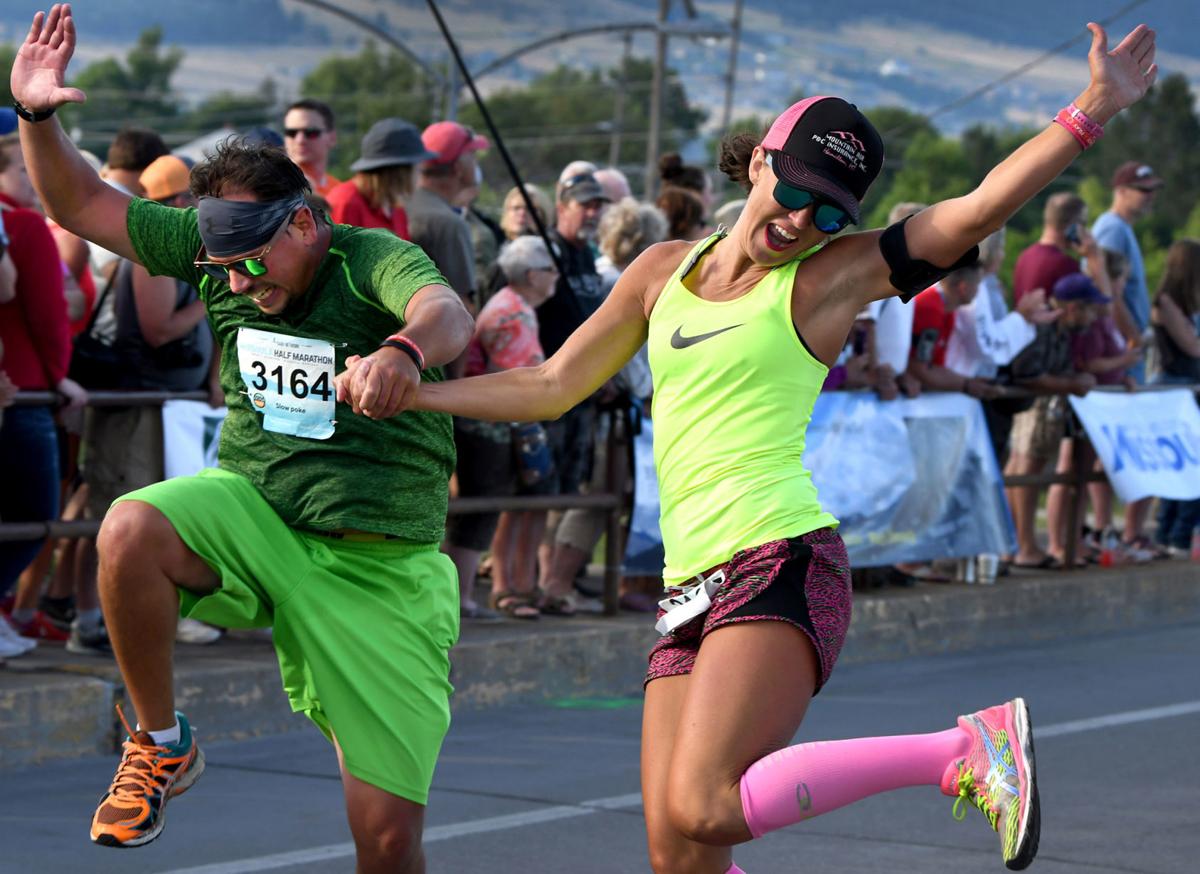 Missoula and its businesses are getting a $2 million economic shot to the arm this week as 6,000 runners and their families flock to the city for the annual Missoula Marathon races.
Hotels are sold out, restaurants are packed and retailers are reporting higher sales.
"It's definitely hoppin'," said Deb Barberio, a manager at Butterfly Herbs downtown. "We like to see it."
Barberio said they stocked up on Montana-themed items and gifts for the weekend because so many visitors will be shopping for souvenirs or gifts while they're here.
"It's definitely picked up today and I bet Saturday will be busy," she said Friday.
Teas and ice cream are popular with tourists.
"We were one of the first shops around to offer espresso milkshakes," she said.
The race is put on by the nonprofit runners group Run Wild Missoula. Race director Tony Banovich said they worked with Destination Missoula, the local convention and visitors bureau, to study the economic impact of the race.
"They have a way to model the visitor spending, the economic impact, and three years ago we estimated it was $1.8 million," he explained. "So now with the economy booming and everything, I'm guessing it's closer to $2 million now."
About a third of the race's 6,000 participants come from out of state, he said, meaning many will bring spouses and family members along. Racers have booked 3,000 hotel rooms and scores of vacation rental homes in town, he added.
"Hotels do very well this weekend," he said. "Restaurants all over town will be busy. Because Caras Park is where people go get their race packets, downtown gets a lot of it but there's hotels on Reserve and midtown and restaurants out there so it's scattered."
A manager at the new Marriott Hotel in downtown Missoula said all 154 rooms were booked for the weekend on Friday afternoon. For downtown businesses like Soul City Dry Goods just across the street, that's good news.
"We've noticed quite a few of our customers are staying at the hotel across the street," said owner Peggy Roark Nelson. "And that's just the ones who happen to mention they're staying downtown. It's been great for downtown."
She's owned the retail gift and apparel store since 1998 and believes downtown Missoula is bustling like never before.
Alison Livingston, the owner and manager at One Eleven Boutique just down the street, said it's been a busy spring so far.
"I don't keep track of where people are from, but it seems like we get a lot of people visiting who are staying in downtown hotels," she said.
The race doesn't just benefit for-profit businesses, either. Run Wild Missoula has donated $35,000 to local nonprofits for the past few years but this year has committed to upping the donation to $50,000.
"The race has been successful enough where we're to the point that we can give back a little more," Banovich said.
With parking likely to be an issue on a crowded weekend downtown, with the farmers markets on Saturday, visitors should be aware of the new public parking garage at 305 E. Front St. inside the ROAM Student Living building. There are 139 public spots that are free on weekends. Missoula also has several other parking garages, Park Place at 201 E. Front St., Bank Street just south of the First Interstate Bank building downtown and Central Park at 128 W. Main.
Get local news delivered to your inbox!
Subscribe to our Daily Headlines newsletter.