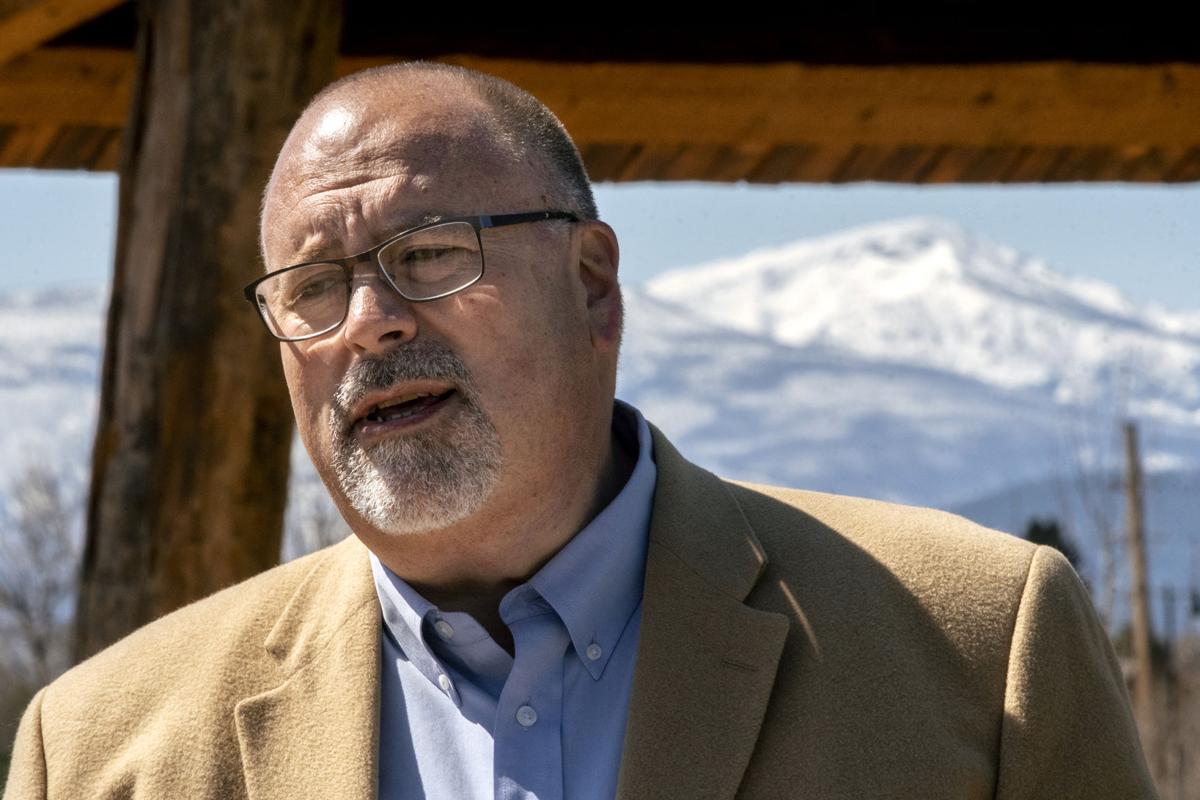 Touting experience and speaking on the challenges facing Missoula, incumbent mayor John Engen announced his bid for a fifth term in office on Wednesday at Silver Park.
Engen has served since 2006 and is the city's longest-termed mayor. He highlighted his work on several issues, including affordable housing, law enforcement, climate change and poverty.
"I want to be mayor for another term," Engen said. "That's going to require leadership, courage, a thick skin, commitment, compassion and hope. I have all of those things and I believe this community will get better through the work that we — and this is a we business — that we do together."
The affordable housing issue was at the forefront of Engen's comments. The median home sales price of houses sold in the county between Jan. 1 and March 31 was $425,000, an increase of $100,000 over the same period in 2020, according to the Missoula Organization of Realtors. 
Apartment vacancy is also tight. Engen has previously told the Missoulian the city needs around 800 new housing units per year to keep up with demand.
"Housing is a necessity for all of us," Engen said in a prepared statement. "Through strategic investment in property — that's land banking the city of Missoula through a redevelopment agency and our housing office —will facilitate the construction of thousands of affordable homes."
Engen has advocated for public-private partnerships to help alleviate some of the housing pressures. A New York Times report in January detailed some of the positives and drawbacks of such deals, but Engen is hopeful projects — like the one off Scott Street — could help provide permanent solutions to housing issues.
When asked about public-private partnerships for affordable housing, Engen immediately pointed to the Scott Street development. 
"We're fundamentally not in the housing business, we're in the facilitation business," he said. "We purchase (a site) at a price, we find a private sector developer who wants to come in and do the right kind of housing, we partner with them, they bring resources, we bring resources, buy down cost of land, buy down cost of infrastructure and at the same time, we guarantee good design.
"So much of this is fundamentally about design. We don't buy barracks just to tuck away people we don't want to see anymore."
Engen also brought up trust between community members and law enforcement. On Tuesday, following news that a jury found former Minneapolis police officer Derek Chauvin guilty of the murder of George Floyd, Engen released a statement saying it was part of a "pattern of violence and racism inflicted on Black and brown people by police in cities large and small throughout the county."
He defended Missoula's police department in the statement, highlighting what he feels are adequate hiring and training procedures. There have been 38 deadly police shootings in Montana since 2015, according to a Washington Post tracker.
That includes John Kale Brown, a Missoula man who was killed by a Missoula officer in November of 2020. Police say Brown was armed with a knife and failed to comply with an order to drop the weapon. 
"Building that trust with the community is an ongoing effort, but I believe in a strong, well-trained police force," Engen said Wednesday. "We want to know what we're doing, we want to discuss that with the public and we want to make changes appropriately. So we're going to give the information, warts and all, and then we're going to address the information right if the data shows that we need to make a change, we can."
In answering a question about trust between Missoula and its law enforcement officers, he also mentioned the 2012 Department of Justice investigation into the handling of sexual assaults by the University of Montana, the Missoula Police Department and Missoula County Attorney's Office.
"In its response to sexual assaults against women in our community, I entered into an agreement with the United States Department of Justice that we negotiated to ensure that we improve what we were doing," Engen said. "And today, I think we have a model for how we investigate and prosecute sexual assaults in our community. And that's because we recognized a problem, we responded to it and we did it reasonably and we did it transparently."
Engen also highlighted a continued emphasis on conservation and renewable energy.
Also speaking in support for Engen were Amber Sherrill, his campaign's treasurer and a city council member, as well as Susan Hay Patrick and Mike Halligan.
Missoula mayoral campaign filing begins Thursday. The term is for four years and the annual mayoral salary is $96,158. 
Engen does have a challenger, Jacob Elder, who announced his campaign last year.
Elder has not responded to numerous requests by the Missoulian for comment on the mayoral election.
He did, however, post a photo on Instagram following Engen's announcement.
"The incumbent Mayor recently launched his re-election campaign for a 5TH TERM (20 years in office)! I am asking for your help once again to unseat the incumbent and serve you as your Mayor," Elder commented on the post.
Jordan Hansen covers news and local government for the Missoulian. Contact him on Twitter @jordyhansen or via email at Jordan.Hansen@Missoulian.com