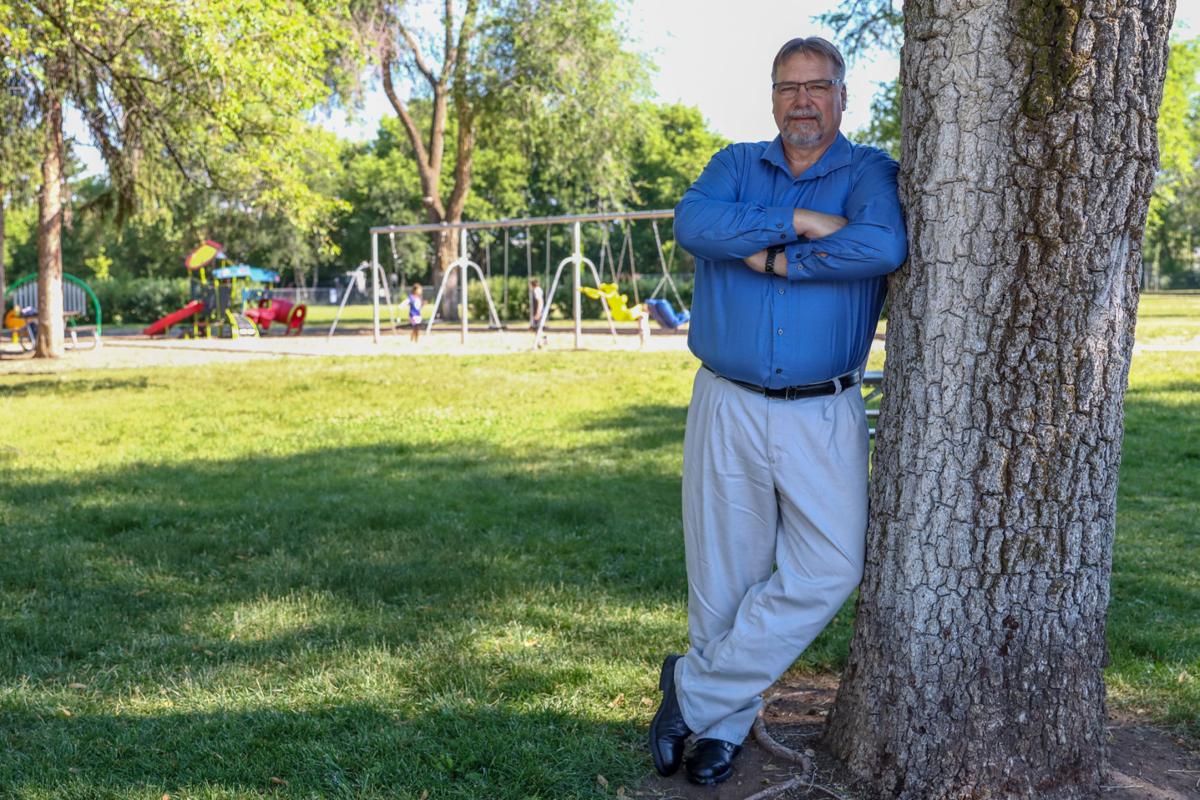 Shawn Knopp believes Missoula needs big change that starts at the top, which pushed him to run for mayor of the Garden City, he said.
Knopp, 55, wants to find solutions to affordable housing and government transparency, as well as Missoula's homelessness crisis.
Born in Polson and raised in Missoula, the Hellgate High grad has been back in the city for 21 years and works as a project manager at Montana Glass.
"Quite frankly, I'm not a politician," Knopp said on Tuesday. "I hate public speaking, I hate meetings. But I decided that somebody's got to try and make a change here. And so I said two years ago, if somebody doesn't run against (Mayor John) Engen that has a viable chance to win, then I'm going to run.
"I ended up getting held ... to that."
He has firsthand experience with issues facing development in Missoula from working in the construction industry, he said. Workers are stretched thin, material expenses are rising and availability is falling, all while delays with the city's permitting offices are costing developers money.
The city has been handcuffed by the state Legislature in ways to build more affordable housing, he said. Locally, he would have liked to do away with parkland requirements for new developments and use that land for low-income housing instead. 
He also wants new low-income housing spread throughout the city, he said.
"I spent five years in Southern California and one of the big problems that we had down there was they would build these great big monstrosity projects," Knopp said. "Well, I don't care how good everybody is, if you put that many people in that demographic together, there's going to be issues."
Missoula's unhoused population is also a major part of his campaign. Montana Glass sits across from the Poverello Center and he expressed frustration with how the city has approached the issue.
Police, fire and ambulance services are at the location several times a day and it is a draw on city resources, he said. He claims Dillon and other cities in Montana are sending unhoused people to Missoula via bus.
"I have no problem helping out my neighbor, but I really hate the fact that all these other cities are sending busloads of people to our town to take care of," Knopp said. "Why should we (be) burdened with all that. I would like to get with the other cities, the governor, and see if we can attack this on a statewide level rather than the state sending everything (here) and making it a Missoula problem."
Taxes are another issue driving the housing crisis, and landlords are raising rents to pay these increased costs, Knopp said.
The city does not need to raise taxes, he said, adding he also takes issue with reappraisals on homes every two years.
"In the baseball world, you have a salary cap. If you go over your salary cap, that's fine, but you're going to pay a luxury tax," Knopp said. "How about we, so you know what you're paying when you go into (buying) a house, you pay the tax on the price you pay for your house and it stays there until it's sold.
"So that way, when you retire, you know what your tax base your house is. Then landlords, if they don't sell their house, that doesn't go up. So we control rent a little bit. We can keep (the) elderly in their homes."
Calling himself a fiscally responsible candidate, Knopp is critical of city spending, especially the purchase of Mountain Water Company. Missoula owns the water utility service and is still in the midst of ongoing litigation over the acquisition.
"I don't believe we have a right to be in that business," Knopp said, referring to the purchase of Mountain Water. "We're a government and if anything, government has proved they can't run a business profitability."
He also said the city had no reason to buy EKO Compost — now known as Garden City Compost — or spend money to build Fort Missoula Regional Park.
Better choices for spending have to be made, he said.
Expanding trails will only create further deficits, as they require maintenance and snow removal as well as additional city jobs, Knopp said. 
"They tout (trails) as free, but they're not free," Knopp said. "We really need to look at the long-term portions of that before we go making these decisions, because everybody knows there ain't no free lunch."
Following the economic crisis caused by the pandemic, Knopp said his solution is to get people back to work.
"That's impacting wages, it's impacting taxes, we get these people back to work, it's going to raise our income as a city as well," Knopp said. "The whole thing is just nuts. I don't know if I can fix it, but I sure as hell want to try."
Concerned about the environment, Knopp said Montana Glass has invested in electric cars and would like to expand the fleet further. He would continue the push to electrify Missoula's bus system.
The general election is set take place on Nov. 2 and there will be a primary on Sept. 14. Missoula's mayor serves a four-year term and is paid $96,518 annually.
"I think Missoula needs some change. I think the current administration has kind of just gone on autopilot," Knopp said. "And I don't think (Engen) has the best interest of Missoula (in mind) anymore."
Jordan Hansen covers news and local government for the Missoulian. Shout at him on Twitter @jordyhansen or send him an email at Jordan.Hansen@Missoulian.com