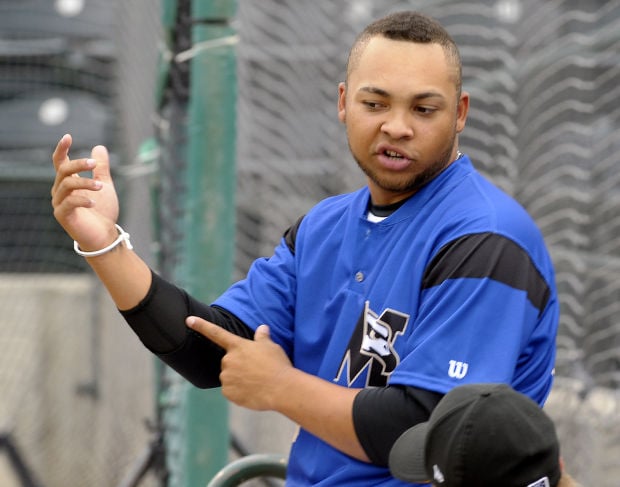 Opening night has taken on a whole different meaning for Cody Geyer.
Like the rest of his Missoula Osprey teammates, he's excited about Thursday's debut against the Helena Brewers at Ogren-Allegiance Park. Unlike his pals in royal blue and black, Geyer hasn't played baseball in almost a year.
He lasted just two weeks with the O's last summer before pain in his pitching arm produced a disheartening prognosis. The 21-year-old had Tommy John surgery in August to repair the ulnar collateral ligament in his medial elbow.
It's been a long road back to River City.
"I've never had to worry about waking up and not playing baseball," confided the amiable righty from the mountains of North Carolina. "Getting hurt last year it hit me. It was heartbreaking to me and my family.
"Now that I'm healthy and back to playing again, it feels like it did when I first started playing at 7 years old. It feels amazing."
Geyer likes to think things happen for a reason. He had always been a hero on the diamond but maybe needed a little work in the human being department.
For him, life without baseball has been enlightening.
"You can't watch Cody Geyer pitch and not take a look at that arm say, 'Wow, there's some lightning coming out of that thing,' " said Osprey pitching coach Doug Bochtler, who first observed Geyer three years ago.
"It's a pretty impressive arm. The more impressive thing to me as of late is that he's grown up as a man. I think he's realized what he had that was taken away from him. Now it's something he's going to go out and get."
Geyer's friend and teammate, pitcher Bobby Hillier, describes Cody's 10-month rehabilitation process a different way.
"It's humbled him more than anything," Hillier said. "It's made him realize he has a gift and it can be taken away at any time. Now that he has it back, he really feels blessed."
Selected in the 14th round of the 2011 MLB Draft, Geyer wears his passion for competition on his sleeve. Actually he stored it under his hat in his teens. Now he wears it on the underside of his left forearm.
"My freshman summer I left to go play baseball up in Cincinnati and live with a host family," he recalled of his high school years. "After a week, I was going through my suitcase and my mom left me a card with this Bible verse on it. It was First Corinthians: 9:24.
"From that day on, from my freshman summer all the way up until my last spring training, I had that card folded up in my hat every single day. I didn't play a game without it."
Geyer's favorite verse addresses self-discipline. It seems especially poignant now considering what he's gone through physically and emotionally.
Last year when the card became so faded he could hardly read it, Geyer decided to get the same words tattooed on his left forearm.
"My parents are big sticklers against tattoos," he said. "I told my dad I wanted to get one. He said, 'What of?'
"I told him. It's kind of something that's been with me for a while and it means a lot to me coming from my mom."
Tommy John surgery has come a long way since it was first performed 39 years ago. It used to be considered a longshot with a recovery time of 18 months.
Geyer has returned to the mound in less than 11 months, which is closer to the new norm.
"They're having them younger and younger now," Bochtler said. "You talk to a doctor who last year did over 60 for kids 12 and under. Some guys are having it now just to get it out of the way.
"It's a high-percentage comeback surgery at this point. As far as bouncing back, yeah, (Geyer) still has lightning in there, that's for sure. We've seen what we would consider a plus major-league fastball out of him since he started throwing in the Arizona extended spring program."
Geyer, who may do more sitting this week as he eases back into minor league baseball, says he's changed his approach to pitching.
"Just being a little more careful and not rushing into things," he said. "I'm making sure I'm doing everything by the book, warming up and things like that. It's been good. I haven't had any setbacks."
The moment of truth, when Geyer finally takes the mound for real, could come next week or maybe even next month. Regardless, Hillier says he's going to be ecstatic for his friend.
Geyer is thankful to be a member of the Diamondbacks organization and fired up to be making his return for an Osprey team with warm and embracing fans.
"I think I'm going to be jittery," he confessed. "But I think I'm going to be excited more than anything to be out there playing with such a great group of guys and great coaching staff, just doing what I love.
"I love the small town atmosphere here. There are so many people that want to come here and watch the Missoula Osprey play. I love it."
Get local news delivered to your inbox!
Subscribe to our Daily Headlines newsletter.