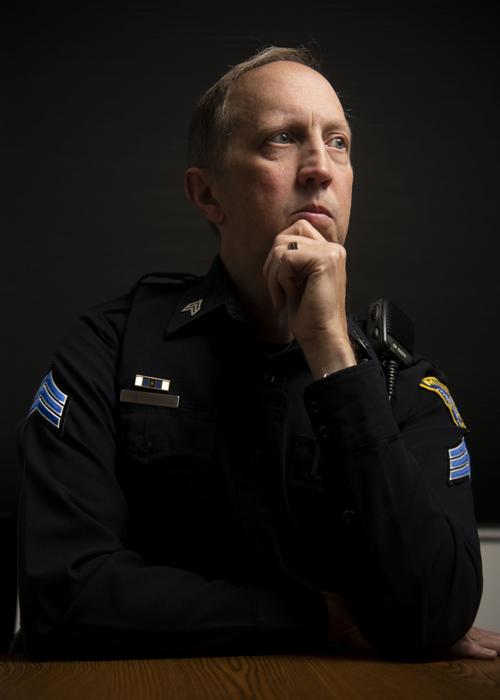 Missoula Police Sgt. Bob Campbell wasn't scheduled to work on 9/11.
He recalls being awakened by his wife to the news that a plane had hit the north tower of the World Trade Center and remembers the total confusion about what was happening.
Then the second plane hit.
"At that point, you knew this wasn't merely an accident, it was an attack. My initial reaction was disbelief," Campbell said on Friday.
Campbell has served in the Missoula Police Department for about 22 years. At the time of 9/11, he had been working with Missoula law enforcement for two years.
It was soon after the news of the second plane crashing into the south tower that Campbell decided to call the police department and check to see what was going on. Right when he called, Campbell was also contacted by the day shift sergeant, who told him he needed to come in to work.
"As I recall that day they called in basically every available officer that was around town. Every officer that was able to come to work did come to work," Campbell said.
Increased patrol and security were amped up in Missoula to preempt any possible attacks in northwestern Montana.
"There was a lot of confusion and a lot of things at play because we didn't know how big of a thing this would be," Campbell said.
The first thing Campbell remembers being told when he arrived at work was to get into a patrol car and team up with another officer to get out into the community in case anything happened.
Officers were cautioned against congregating people at city hall or the courthouse, since they were believed to be easy targets if an attack hit the area.
"There was a lot of shock, a lot of apprehension. There was just so much that was unknown," he said.
When the reports came in about the Pentagon attack and the fourth plane crashing in Pennsylvania, things became more hectic and confusing.
He describes watching the first responders on TV as a punch in the gut. Hundreds were killed when the towers collapsed.
"You knew there were first responders, firefighters and police officers doing what they could to rescue people, but you knew lives were being lost as that was happening," he recalled.
Flash forward 20 years, and Campbell stresses the importance of remaining vigilant against attacks on the country.
"I also think back to the way we came together as a country immediately following 9/11. How we set our differences aside and came together no matter what side of the political spectrum you were on to help people in New York," he said.
Thirteen years later, Campbell was able to visit the 9/11 memorial with his son on a trip to New York City in 2014.
"It's a beautiful thing to see on one hand," Campbell said, adding the visit was deeply emotional. He remembers being moved by the display of names of the people who lost their lives on 9/11.
The reflection room at the memorial — a dark, quiet space with benches for sitting — was striking.
"That was the hardest part of the whole experience. It was a place of solitude where people could reflect and share their grief. It was kind of tough," Campbell said.
Tom Zeigler is a Plains resident who worked at the Missoula Rural Fire Department for 42 years. Since 9/11, he's been reading names of firefighters he knew whose lives were lost — there are 26 — at the annual Never Forget Service in Rose Park.
He'll be there again this year for the 20th anniversary.
Zeigler was participating in firefighter classes in New York and was slated to be at one when 9/11 happened. For scheduling reasons, he couldn't make it, but said he was supposed to be part of one of the crews that didn't make it out of one of the towers.
"It's surprising it's been 20 years. It doesn't feel like it," Zeigler said.