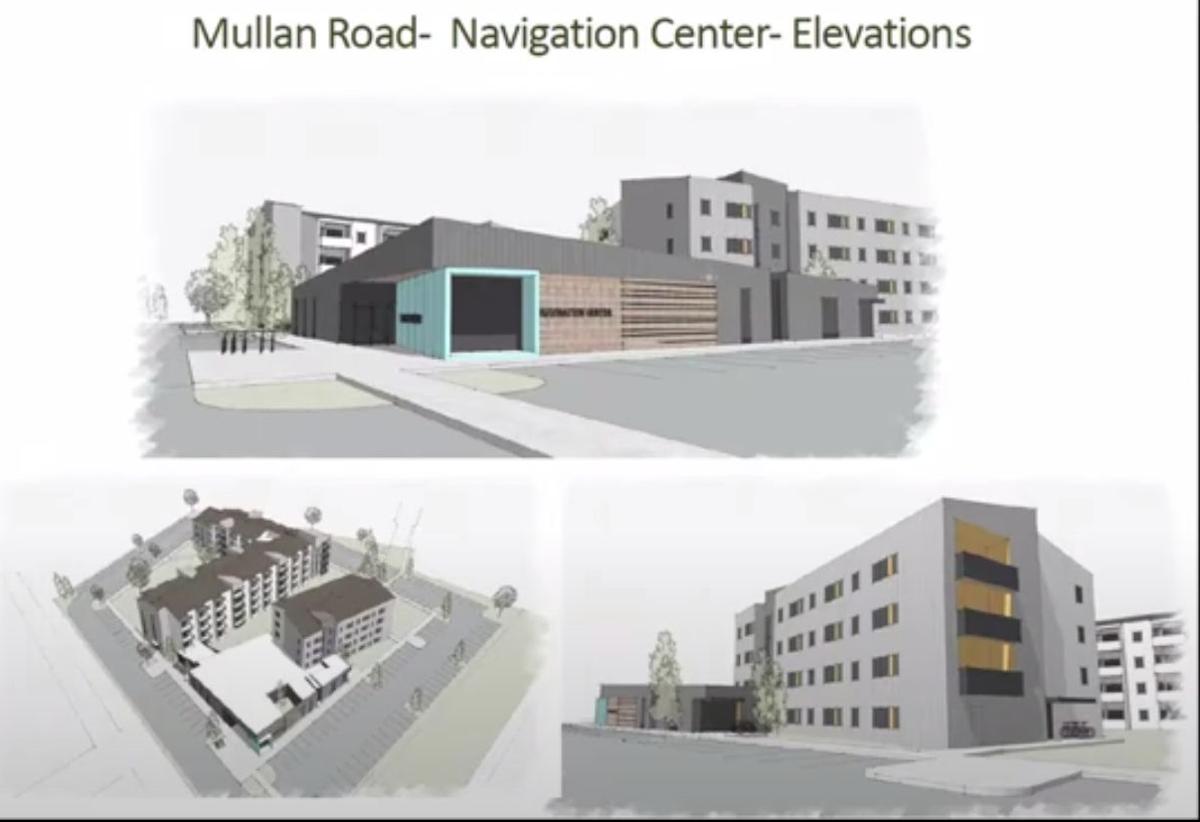 With the rental apartment vacancy rate at essentially zero percent in Missoula, local developers, nonprofits and government officials are working toward a groundbreaking next year on a large chunk of 202 new affordable housing units.
Late last week, the Missoula County Commissioners voted unanimously to increase their donation of county land, from 4 acres to 5.28 acres, to accommodate 130 units of affordable housing next to the Missoula County Detention Center. The increased land donation is to make way for right-of-way improvements to the site, including a better street access, according to county Chief Administrative Officer Chris Lounsbury.
Andrea Davis, executive director of Homeword, told the Missoula County Commissioners the market rate rent for a one-bedroom apartment in Missoula was $960 per month the last time the federal government reported data.
"We are at effectively zero-percent vacancy," she said, noting that $960 could pay a mortgage. 
The Trinity Apartments consist of 202 total units on two different sites in Missoula. They'll be developed by Homeword, an affordable housing nonprofit, the nonprofit Missoula Housing Authority, and local developers BlueLine Development Inc.
The county-owned land near the jail will host 130 apartments, with 100 of those dedicated to people making at or below 80% of area median income (80% of area median income is $50,640 a year for a family a two). There will also be 30 permanent supportive housing units for people living with chronic homelessness, and they will be available for people earning below 30% of area median income. As classified by the federal government, 30% of area median income in Missoula in 2020 is $16,620 annually for one person or $18,990 for two people. Rents in those units would be $391 for a single person, $466 for two people and $534 for three people, although the residents will also qualify for housing vouchers through the Missoula Housing Authority that will subsidize their rent.
The other 72 units of affordable housing will be on Cooley Street in Missoula's Westside neighborhood at the site of the old Skyview Trailer Court.
Davis noted that the most recent data on housing prices doesn't reflect the past few months as housing prices have risen.
"We've seen some interesting things that are not yet documented," she said. "Our census data is a little-bit looking backwards, so I'd be very curious where we're actually at in our point in time given the pressure the rental market is under."
Keenan Whitt, a project manager with BlueLine Development, said two-bedroom apartments in Missoula can easily fetch $1,100 a month at market rate prices because there are very few available.
"There is zero-percent vacancy right now," she agreed.
Construction on the site near the jail is set to begin in the spring of 2021, with an 18-month buildout schedule. Davis said it should be leased and fully occupied by late 2022.
"We know we need these homes now, and we're full steam ahead to get this accomplished as fast as possible," she said.
The 30 units for supportive housing would be targeted for people currently experiencing chronic homelessness, Davis explained.
"They're living on the street. They're the most difficult to house," she said. "They will have rental assistance vouchers and on-site services from community partners to make sure residents can maintain their home through mental health, physical health and supportive services."
She noted that many people who are chronically homeless earn above 30% of area median income, so 10 of the units will be available for people who make up to 50%.
Davis said Missoula County and the City of Missoula will save money by having supportive housing. That's because people living in chronic homelessness cost taxpayers an average of $36,000 a year, but costs are cut in half on average when they're placed in supportive housing. A recent study showed that of the people who most frequently use Missoula's multiple crisis response systems such as the jail, police, emergency shelters and St. Patrick Hospital, about 73% have crossover between homelessness and the criminal justice system.
"So this is really an excellent investment by our community to see someone housed," she said.
Eran Pehan, the director of the city's Office of Housing and Community Development, said the city will put out a request for proposals soon to identify organizations that can operate the on-site Navigation Center. Pehan and Davis hope that center can be open 24 hours a day with social workers and others that can support the people living in the supportive housing.
The apartments at the site near the jail on Mullan Road will be targeted toward a wide range of demographics, while the 72 apartments at the Cooley site will be geared toward larger families.
County Commissioner Juanita Vero said she was excited to get moving on the project. County Commissioners Dave Strohmaier and Josh Slotnick agreed.
"Folks sometimes ask us what we're doing by way of housing and addressing the needs of the most vulnerable in our community," Strohmaier said. "This is the epitome of that, and I look forward to a future groundbreaking."