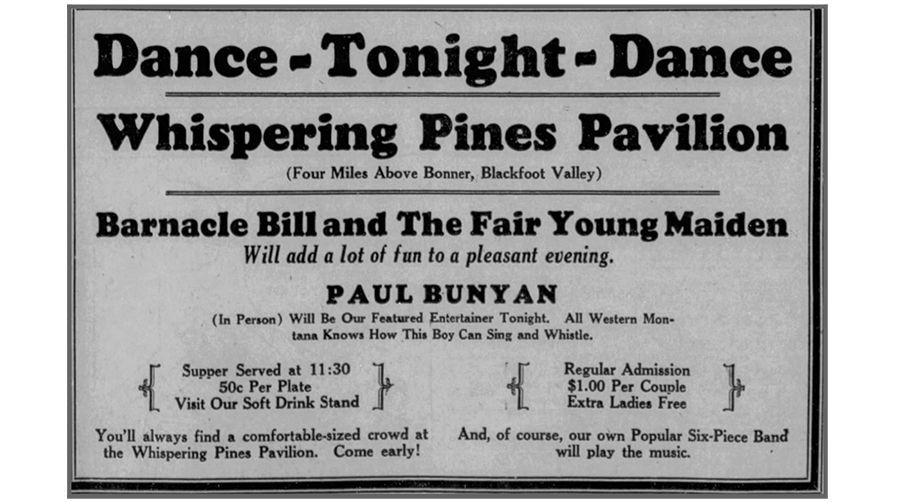 Norman Means was sentenced to dance.
Just a hunch, but the man known in western Montana's fishing community as Paul Bunyan probably would have liked those words etched on his headstone in the Missoula Cemetery after he died in 1986.
Instead, the ones appearing on April 27, 1922, were the first of hundreds of mentions he received in the Missoulian. 
A married World War I Army veteran, Means was a 22-year-old forestry student at the University of Montana.
The story chronicled the events of Aber Day, the annual spring cleanup on campus. Near the end it told how a panel of judges dished out playful punishments consisting of "paddling and painting in the majority of cases." Three members of the varsity Glee club were sentenced to sing. Means was ordered to dance, and "finished up his performance with a clog dance."
And so began the parallel lives of Norman Means and Paul Bunyan, as seen through the pages of the Missoulian.
An October 1979 profile by Jo Rainbolt in her "An Elephant in Every Yard" series discussed his dual personalities.
"I am two different people," he said matter-of-factly, then added with an amiable chuckle, "It does confuse people. Sometimes I'm Norman Bunyan and sometimes Paul Means."
He seemed to prefer Paul Bunyan, Rainbolt said. "He even signs his checks with that signature."
Means described how he danced and sang for the troops in France during the Great War. At UM he arranged his class schedule so he could fish two afternoons a week on Rock Creek. He graduated from forestry school in 1924, decided he didn't want to be a forest ranger after all, and moved his young family to New York, where he spent a year building fishing rods in Utica.
"My wife wanted to come back to Missoula, so we did (in 1925) and we bought a little house where the Thunderbird Motel is now. I built rods and she tied flies and we had six kids, three girls and three boys," Bunyan said, adding he worked nights at the Bonner mill to help feed eight mouths.
There seems to be no explanation, through more than 50 years of Missoulian mentions, why he chose the alter-ego name of the legendary giant lumberjack and Babe, his big blue ox.
Through most of January 1926, the Missoulian ran a classified advertisement: "Fishing rods, hand made, rods paired, any make; Paul Bunyan, 1009 E. Cedar."
The next month, the Liberty Theater, 211 E. Main St., advertised a four-part act for the night of Sunday, Feb. 21: Missoula's favorite juvenile violinist; Bonner's harmony singers, a pair of "acrobatic comics," and Norman Mean, "introducing steps and melody in blackface."
"A million trout to every mile of Blackfoot river," was the headline of a fishing report on Sunday, Aug. 12, 1928. Means, "a fly fisher of the first water, and a constant devotee of his art," made that while relating a story about snagging himself in the head with a daredevle lure.
A week later Means was referred to as "of course the best booster the Blackfoot has..."
"Norman is a believer in the use of Western Montana products. He makes all his own fishing tackle, and turns out a few fly rods for his friends. These rods have life and endurance, and they are peculiarly adapted to Montana streams because their maker puts them together knowing exactly the kind of water they will be used in."
There followed a description of an evening trip up the Blackfoot as Means rides a street car to Bonner, then walks a mile upriver.
"Then he starts fishing. And he catches fish. This particular evening he tied on a 'Paul Bunyan Round River Mosquito' fly, that he makes, and he landed 17 rainbow trout that weighed 16 pounds, dressed, and just filled a 25-pound creel."
"This 'Paul Bunyan Round River Mosquito' is a weird looking fly," the story continued. "It is as big as a bumble bee, but it catches the fish."
The first time "Bunyan Bug" popped up in the paper was on May 27, 1934.
"Fly fishing is said to be excellent. And the Bunyan bugs are bringing strikes in Rock creek," Ray T. Rocene wrote in his Sports Jabs column.
In 1947: "Paul Bunyan BUGS will get the big fish in the high water. Get yours at Barthel Hardware today."
And in 1956: "Fish prefer flies!" in an ad that touted a "complete selection of Pott Flies — Bunyan Bugs — Dan Bailey's Dry Flies," at Mau Jones Sporting Goods, 333 N. Higgins.
"The Bunyan Bug was unique among trout flies because it was made with a hand-shaped cork body, with a wing of horse mane hair inserted in a slit in the back," outdoors writer Daryl Gadbow explained in 1991.
On March 7, 1943, Means advertised that, by request, he would again be teaching theatrical dancing.
A followup ad a few weeks later: "Theatrical Dancing. If you are a young girl — sixteen or sixty — nine chances out of ten YOUR KNEES ARE STIFF. A few lessons in chorus work will correct that, giving you GRACE and POISE. Norman Means, 1009 E. Broadway, Phone 2780."
Rainbolt's profile of Means/Bunyan in 1979 appeared in the Missoulian on Monday, Oct. 8, three days before his 80th birthday. She said his eyes lit up while discussing dance.
"Oh, how I want to dance," he told her, "but my feet are going out."
The afternoon of the Indian summer day turned to gold, and Paul Bunyan's thoughts turned to fly fishing.
"You know, in the fall it's awful good, and you can fish late at night, even after dark," he told Rainbolt.  "You can't hardly see the line, and then you'll glimpse this silver thread, and then the fish strikes."