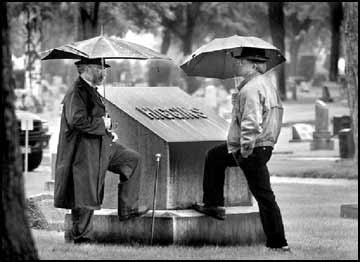 A graveyard chill in the air couldn't take the warmth out of the stories local historians pulled from the Missoula City Cemetery's permanent residents Saturday.
C.P. Higgins poked a walking stick near the spot where Edgar Paxson is resting after painting the murals above the Missoula County Courthouse entrance, and Jeannette Rankin talked of fighting for peace while Emma Dickinson tried to keep peace in the city's first schoolroom.
The characters were re-enacted for the annual Stories and Stones Day in the cemetery, a free event celebrating the city's colorful past.
The city cemetery was originally laid out as a private burial place in 1885, according to city historic preservation officer Philip Maechling. It's laid out with a cross-hatching of roads to become a "city of the dead" without a dominant family, religious or military institution in authority. That has produced a cosmopolitan mix of deceased Missoulians, especially apparent near the main entrance on Cemetery Road.
"This site was bought from the railroad," Maechling said, "which then bought back 400 gravesites and relocated 100 Japanese workers' graves from Sanders County to here. They were in the way of the railroad."
Those graves abut a small section of Jewish graves. Hebrew script and Japanese ideograms give the stones an exotic flair among the masonry symbols and Christian crosses that typify the majority of the cemetery.
Mike Chessin led a wander through many of the Jewish graves, pointing out old professors, shopkeepers and union leaders. He spotted Max Yantz, who used to have a menswear store, and Samuel Riven, a leader of the early AFL-CIO labor organizations.
"About half the (Jewish) community was connected to the University (of Montana)," Chessin said as he passed the stone of Carl McFarland, president of UM from 1951 to 1958. He oversaw construction of the Adams Field House, among other things. Chessin described him as a "crypto-Jew" who concealed his religious background to avoid controversy.
Kim Kaufman got the plum role of portraying Mary Gleim, the "Madam of Missoula," whose towering family stone looks south toward the railroad tracks. She recounted the claim that Gleim asked it be placed that way so she could "wave at her boys," the railroad workers who frequented her whorehouses on Front Street.
But, Kaufman added, the real reason the stone didn't stand facing the customary eastern direction was that it was placed after several members of the Gleim family had been buried there, and there was no room between the stones to direct such a large monument the proper way.
"I ruled Missoula," Kaufman said in character. "I was the Madam of Front Street and I owned most of it. I owned a brickyard. I owned property in Bigfork and St. Ignatius and Hamilton. I was a businesswoman, but all people remember was that I owned brothels, or as they called them in those days, female boarding houses."
"They say I smuggled lace and diamonds," she said, tugging at a pair of jewel-encrusted lace gloves, "but I don't know anything about that. It had to come from somewhere."
Many graves away, Betty Wing portrayed Juliet Gregory, Missoula's first and only female mayor. She recalled how Gregory would keep in discrete communication with the city's madams, meeting in a grocery store and speaking between the jars of the spice and jam counter.
"She couldn't be seen with the madams, but they were in business and they paid taxes so she had to be nice to them," Wing said. "She didn't really try to get rid of prostitution, she just tried to keep it orderly."
Gregory lived to 93, and is credited with developing many of the city's park programs. She also tried to create a park on an island under the Higgins Avenue Bridge, gathering a crowd of volunteers to help landscape and develop it. A flood the next year washed the whole effort away, except the tale of "Juliet's folly."
Tomme Lu Worden had a seat next to her own family's plot, with a small propane heater to ward off the fall chill. She told of her ancestor Lucretia, and how she married at 14 to Frank Worden, 17 years her senior. The couple had seven children, most of whom Lucretia was able to send to Eastern colleges for education from the proceeds of her Missoula business dealings. Frank Worden died of pneumonia he caught while laying the original water pipes that served Missoula's growing community, she said.