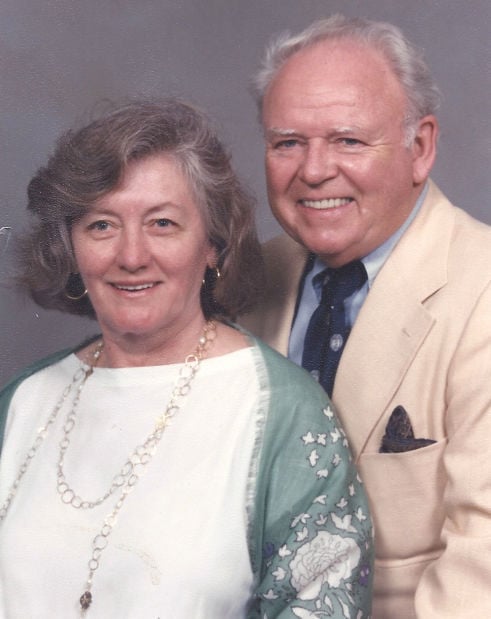 She was active and involved, a take-charge woman who didn't pale in the shadow of her famous husband.
In other words, Missoula-raised Nancy Fields O'Connor was no Edith Bunker, the submissive, scattered television wife of Archie Bunker that Carroll O'Connor played to a "T" in the 1970s sitcom "All In the Family."
"Not at all. Nancy was very outspoken, and she had firm opinions about things," former University of Montana President George Dennison said Wednesday. "Usually they were the kinds of opinions that you could agree with because they were the right thing to do. A great person."
Nancy O'Connor passed away Monday at her home in Malibu, California, at the age of 84. She had suffered from Alzheimer's for 10 years, her brother John Fields said.
"Hospice was there and she just slowly stopped breathing," Fields said. "It was very peaceful."
O'Connor was the daughter of Ralph and Hulda Miller Fields, who were also UM alums. A U.S. Forest Service family, they raised Nancy and John in Libby, Billings and St. Maries, Idaho, but mostly in Missoula on McLeod Avenue, Blaine Street and South Sixth Street East. Both children graduated from Paxson Grade School, Missoula County High School and, in 1951, the University of Montana.
It was at UM after World War II that Nancy met Carroll O'Connor. Both were working on university productions of "Life With Father" and "Winterset." Nancy followed Carroll to Ireland to complete his studies in 1951 and they were married the same year in Dublin.
Carroll O'Connor passed away in 2001, two years after UM renamed the O'Connor Center for the Rocky Mountain West to honor the contributions of both of them. They had returned to Missoula in the summer of 2000 when Carroll taught two wildly popular sections called "Writing the Movie."
Dennison said the O'Connors had already become re-involved with the university when he became president in 1990. Nancy had been a member of UM's Fine Arts advisory committee, and the O'Connors were instrumental in construction of the PAR-TV Center.
"When I got here she had moved on from the Fine Arts committee to become a member of the UM Foundation board of trustees and served two or maybe three terms on that," Dennison said.
It was in that period that the O'Connors were among four couples to gave initial $1 million gifts to their alma mater in UM's largest capital fundraising drive to date. Their donation helped match a challenge grant to UM from the National Endowment for the Humanities.
Betty Skibsted grew up across the alley from the O'Connors and counted Nancy as her best friend growing up.
"We have been friends since I was 4 or 5, I can't remember," Skibsted said Wednesday. "She was always the one in the neighborhood who helped me out with some of the meanies."
Indeed, O'Connor was an imposing woman, standing 6 feet tall. She had a major role in a minor 1976 film "A Whale of Tale."
"Nancy was a very good actress," her brother said. "She got her degree in fine arts and drama at the university, but she didn't get picked for parts because she was so tall. That was always a burden as far as her acting career went."
Her passions were widespread. When the O'Connors moved back to Missoula from Ireland, Carroll earned his master's degree in 1956 while Nancy developed the first comprehensive fine arts curriculum in Missoula's elementary schools.
In California, where they lived in Los Angeles and Malibu for more than 50 years, Nancy helped develop a charitable support group for a melanoma cancer research and treatment center at UCLA.
She was a member of the board of the Smithsonian National Museum of the American Indian, which she helped design in 2004.
Nancy spent some 10 years gathering prints and cataloging her grandfather Fred E. Miller's stunning collection of some 600 photographs and 135 glass negatives taken of Montana's Crow Indians from 1895 to 1920. It's been shown at art and historical museums across the U.S. and is currently on load to the Great Plains Museum at the University of Nebraska.
"She was also very concerned and attentive to veterans' rights and programs for veterans," Dennison noted.
The O'Connors adopted a son, Hugh, in 1962 while Carroll was in Rome working on "Cleopatra." He, too, became an actor before committing suicide in 1995.
John Fields said his sister last visited Missoula in June 2004, to clean out a home on Cleveland Street she'd bought for her mother's caregiver before Hulda died in 1991.
Skibsted said Nancy also had a loving caregiver in later years.
"We'd talk on the phone occasionally," she said. "Her caregiver would put her on the line and I would talk and talk about old times, and the caregiver would say she has a great big smile on her face. Then Nancy would get on and say, 'Hi, Betty.' She was just a dear, dear friend."
John Fields said funeral arrangements aren't complete but will probably be held Nov. 22 in Malibu. Tributes can be made to Melanoma Research, John Wayne Cancer Institute, St. John's Hospital, 2121 Santa Monica Blvd., Santa Monica, CA 90404.