The new Barmeyer loop trail and lookout on Mount Dean Stone offers a wealth of sensory stimuli and an intriguing introduction into what will become a link of accessible trail systems across Missoula's south side.
The Mount Dean Stone project eventually will connect a 4,200-acre complex, from Pattee Canyon across the ridge of Mount Dean Stone and down to Miller Creek. For now, though, the Barmeyer Trail is a 3-mile route that starts and ends at a new 12-vehicle parking lot on Pattee Canyon Drive that's often filled to overflowing.
On a warm spring morning, Whitney Schwab with the Five Valleys Land Trust hiked the trail to explain its origin and its value.
"I think people are thrilled to have access out their door on the south side of town, especially with the growth that's happening," Schwab said. "We started working on this in 2015, and the whole thing has snowballed."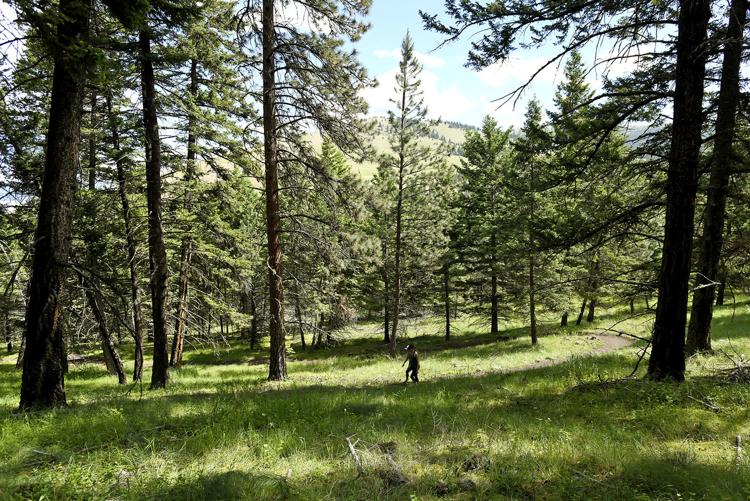 She headed up what starts as a 4-foot-wide dirt trail through a lush, aromatic pine forest, explaining how Five Valleys acquired the South Hills Spur and transferred it to the city in 2016. Using $270,000 in Open Space Bond money, the Barmeyer family agreed to put conservation easement on 130 acres. Of that property, they donated 90 acres to the city, while retaining the additional 40 acres for private use.
"They wanted to protect their land," Schwab said. "They felt it was a good way to take care of that land, and we thought it would be a great way to connect that spur."
As songbirds chirped their morning messages, she headed skyward past healthy trees and dead ones peppered with pockets made by woodpeckers and decay. Many of the fallen trees also are repurposed as berms around some of the switchbacks.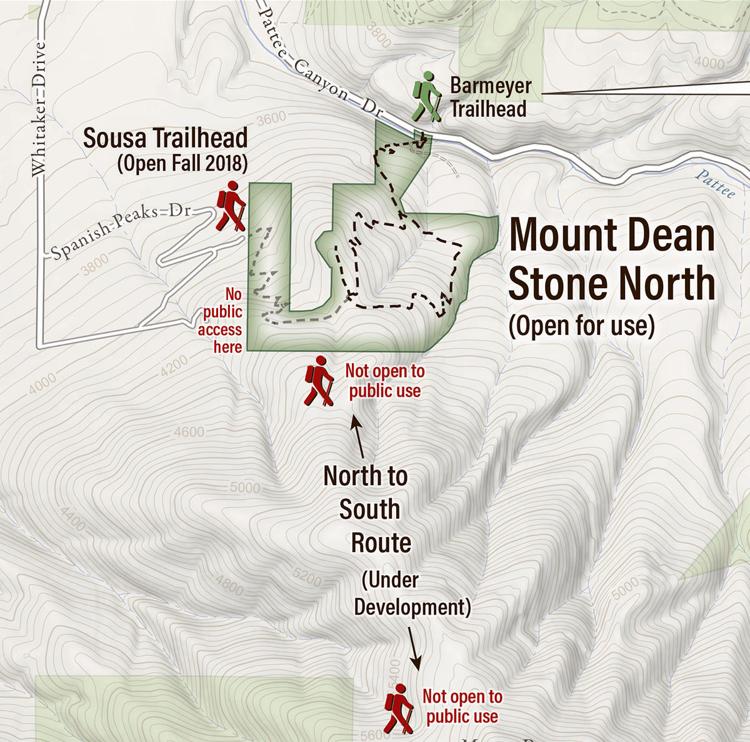 It's a carefully engineered trail. Unlike many of Missoula's trails, these are created on what was a relatively blank canvas, noted Missoula Conservations Lands Manager Morgan Valliant. For example, when the city acquired Mount Jumbo, it already was laced with user-created trails that often are straight routes to a destination. The Barmeyer Trail is designed specifically with hikers and mountain bikers in mind, although at this point only hiking is allowed.
The lower, wide portion of the trail was created with an eye toward hikers walking abreast of one another, and sharing the space with bikers, Valliant said. The trail narrows as it gains elevation and use is more dispersed.
The trail grade also reflects use, with the pedestrian and biker portion around 10 to 12 percent on average, with gentle, wide switchback turns. The leg of the trail that is pedestrian-only has steeper grades of 18 to 20 percent on average, with tighter switchbacks to make it unrideable for most bikers.
"This is kind of unique to the city of Missoula," Valliant said. "One fun things with the new parcels is we can think critically where the trails go and put in fun routes that really work on the land, rather than have the trail system that's put in over time based on previous owners' uses. Building trails for specific recreational use makes for much better trails."
You have free articles remaining.
As Schwab continued climbing, she broke into a high-alpine meadow, whose long, lush fescue and beargrass clumps were interspersed with a kaleidoscope of wildflowers. She walked past hundreds of radiant red Indian paintbrush and bright blue larkspur, strands of white yarrow and thousands of vibrant yellow daisies.

The Nature Conservancy took over 2,500 acres of former Plum Creek Timber property, and state trust lands also are part of the complex. More than 20 partners have worked together during the last three years as part of this project, from outdoor retailer giant REI to Rocky Mountain Print Solutions, which provided the new trail maps for free.
"We had so many questions to answer," Schwab said. "What do we need for natural resource management to make sure it's wildfire resilient? What is the wildlife here, and is there room for everyone to roam? What about recreational users' rights — how are mountain bikers, runners, equestrians, and hunters all going to get along?"
Those questions are in various stages of being answered. Schwab knows this is an "extraordinarily ambitious project" with a lot of complexities. But on this day, she stood at the overlook and viewed not just the surrounding mountains, but the development that threatened to encroach onto Mount Dean Stone — five power and telephone boxes ready to be hooked to homes that now never will be built. Schwab smiled with satisfaction.
"This is where it was platted and ready for houses and development," Schwab said. "The (Barmeyer) sisters' leadership gave us a really good case to come to this landowner. We brought this to our community banquet, and asked what they would help fund this dream. Five hundred people in the room said, 'Yes, we want this.' Other funding went into it as well."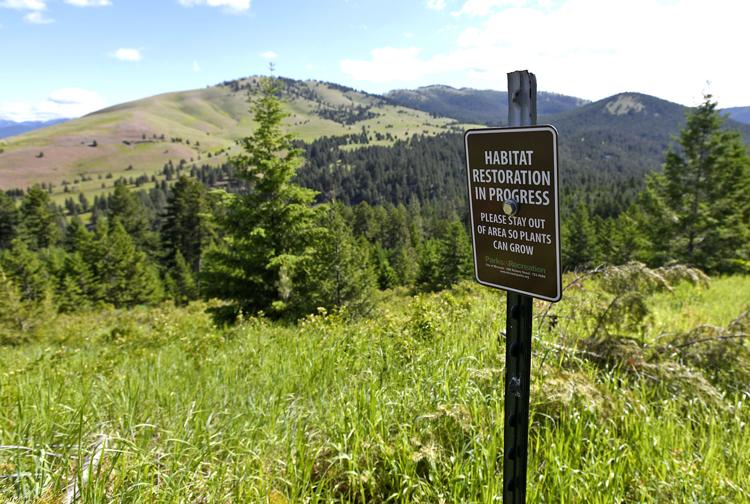 She paused while a man with hiking poles and a camouflage backpack strode past, getting in shape for hunting season, and Schwab later chatted with Erin Boggs, Joe Dixie and their dog, Kenai. Boggs has lived in Missoula for five years, and Dixie just moved from New York. This was their first hike up the Barmeyer Trail, and they were thoroughly enjoying themselves.
"We needed a little escape to get away," Dixie said. "We thought it was something new to check out, and we're loving it."
From this vantage point, Schwab also pointed out the Sousa Trailhead, scheduled to open this fall.
She turned and headed back into the pines, momentarily on the hiker-only portion of the looped trail, before breaking out into another meadow, and passing dozens of hikers before ending at the parking lot. It's difficult to head back into the office, but Schwab knows more work awaits.
"There are so many opportunities for trail routes here," Schwab noted. "The goal is to have people exploring the back side" – she waved her arms outward toward the surrounding mountains – "and get people out on these connected trails."