Airbnb-style rentals are becoming more popular in Missoula as housing prices soar, but it's unclear just how much of an effect they're having on the market.
In Missoula County for the same time period, the number grew from 1,360 to 3,111.
Not all of those semi-vacant homes are used as vacation rentals, however. According to Tom Zavitz of the City of Missoula's Development Services office, there are only about 95 registered tourist homes in Missoula's city limits (with another couple of dozen unregistered yet listed online). More than 300 in the county are listed on Airbnb.com. Homes that list a bedroom in an occupied house aren't counted by Zavitz's office.
"I would say we added 35 to 40 of those in the last year," Zavitz said. "But we also had 20-25 drop off that people tried and didn't go ahead with. We've seen a steady increase, but I wouldn't say there's been a spike. It's steadily coming along. Our numbers are increasing every year."
Norma Nickerson, the director of the Institute for Tourism and Recreation Research at the University of Montana, recently collaborated on a report that found tourist homes in communities near Glacier and Yellowstone national parks are affecting the supply of affordable workforce housing.
"On the downside, short-term rentals create a number of issues for communities, including increased home prices, a reduction in workforce housing and affordable housing stock, and changes in a neighborhood's complexion," Nickerson and co-author Rhonda Fitzgerald wrote in Montana Business Quarterly.
They argue that the home-sharing economy has "clearly" disrupted traditional markets of rentals and home sales.
"As landlords switch from long-term rentals (used by residents) to short-term rentals (used by nonresident visitors), this drives up the rental rate and housing prices in the long-term market," they concluded.
The median home sales price in Missoula recently went over $305,000 for the first time ever and has risen by over $105,000 since 2010, a 52% increase. Meanwhile, wages in Missoula have not kept up. The Missoula Organization of Realtors estimated last year that a family would need a median income of over $95,000 to afford a median-priced home, while the actual median income in Missoula is roughly half that.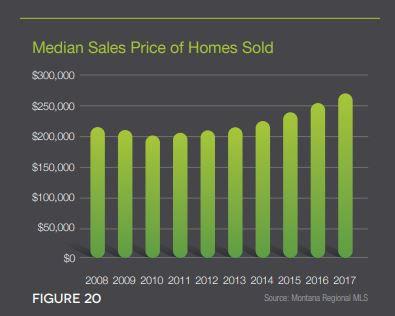 Nickerson and her staff keep track of what types of rentals tourists are using in Montana. Last year, a combined 6% of nonresident visitors they surveyed rented from either Airbnb.com or VRBO.com.
You have free articles remaining.
"From a consumer behavior point of view, if they want to spend a few more days in one spot near one of the two national parks, vacation rentals encourage that sort of thing," Nickerson said.
Families travel together often, she noted.
"You see grandma and grandpa coming, and they want to stay together," she concluded. "You can't do this as easily in a hotel room, not that those aren't comfortable, but it's just one room. With a whole house, everyone shares the cost and they all still have a place to go back to."
Real estate brokers have noticed buyers are interested in buying properties solely for converting them to short-term rentals.
Steve Stelling Jr. has been a Realtor in Missoula for 16 years, and his father and grandfather started in the industry in the 1970s. He said he never encountered buyers five to 10 years ago who wanted a property as a short-term rental investment.
"It didn't even exist," he said. "And now it's obviously becoming more prevalent as Missoula grows and housing becomes short and inventory this year is even shorter. There's definitely a few buyers looking for that.
"You do get some requests from people looking specifically for something not just as a long-term lease rent."
He added that many of his colleagues in the real estate industry have noticed an increase in buyers interested in properties as a short-term rental investment.
Stelling doesn't believe short-term rentals have a big effect on Missoula's home prices, but are just part of the overall strain on the supply.
"The market is dictated primarily by supply and demand," he said. "I don't know that it has a huge impact, but as we grow there are just fewer and fewer options for buyers."
The U.S. Census Bureau data in this story comes from the American Community Survey's 1-year estimates for Vacant Housing Characteristics and was compiled by real estate company IPX1031.