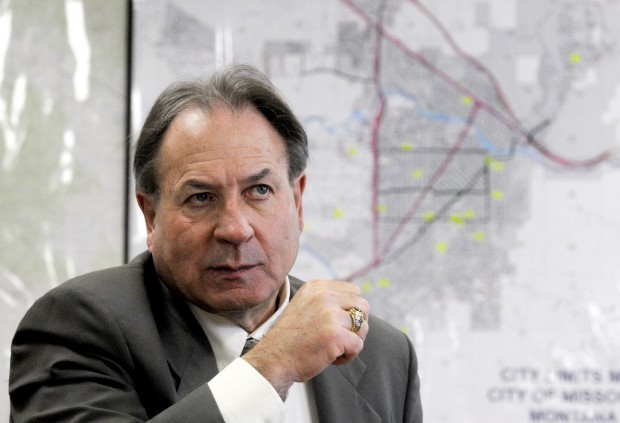 Despite overwhelming cries from the public to retain Missoula County Public School District Superintendent Alex Apostle, the school board trustees didn't utter a word about their leader's possible departure during their monthly meeting on Tuesday.
Parents, teachers and community members offered emails and public testimony in support of any attempt by the board to retain Apostle, who has served as superintendent of MCPS since 2008. Apostle is one of two finalists for the superintendent's job at Spokane Public Schools, overseeing a 29,275-student district. Apostle was recruited to apply for the job and interviews in Spokane on April 12.
"Our hands are tied," school board president Toni Rehbein said after Tuesday's meeting adjourned.
The agenda for Tuesday's meeting was set prior to the announcement that Apostle was one of two finalists, she said.
Whether the board will officially try to sweeten the pot in an effort to retain Apostle is unknown.
"I would like to do all I can," Rehbein said.
She could not speak for the desires of the other trustees. The other school board members would need to make their interests known, Rehbein said.
A news release on the Spokane district's website earlier indicated that the Spokane school board plans to select a new leader soon after the site visits this week, with the goal of making a final determination no later than the end of April.
The Missoula school board's next regular scheduled meeting is May 8. That means that the board would have to call a special meeting if there was interest in trying to retain Apostle. Whether that will happen is unknown at this time, Rehbein said.
However, several community members made clear their desire to retain Apostle in Missoula.
"It's hard to imagine MCPS without Alex," wrote Susan Hay Patrick, chief executive officer of the United Way of Missoula County.
The school district forged a strong relationship with United Way. While that strong tie will continue regardless of whether Apostle leaves, that relationship would not have gotten off the ground without him, Hay Patrick wrote.
Tom Severson, president of Mountain West Bank, wished the trustees luck in trying to persuade Apostle to stay.
Missoula Children's Theatre co-founder Don Collins wrote, "We must pay for excellence or we can pay for mediocrity later."
University of Montana President Royce Engstrom wrote in an email that collaboration between UM and Missoula's primary and secondary schools is at an all-time high.
"We've made much progress and I hope we can continue that work," Engstom wrote.
One official departure the board did discuss is that of former trustee Larry Foust, who resigned unexpectedly in March over philosophical differences with other members of the board, but also over the district's pursuit to implement the International Baccalaureate Program.
In his resignation letter, Foust wrote, "I do not want to be in a position of having to underwrite decisions made by the board prior to my arrival."
The school board on Tuesday unanimously agreed to accept Foust's resignation from the board and approved a time line for finding a replacement.
Since Foust's term expires May 2014, it's up to the board to appoint a replacement within 60 days. That deadline is May 29. Failing to do so means the county superintendent then appoints a successor.
Anyone who lives in the elementary and high school boundaries and is eligible to vote can apply to fill the vacant position. The deadline to submit an application is April 25. The board plans to hold a special meeting, tentatively on May 1, where the school board will interview and vote on a successor. That person would then be sworn in at the May school board meeting.