If you felt like there was an unusually large amount of construction going on in Missoula over the last 12 months, you were right.
Missoula shattered a record for the pace of new construction, with well over a quarter of a billion dollars in new development recorded in 2017.
According to the city's Development Services office, 1,500 new building permits for projects with a total construction market value of $277 million were issued last year. That easily outpaced the previous record of $248.7 million set in 2016.
Many of the largest projects were publicly financed, part of the two school bond levies passed in 2015. Called Smart Schools 2020, the projects were worth $158 million.
However, a significant number of the projects were privately financed, from a 330-unit housing project to a new grocery store going in near Southgate Mall.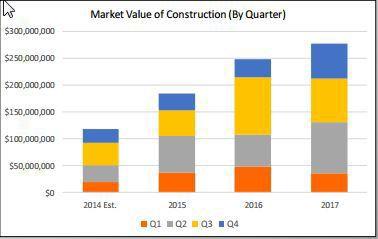 The top 10 projects permitted in terms of market value of construction were:
1. New Tollefson Apartments (nine buildings, 330 apartments near the intersection of Mullan and Reserve) — $19.2 million.
2. Hellgate High School (addition and remodel) — $19.1 million.
3. New Mercantile Residence Inn (a five-story hotel going in on the corner of Front and Higgins in downtown Missoula) — $16.1 million.
4. New U-Global Student Housing Project (52 pod-style apartments at the Old Sawmill District development) — $13 million.
5. Phyllis Washington Education Center at the University of Montana (addition and remodel) — $12.6 million.
6. New Hellgate Middle School — $11.6 million.
7. New Ault Mullan Apartments (six buildings) — $10.8 million.
8. Washington Middle School (addition and remodel) — $7.8 million.
9. New Potter Park Apartments — $4.1 million.
10. New Lucky's Market (an organic-focused grocery store set to open at Southgate Mall this year) — $3.7 million.
You have free articles remaining.
The city's statistics only take into account the cost of constructing the buildings. The cost of buying the land, demolition and site preparation and other "soft" costs such as planning, design, engineering, financing and real estate fees are excluded. That means the total investment by developers was probably double the $277 million.
The total number of residential developments permitted in 2017 was 775, exactly the same as in 2016.
Nate Tollefson of Tollefson Construction said acquiring land with the right zoning designations is the biggest hurdle to completing a project like the new, 330-unit apartment complex that is in the third phase of construction near the AMC movie theaters on Mullan Road.
"Missoula is limited on land zoned appropriately," he said. "We've been in business since 2003, and it's difficult to find the right zoned stuff. If you do find the right land, you feel like you've got the competitive market edge. This large piece was sitting there, so we put all the chips on the table."
Tollefson, who is also building 39 single-family homes in Frenchtown and 36 single-family homes near Hellgate Elementary, said that he feels as though all the new units coming online this year will help alleviate Missoula's housing shortage, which has driven up the median home sales price by nearly 30 percent since 2010.
"I think we're going to turn the vacancy tide this year," Tollefson said. "My personal opinion is Missoula is going to be maxed out on apartments for a while. There's a whole lot of others scattered around that are being built. Between this and all the other miscellaneous ones, I think this is going to do the trick for a while. There will be an emphasis on single-family (homes) after that."
Tollefson said he decided that apartments were a better investment because there are a lot of condos and townhomes being built as well.
"Two-thirds of our project is available for rent, but it is filling up quite well for sure," he said.
He said he was taking advantage of low interest rates and the fact that construction costs are only going to go up when he decided to start the project 15 months ago.
"My honest opinion is you never really know what Missoula's economy is going to do," he said. "The thing most contractors struggle with is land. The other part is labor. Labor is a big problem. Even if Missoula is growing like crazy, trying to find a labor pool to sustain those projects is tough. So land and labor are both big factors. But even if you see numbers are down at the University of Montana, Missoula's still thriving. I always have an optimistic view."
Linda McCarthy, the executive director of the Downtown Missoula Partnership, said that the business owners she talks to are all having great years and are optimistic.
"We've heard from a lot of folks who've had the best year ever, the best holiday season ever and the best tourism year ever despite a couple months of wildfire smoke," she said. "We've gotten a lot of positive feedback from the downtown business community about the level of activity."
So much development results in traffic hassles caused by so many construction cones, but McCarthy views that as a good problem to have.
"There's frustration around the construction projects, but it's kind of short-term," she said. "Much of what's out there is planned and intentional, and we're thrilled to see so many components of the Downtown Master Plan come to fruition. It's really rewarding."
Besides housing and business development, significant transportation infrastructure upgrades are in the works. The replacement of the Russell Street Bridge is scheduled to begin this spring, and work on a new roundabout is coming to the Van Buren/Interstate 90 interchange sometime this year, as well. Development in 2018 looks to be robust, as construction on a new Missoula Public Library and other projects are tentatively scheduled.
"We're hearing about a lot of interesting projects," McCarthy said. "The amount of investment taking place in downtown is really positive and fun."