Two sisters from Missoula have made the largest single donation to the new Missoula Public Library in honor of their parents, both strong community advocates who died in a tragic accident.
Sarah Schram and Emily Harrington have committed $750,000 to create the Hank and Nancy Harrington Children's Library, which will take up an entire floor in the new library building that's under construction and set to open in mid-2020.
Henry "Hank" Harrington and his wife Nancy Harrington died in 2008 when their canoe capsized in the icy waters of Flathead Lake near their cabin on Wildhorse Island.
They were well-known in the Missoula community, where Hank was the former chair of the University of Montana English Department and Nancy was a partner in the accounting firm Boyle, Deveny & Meyer. She was the accountant for several nonprofits, and she served on the board of directors of Intermountain Planned Parenthood, the Missoula Food Bank and Child Care Resources. She was active in a variety of community organizations, including the Poverello Center, Holy Spirit Episcopal Church (where she sang in the choir) and Sussex School. Both were avid motorcyclists and adventurers.
Their daughters made the gift to continue their legacy, Emily Harrington explained.
"My parents were a part of this community for almost 40 years," she said. "They gave their time, money and talents and sat on all kinds of boards and were quietly huge advocates for Missoula."
Harrington said she and her sister agreed that the library was a "natural fit" to celebrate everything their parents believed in.
"The library represents the best of this community," she said. "It's central to our lives. Everyone gets to use it, and this new library will be so much more and will take it to another level."
Harrington said because the library provides free services, it benefits all segments of Missoula. It's a place where low-income kids can find all sorts of resources, from music to movies to books to games.
"I grew up in a household that had floor-to-ceiling books," Harrington recalled. "My parents also had a passion for the community. They were kind and generous."
Karl Olson, the Library Foundation and public relations director, said the gift will help the library create a special space for children that will be used for many decades.
"The Harrington contribution is the single largest gift in support of MPL's capital campaign," he said. " Appropriately, the new library's youth services will be known as the Hank and Nancy Harrington Children's Library. Hank and Nancy were longtime and active members of our community."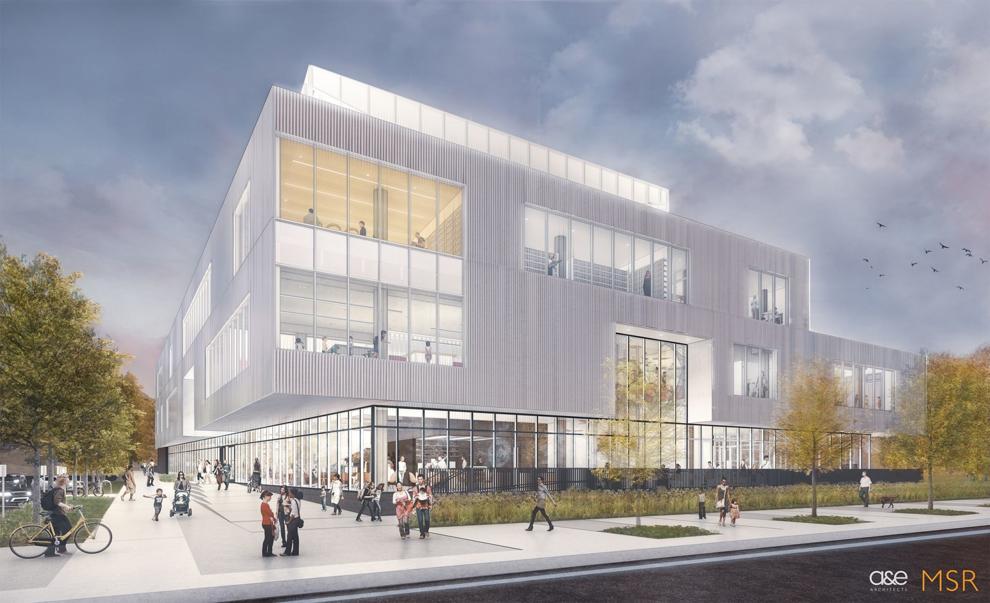 The new library is being built directly to the east of the current library on Main Street. It's being paid for with a $30 million voter-approved bond, a $5.65-million capital campaign from private donors and $850,000 in pre-paid expenses.
"The 'All Under One Roof' campaign has raised more than $5 million," Olson said. "While we need a few more major donors to help us reach our goals, we're excited to transition to a Community Building campaign that opens giving opportunities up to everyone." 
This week, the library unveiled a fundraiser to purchase an automatic materials handling system, called a Lyngsoe "book robot," that will free up staff time to help customers.
The machine is used at many libraries across the country, including in Billings, and Olson said it won't cost anybody a job but will allow workers to relieve themselves of a time-consuming hassle and focus on working with people.
In order to raise money, the library has rolled out "robot piggy banks" designed by local illustrator Josh Quick. Kids can take them home, and once full of coins, the banks can be returned to the library to support the effort.
Young people, especially, like to have ownership in a new library that is, in many ways, designed around their learning and social needs, Olson said. "They're able to watch the building go up as we speak, and when it's done they can be proud of helping make it happen."
Olson said kids today are the library's future.
"Someday they can bring their own kids to the library, and tell them how it was a community-wide project, built by some big checks and a lot of little piggy banks," he said. "The Harrington family is a great example of this. Their gift literally got the project off the ground."
There's a new display on the second story of the current building that Olson says explains "the library's philosophy on reconfiguring staff work in a new facility."
The library's foundation hopes to raise about $700,000 over the summer and fall, he added.