A video in which a white Big Sky High School student makes racist statements about Native Americans, along with other incidents, sparked a protest walkout of more than 100 Missoula County Public Schools students on Friday.
The students from all Missoula high schools first observed 15 minutes of silence to "recognize the hate crimes that have been happening." They then gathered at Caras Park to protest hate and racism, which was briefly interrupted by white students in a truck with "Trump" flags driving by and yelling.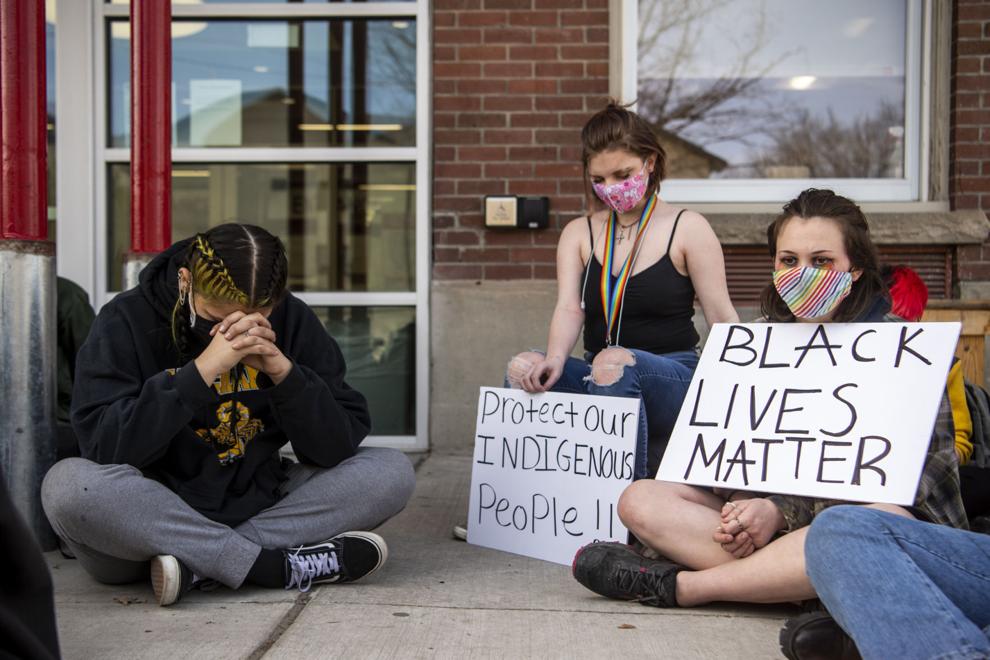 "It's to end MCPS' hate and intolerance," explained Vegas Longtree-Bearcub, an Afro-Indigenous senior at Big Sky High School. "In the schools there's been multiple reports of anti-LGBTQ, anti-Native or anti-Indigenous or anti-Black Lives Matter and the school does little or nothing. There's no punishment. Students feel unsafe or uncomfortable in their own schools."
In an incident over the summer, "a kid was calling people the N-word and threatening to kill BLM protesters," Longtree-Bearcub said.
In the video that sparked Friday's events, which has been widely shared on social media, the student is talking into his cellphone.
"I don't think anything justifies mass genocide but I think that Englishmen wiping out Indian tribes all across America was for the best," he said. "Look at me right now. I've got a house, a very nice house. I've got siblings. We wake up every day and we go to work and the way you rise up in this society is you work hard and you benefit other people. That's how you rise up in this society. And Indian tribes, the way you rise up you become the strongest, the most powerful. You show how many people you can kill and a lot of torturing things like scalping, running the gauntlet, literally cutting out people's guts and making them carry them for miles, that comes from Indian tribes. The Hellgate right here, they found thousands and thousands of bones from other Indian tribes."
The Missoulian has not seen any other parts of the student's recording that might give it more context.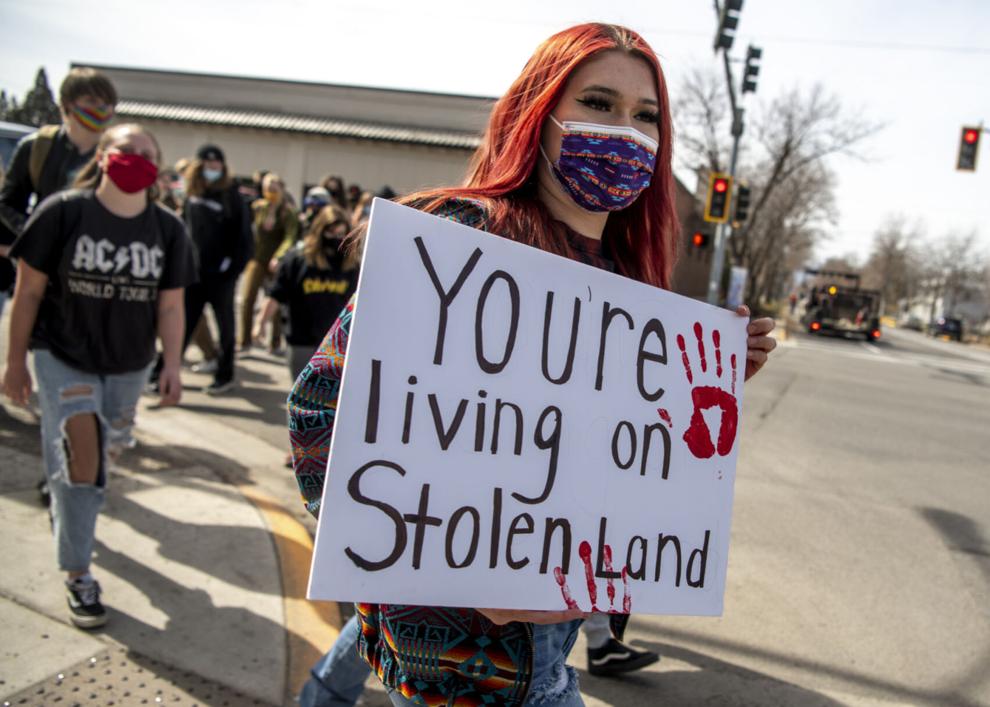 Longtree-Bearcub said his interpretation of the video was that it was a "Big Sky student saying genocide was OK because of all the stuff he has and not everyone else has."
Cali Higgins, a Native American junior at Big Sky High School, also said the video played a big part in her decision to participate.
"I'm participating in the walkout to bring awareness to the hate crimes and discrimination in the school district," she said.
"The video that's been going around on social media," Higgins added, when asked to describe specific events. "It was a kid from my school that said some very ignorant things about the Indigenous people in Montana. It makes me sad and angry that people actually think that. It's like really ignorant and stuff like that it doesn't make me feel safe in my own school."
Higgins and other students met with the administration of the school, she said.
"Honestly we set up a meeting with the school principal and I think that there should be more done and this is just the start," she said.
Longtree-Bearcub said he's not happy with the response by Missoula County Public Schools.
"The response is they're gonna do whatever they can do, is basically all they told me," he said. "I've been speaking with a girl at Hellgate, she's Indigenous, and she's experiencing a lot of that stuff over there, too. It's more than just Big Sky-based."
Missoula County Public Schools superintendent Rob Watson said the district supports all students in exercising their First Amendment rights to express themselves about issues they care deeply about.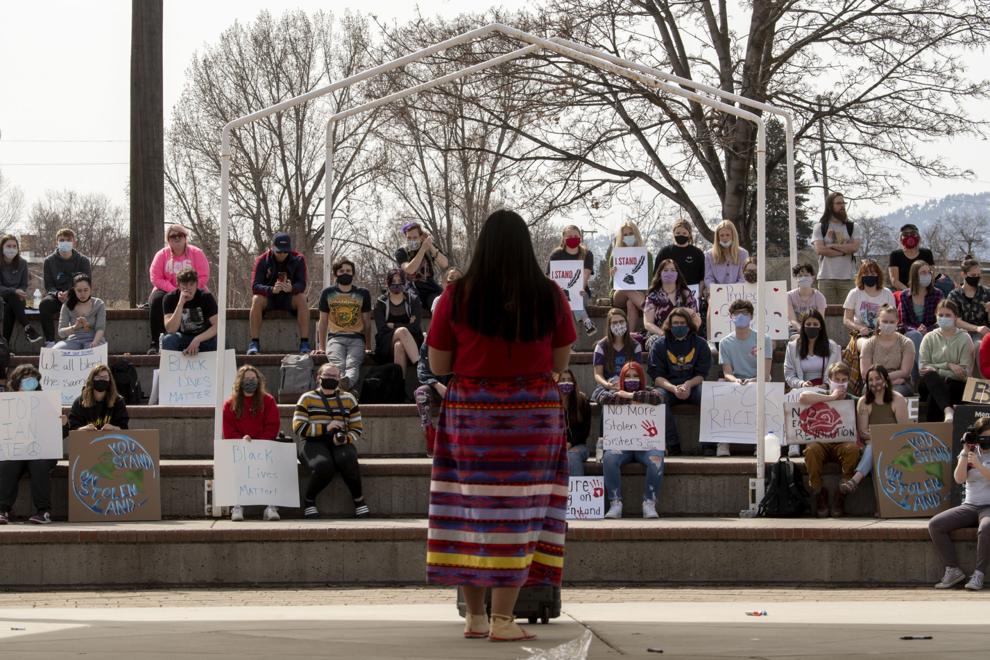 "More than that, I want to be clear that all MCPS students have the right to access our education system in a safe and inclusive environment, free from acts of harassment and discrimination," Watson wrote in a statement provided to the Missoulian. "MCPS commits to equal access to educational opportunities as stated in our District policy (#3210): Equal educational opportunities shall be available for all students without regard to race, color, national origin, sex, religion, creed, physical or mental disability, economic or social conditions, sexual orientation, gender identity, gender nonconformity, or actual or potential marital or parental status. This commitment is demonstrated in our actions and our beliefs as educators."
Watson's statement indicated support for continued conversation.
"When discriminatory remarks are made against one of us, it hurts all of us," he wrote. "MCPS stands in support and solidarity with our Indigenous community, our BIPOC, our LGBTQIA+, our many faiths, and our students of many physical and cognitive abilities. As the leader of this organization, it is my hope that we will continue to address and communicate about discriminatory remarks and behaviors that are in direct conflict with our policy and our beliefs as educators. When we communicate about these types of issues, we reaffirm our commitment to improving our community so that all students and staff feel safe, welcome and included in our schools."
The school district confirmed to the Missoulian that it is aware of the video, but offered no further information other than Watson's conclusion in his statement.
"Regarding school response, when we receive reports regarding discrimination or harassment, our school administrators investigate and take appropriate action," Watson wrote. "This includes coordination with law enforcement or other agencies when necessary. While student discipline is protected by federal confidentiality laws, our goal with any school-related issue is to hold students accountable for their actions. In addition, an important part of any disciplinary process is to educate students and help them to understand how their actions impact and influence both their school and larger community."
Alina Espino, an Indigenous student at Sentinel High School, spoke to a crowd of more than 100 at Caras Park.
"I am Native American from the Northern Cheyenne Tribe and Mexican from my father's side," Espino said. "I am both Indigenous to this land and Indigenous to Mexico."
Her grandmother was placed in a boarding school, and the experience traumatized her so much that she wasn't able to share her culture's roots with Espino's mother, she said.
"Unfortunately, my grandma's trauma lives on today," she said. "You see, science shows that trauma passes genetically to the next generation. This is called historical trauma. Science also shows that addiction and trauma are linked. There's been a lot of addiction in my family."