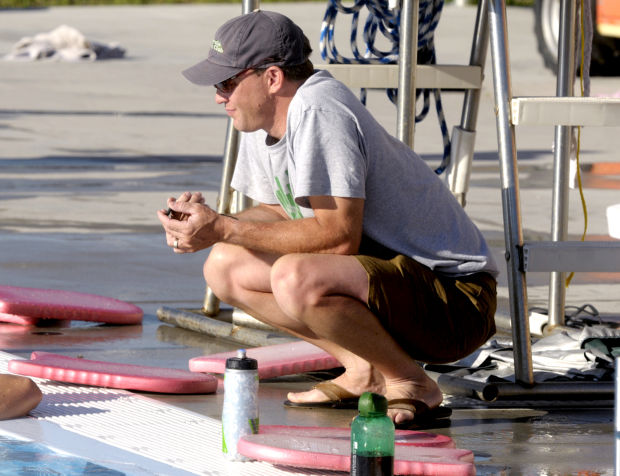 Amid a firestorm of pointed criticism, prominent Missoula swimming coach and two-time Olympic gold medalist David Berkoff is speaking out in his own defense.
"It's totally nonsense, totally unfair," said the lawyer and technical vice president of USA Swimming, referring to recent allegations made by Kelley Davies Currin and her lawyer, Bob Allard. "(Allard) is slandering me."
Currin, one of the best swimmers in the world in 1987, has been in the national news since May 23, when the man who sexually abused her for five years starting at age 13, Hall of Fame swimming coach Rick Curl, was sentenced to seven years in prison. That came after Curl, 63, pled guilty in February to one count of child sexual abuse in the 1980s.
Currin, now 43, used the sentencing as an opportunity to voice her displeasure with USA Swimming. She called for the resignation of Berkoff and executive director Chuck Wielgus. She also petitioned that Mark Schubert, former United States team director, be barred from the organization.
All three men, according to Currin, knew about Curl's abuse for years before USA Swimming looked into the matter in 2011. Curl was banned from the organization in 2012.
"Perhaps the most glaring example of ineptitude is the story of Berkoff," Currin said in a prepared statement. "Back in the late 1980s and early 1990s, Mr. Berkoff was part of a group of swimmers which was discussing 'over a handful of beers' that Rick Curl was 'banging' me. … Mr. Berkoff claimed that he formed a subcommittee when he became part of the USA Swimming Board of Directors in the early 1990s in order to address pervasive sex abuse within USA Swimming and that the idea was 'shot down' by John Leonard, the then and current executive director of the American Swim Coaches Association. When it came time to testify under penalty of perjury in a deposition in January of 2012, Mr. Berkoff significantly backed off from that comment and generally did not remember anything about this process."
Allard, who took Currin's case pro bono, asserts that Berkoff has had several opportunities to make a difference for Currin and each time he failed to lay a finger on the "Jerry Sandusky of USA Swimming." Allard uses the word enigma to describe Berkoff, claiming he seemed to be part of the solution for USA Swimming until he was made a vice president in 2010.
"We fully expected, after all of the bravado that Mr. Berkoff displayed, that significant changes would occur within USA Swimming and that at a minimum he would immediately take steps to ensure that Rick Curl no longer had access to minors," Allard wrote in an email to the Missoulian on Thursday.
"Until we filed a second claim with and held a gun to the head of USA Swimming in July of 2012, however, not only did USA Swimming not take any actions against Rick Curl, but they allowed him to be worshipped and glorified at the 2012 Olympic Trials."
Currin described her emotions on the day she saw Curl at the 2012 Trials.
"While I was battling demons from the childhood molestation," she wrote in her statement, "Wielgus, Berkoff and Coach Schubert contributed to the glorification of Rick Curl by allowing him to coach at one of the most prestigious swim centers in the country for almost two decades, supporting his induction into the swimming Hall of Fame, and providing him with center-stage status at the 2012 Olympic Trials."
Berkoff, head coach of the Missoula Aquatic Club, says he attended the 2012 Trials as a spectator and was just as surprised as anyone that Curl was present.
"The last I had heard of Rick Curl he was in Australia and coaching there," Berkoff said. "I assumed he was long gone and would never come back to the United States because his past was catching up to him. That was my suspicion.
"You know we passed that (USA Swimming) rule in 2010 that said the statute of limitations did not apply in these cases. I was hoping the bad coaches would either disappear into the weeds or would be ratted out eventually. When I was up in the stands with my family, I see Rick Curl walking down the pool deck and I turned to my wife and said, 'What the hell is he doing here?' I was just as shocked as Kelley Currin was about that."
Berkoff, who has expressed sympathy for Currin, said blaming him for Curl's presence at the 2012 Olympic Trials is tantamount to "blaming the governor for a bad striping job on the highway."
Berkoff is proud of the work he has done to make USA Swimming safer. His commitment dates back to the late 1980s when he, at the request of his alma mater Harvard, became part of a student athletic advisory board.
He considers it ironic that he pushed for language in the 2010 Code of Conduct amendments that stated criminal and civil statutes of limitation will not apply to any claim against a member of USA Swimming. He says he went the extra mile because he wanted to see individuals like Curl "go down someday."
"That was my personal selfish thing," he said. "Had I and others not insisted that language go into the Code of Conduct in 2010, Kelley Currin wouldn't be able to come forward and make this complaint."
According to Berkoff, his knowledge of Currin's situation prior to 2011 was limited to rumors and vague information about a settlement agreement she entered into with Curl in 1989. Back then, Curl paid $150,000 in return for the Currin family's silence.
Berkoff stressed that he has never met Currin or Curl.
"I've never talked to Rick Curl because I thought he was kind of creepy," Berkoff said. "Just hearing that (sexual abuse) rumor was kind of upsetting to me because I'm a victim of child abuse myself and I just have no tolerance for that."
Allard and Currin contend Berkoff knew enough and should have done something to rid USA Swimming of the "pedophile." Allard submitted to the Missoulian an email message from July 26, 2010, in support of his claim.
Berkoff says that particular email was intended to remain private and was written out of frustration with USA Swimming after he viewed a "20/20" program about Andy King, a former swim coach whose background screening by USA Swimming came back clean in 2008. King was placed in prison in 2010 for sexually abusing more than a dozen teenage girls.
Berkoff's 2010 email regarding USA Swimming read as follows:
"Denying knowledge of Rick Curl, Mitch Ivey and others banging their swimmers! It's a flat out lie. They knew about it because we (coaches and athletes) were all talking about it in late 1980s and early 1990s. …. I was told Rick Curl was molesting Kelley Davies for years starting when she was 12 by some of the Texas guys. That was the entire reason I formed the abuse subcommittee. I was sick and tired of this crap. No one was standing up. No one was willing to take on these perverts.
"John Leonard was on the subcommittee and told me he was opposed to an all-out ban on swimmer-coach relationships because he had married one of his former swimmers. I finally threw in the towel out of frustration because no one wanted to stand up for background checks or banning coach-swimmer relationships."
Berkoff clarified the email on Thursday.
"We were talking about what do we do to change USA Swimming?" he said. "(Allard) has all these emails and cherry picks the ones he thinks are damning.
"I put these emotional emails out there, kind of shooting first and checking for bodies later, and I was asked to submit a proposal in 2010 to the board. That's what promoted USA Swimming to adopt (enhanced) background checks, mandatory training on code of conduct and a 1-800 number to call in and report incidents."
Berkoff's extensive work with USA Swimming is done as a volunteer. He said he "begrudgingly" accepted his post as technical vice president in 2010. He works more than 700 hours a year and has been deposed four times.
"When I took on my position as a board member, it wasn't easy and it wasn't fun and it still isn't fun," he said. "I've been the target of what I think are just slanderous blogs and attacks that are just unfounded. Maybe they're frustrated I'm not their guy that can bring down this organization because that's not my goal.
"My goal is to protect athletes and make it safe. I'm not trying to line the pockets of some attorney who wants to make millions on this thing. Maybe they're angry at me for not turning out to be the person they thought I was."
Berkoff, who has received support from the Missoula Aquatics Club community, continues to be an advocate for change. But he pointed out last week that change takes time in an organization as large as USA Swimming.
Allard is not sympathetic.
"I am sure that Mr. Berkoff is a nice man who is well liked in your parts," Allard offered. "However, he is now in a position which is extremely important as far as protecting our children. It is critical that this man have the strength and conviction to serve in this capacity.
"Mr. Berkoff has demonstrated to us that he does not possess these qualities — far from it."
Allard warns this is a critical time in USA Swimming. He believes its leaders must make "sweeping changes" to protect youth from sexual predators.
In Currin's case, the failure to take justifiable action seems to go beyond USA Swimming. In an article that appeared Wednesday in the Washington Post, the University of Maryland deemed in the 1980s it was not responsible for telling the police when it found out its head swimming coach, Curl, had confessed to abusing a teenage swimmer.
Notes from 1988 reveal that Susan Bayly, who served as in-house counsel for the University of Maryland, handled the departure of Curl. After consulting with an assistant attorney general, Bayly decided that no reporting was needed because the girl had turned 19. The university instead decided to demand Curl's resignation, which opened the door for him to return as a coach for the swim club where the abuse occurred.
Currin and Allard are not the only ones at odds with the Olympic machine. Nancy Hogshead-Makar, senior director of advocacy for the Women's Sports Foundation, says her organization has focused on the issue of protecting young athletes for years.
"There's not the same kind of legal protection for kids in youth sports the same way there is for kids in schools," she noted. "Kids in schools are subject to Title IX, which tells institution schools that they are responsible. They have to predict and prevent sexual harassment and sexual assault. There is nothing equivalent when it comes to the Olympic movement.
"Clearly most of the Olympic movement would like the issue to go away. It makes them uncomfortable and nervous. They really don't want to deal with the problem of getting the bad guys out."
The Washington Post is calling for congressional intervention in Currin's case. Allard is of the belief it will happen.
Berkoff said Thursday he may file a lawsuit against Allard, who resides in California.
"I think there's some really ill-conceived motive here," Berkoff told the Missoulian. "It's hurtful. I'm a good guy."