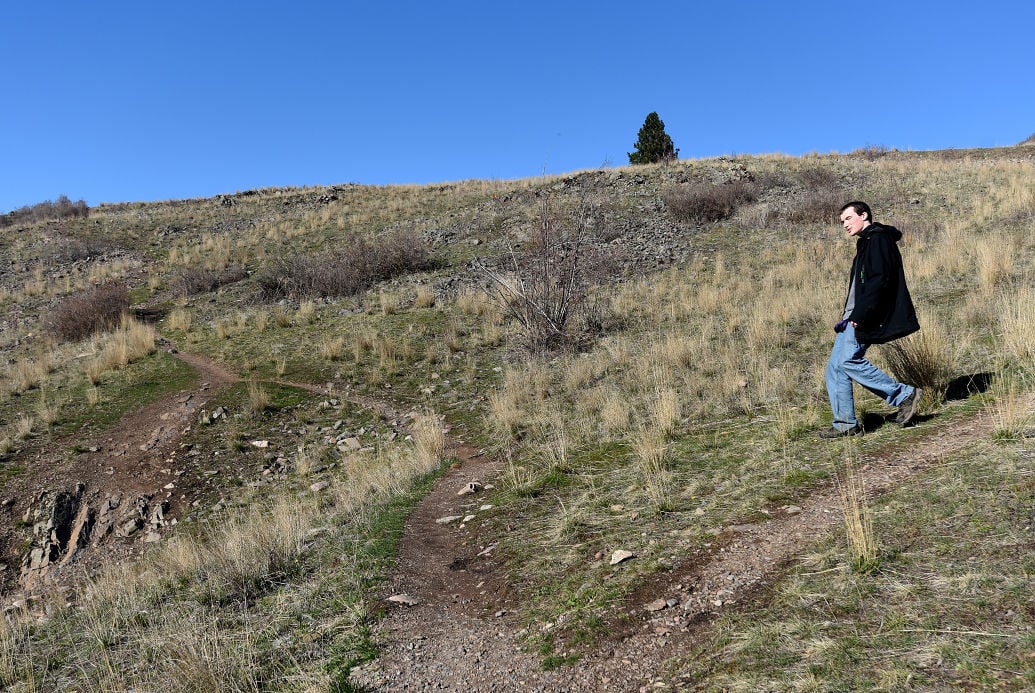 When Morgan Valliant took the job of Missoula conservation lands manager in 2008, he assumed he had about 25 miles of trail to look after.
"When we produced a conservation lands plan in 2009, we adopted a 45-mile trail system," Valliant said. "Then in 2012, when we put together a map for the first time, we had 54 miles. But even with that inventory, we hadn't walked all of them. We were using aerial maps and user reports and Missoula Weed District reports. It's a little shocking to find we've got 19 miles of user-created trails as well."
The Missoula Parks and Recreation Department recently has compiled an inventory and plan for its entire trail system. In doing so, Valliant joked, it's outlined at least five years of work waiting to be done.
Challenges range from the asphalt-surfaced Riverfront Trail that's undermined by the relentless pressure of the Clark Fork River, to the base of Mount Jumbo, tangled with so many unofficial starting points that no one's sure which is the real trailhead.
"The majority of our trailheads aren't up to snuff, according to our 2010 plan," Valliant said. "And we don't do an effective job of showing where the trail system is. It's hard to expect good behavior without accurate guidelines. There are 12 miles of trail in the North Hills, and none are pictured on our latest map."
That would be a big help for people like Ariel Brand, a University of Montana student hailing from Glastonbury, Connecticut.
"It would be really helpful to have better maps," Brand said while strolling the Riverfront Trail. "I like this area and the Rattlesnake, but I need to do some more exploring to find out what else is there."
Organization has noticeable benefits. For example, the city acquired large parts of Mount Sentinel and Mount Jumbo at roughly the same time. But most trails on Mount Sentinel were managed previously by the U.S. Forest Service, which put up signs listing developed routes and their mileage. Its original trails have seen very little unofficial expansion in the subsequent 20 years.
Mount Jumbo, on the other hand, lacked that organized backstory when it was purchased from a private owner who rarely prevented people from wandering (and starting trails) on the hillside. The result is a spider's web of uncharted and unmaintained pathways.
"When people are doing that for 25 or 30 years before a program exists, it's hard to put the cat back in the bag," Valliant said. "Missoulians sometimes love their trails to death. They don't come prepared for conditions, so they walk around muddy or icy spots, and the trail braids and widens. They cut switchbacks. They make their own access points."
Problems can even come from good intentions. The Orange Street trailhead for Waterworks Hill was built 24 inches wide. Valliant said it soon became apparent that was a place where friends wanted to walk side-by-side, not single-file. The tread should have been originally built 48 inches wide.
"If you have 10 people walk the same direction, you're going to make a trail," Valliant said. "We've found that the sheep we use to graze on the noxious weeds make trails to their water tank."
The report identifies about 350 problem points the city needs to address. They include easy tasks like making drainage repairs to prevent mud puddles or trimming brush in overgrown areas.
They also bring up potentially major changes. The south bank of the Clark Fork has been riddled with little paths between the water and the Riverfront Trail where dog-walkers throw sticks or inner-tubers launch and take out. A survey and inspection last summer has been transformed into a project proposal due this June that envisions riverbank restoration, trail restructuring and possibly some stairways down to the river.
For the present, Valliant has a request to the City Council for $24,829 to provide maintenance, new maps, signage and trailhead improvements. Larger projects will have separate funding requests for review.
Some of the unofficial trails might even get promoted. Valliant said about 1.6 miles of user-made or historic paths are useful enough to join the system, including an old farm road that makes a scenic meander through the far end of the North Hills property. With roughly 3,000 acres of grassland to manage, some of those relics are bound to join the city family eventually.