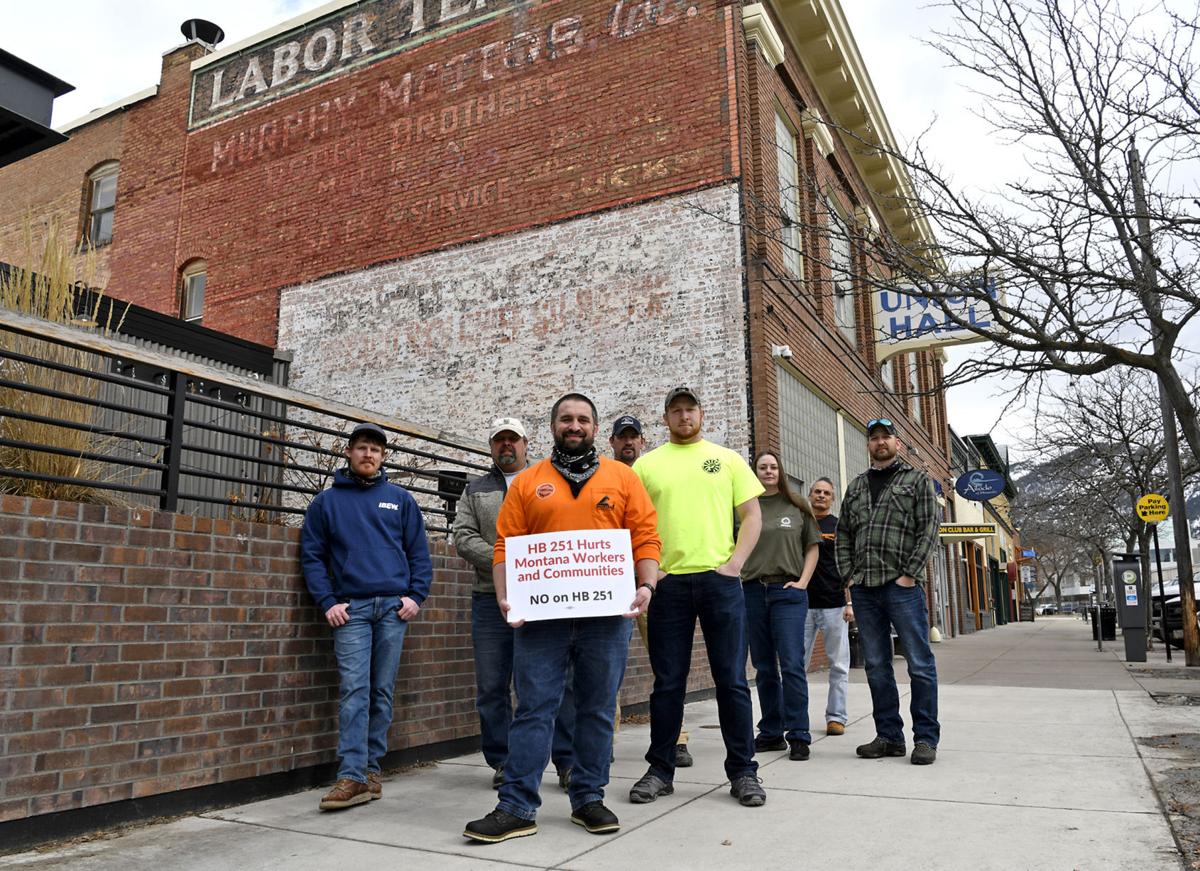 Hundreds of labor union members from Missoula joined others across the state and convened on the Montana Capitol in Helena on Tuesday to oppose a bill they saw as anti-union.
They ended up celebrating, as it didn't receive enough votes in the state Legislature to move forward.
House Bill 251 was a so-called "right-to-work" piece of legislation that would have prohibited the requirement of belonging to a union as a condition of employment, according to the Lee Newspapers Montana state bureau. The bill would also have "barred private-sector unions from requiring non-members covered by bargaining agreements to pay union dues."
The bill was sponsored by Rep. Caleb Hinkle, a Republican from Belgrade, and he and other supporters argued it would boost economic activity in Montana.
Derek Hitt has been with Carpenters Local 82 for 14 years, and is now the president of the Missoula Central Labor Council. He traveled with members of the International Brotherhood of Electrical Workers Local 768 and the Plumbers and Pipefitters Local 459 to Helena on Tuesday.
Many of the union members then gathered at the legendary Union Hall building in Missoula, which serves as a headquarters for labor groups, after the bill failed.
"We're supporting the unions because we're all a brotherhood and we help each other and we get a great benefit package, a great retirement package, great wages with the union," Hitt said. "But also, right-to-work hampers our growth which would hamper even the non-union growth. I mean I look at my brothers in Wyoming and Idaho, I mean they haven't seen raises in years."
The term "right-to-work" is misleading because it actually takes away rights of workers, he said.
"And I mean, (the bill's proponents) kept saying right-to-work gives growth," he said. "It doesn't. I mean Wyoming is (among) the top five states in the nation right now where skilled workers are leaving because there's no work. That scares me. I don't want to see that happen in Montana."
He also said all the proponents of the legislation, besides state legislators, are out-of-staters.
"All the opponents that were against it were all Montana people," he said. "So Montana workers wanted to keep unions here because they believe in the safety we bring to the workplace, the skills we bring to the workplace, and the efficiency we bring to the workplace."
He believes many people have a misconception that unions stall economic activity.
"That's one of the biggest myths is that, oh, the union guys are just going to be lazy," he said. "Like, hell no. As soon as we get on that job the clock starts. We want to get done with that job and get on to the next one. That's our biggest thing. If we're proficient, our companies make money and we make money."
The bill failed 38-62 in the Montana House of Representatives, with 29 Republicans joining Democrats to oppose it.
George Bland is the business manager and financial secretary for the International Brotherhood of Electrical Workers Local 768 union, which represents roughly 1,000 members in western Montana from the Bitterroot Valley to the Canadian border.
He applauded the results in the Montana Legislature on Tuesday.
"It's a great day in Montana for labor," he said. "We oppose right to work, obviously. It is an attack on a union's ability to do its job. This recent attack was sponsored by the National Right To Work Foundation, which has been the mastermind behind the campaigns all across the nation. It's funded by big business, deep-pocket donors. Their interest is in creating more wealth for the wealthy and attacking the rights of unions by weakening them."
Right-to-work legislation is introduced in Montana at the Legislature every two years, Bland said.
"Unions have fought for what they have today," he said. "And for legislation to come in and take away their rights to fund themselves, how can you tell me that's not an attack on labor?"
Bland said many members of the IBEW Local 768 went to Helena on Tuesday to protest the bill.
"It's important to us," he said. "It's important to our members to represent them and be present when we're under attack."
Bland has been an IBEW member for 17 years and is an employee of CenturyLink. The local chapter of IBEW pays for an office and a staff of four people in Missoula at the Union Club downtown, he said.
The bill that was voted down on Tuesday was an attack on the rights of unions to collect dues, he said.
"There are already ways for people to opt out of paying dues, but when people take jobs at union shops, they know that it's a union shop and typically these union jobs pay more than non-union counterparts doing the same work. So we've bargained for the better benefits and wages that these people are coming into."
"I believe that no organization should have the power to keep an employee from working simply because the employee refuses to join or support or financially support that organization, especially if that organization has an agenda or political goals," Hinkle said.​