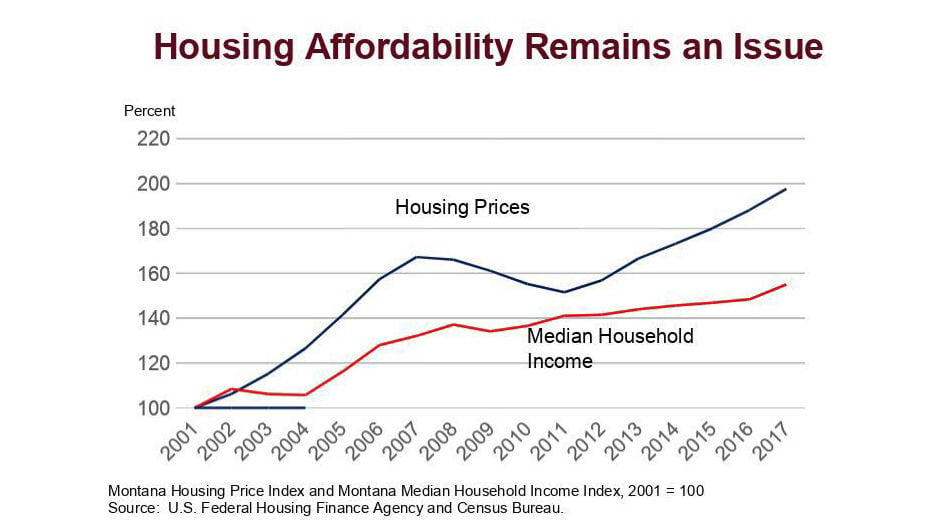 New policy proposals aimed at alleviating Missoula's severe affordable housing shortage were lauded Wednesday as a "fundamental shift" in how housing policy is prioritized by the city and its partners.
Presenting the results of almost three years of work to a crowd that spilled out of the City Council chambers, Eran Pehan, the city's director of the Office of Housing and Community Development, said they're proposing the development or adoption of more than two dozen policies and code changes to help both homeowners and renters.
"The policies and code changes are additive, presenting significant gain while limiting the risk of unintended consequences to the market," Pehan said. "This policy proposes a fundamental shift in how housing is prioritized within the City of Missoula, as well as a commitment to long-term funding of housing initiatives.
"Collectively, the recommendations contained in this policy compose a thorough strategy that will support the market while ensuring long-term affordability and preservation."
The effort won't come without sacrifices and tough choices by city residents and representatives, along with some significant changes to current policy. Mayor John Engen said it's "an extraordinarily heavy lift," but Missoula's affordable housing crisis isn't going to resolve itself and people deserve to have a place they can call home.
"All hard work leads to more hard work. Now it will require ongoing community conversations," Engen said. "There's questions about its adoption, philosophy, values and resources. None of that will happen in a vacuum, either.
"What I can tell you is this is a Missoula effort and we engaged in a Missoula way and these will be Missoula solutions. It's a dramatic step forward in finding solutions that the lion's share of our community agrees we should tackle head on."
The policy proposals are wide-ranging, including recommendations to allow taller buildings than currently can be constructed in some neighborhoods; reduce on-site parking requirements where street parking is adequate; and encourage more Accessory Dwelling Units and fewer street setbacks to encourage higher-density development in single-family home neighborhoods.
It also proposes city aid in infrastructure such as water and sewer for new developments; a taxpayer-funded housing bond; and the donation of city land for low-cost housing.
"I wouldn't call what we have a plan," said consultant Daniel Werwath, who helped draft the document. "I call it a program development document. … It's a system-changing approach to the housing problems Missoula is facing."
After approval of the recommendations by the City Council, the next step is turning them into policies that will have an immediate impact, and making an ecosystem that allows housing programs to thrive, Werwath added. He encouraged the city to set goals to revisit annually, and again in five-year increments, to gauge whether they're on track.
"These are the building blocks for a sustainable and adaptable housing approach," Werwath said. "You have the core tools you can apply immediately and in the future."
Other recommendations include:
• Reducing the city's 3,000-square-foot minimum lot size for homeownership projects.
• Expediting the review of development applications for below-market housing projects.
You have free articles remaining.
• Expanding the zoning categories that allow density bonuses.
• Reducing regulations on smaller, infill Townhome Exception Developments.
• Changing zoning laws to allow higher density in more neighborhoods rather than letting just a few neighborhoods absorb the majority of infill.
• Expanding city support of housing services and developing new financing tools to preserve mobile homes and existing affordable housing.
Most of the solutions to the lack of affordable housing will take a mix of public and private efforts, as well as the aid of many of the non-governmental agencies, including more than 3,000 citizens who engaged in conversations about housing in the past few years.
Council member Gwen Jones wondered how the efforts at infill would dovetail with the aesthetics and design of a neighborhood's character, cautioning to not underestimate what she called "an immense challenge."
Pehan responded that these are "fine-tuned" recommendations, but the devil is in the details.
"Even before we come back to council, we'll look at the design and how that could impact neighborhoods," Pehan said.
Public comment was limited due in part to the lengthy presentation. But Gill Wiggin, who said he has moved 12 times during his seven years in Missoula, urged the city to enforce current efforts that include making landlords accept housing vouchers.
"I see the voucher program is ignored by landlords," Wiggin said.
Sam Duncan also called for more inclusionary zoning, but supports incentives for affordable housing and more Accessory Dwelling Units.
Two open houses are set for public input. One is from 11 a.m. to 1 p.m. May 30 in the City Council chambers on 140 W. Pine St., and the second is from 6:30 p.m. to 9:30 p.m. June 4 in the Russell School cafeteria at 3216 S. Russell St.
A public hearing before the council will begin shortly after 7 p.m. June 24 in the council chambers.
"This strategy recognizes that neighborhoods have unique needs and that as we grow as a community we must develop thoughtfully, in a way that is sustainable and equitable, while maintaining community quality," Pehan said. "Throughout this growth, no neighborhood should be asked to experience radical change. Consequently, no neighborhood should be exempt from change, either.
"Together these changes will make both renting and purchasing homes in Missoula more affordable, with cascading effects on important Missoula values."
Missoulian Reporter David Erickson contributed to this report.