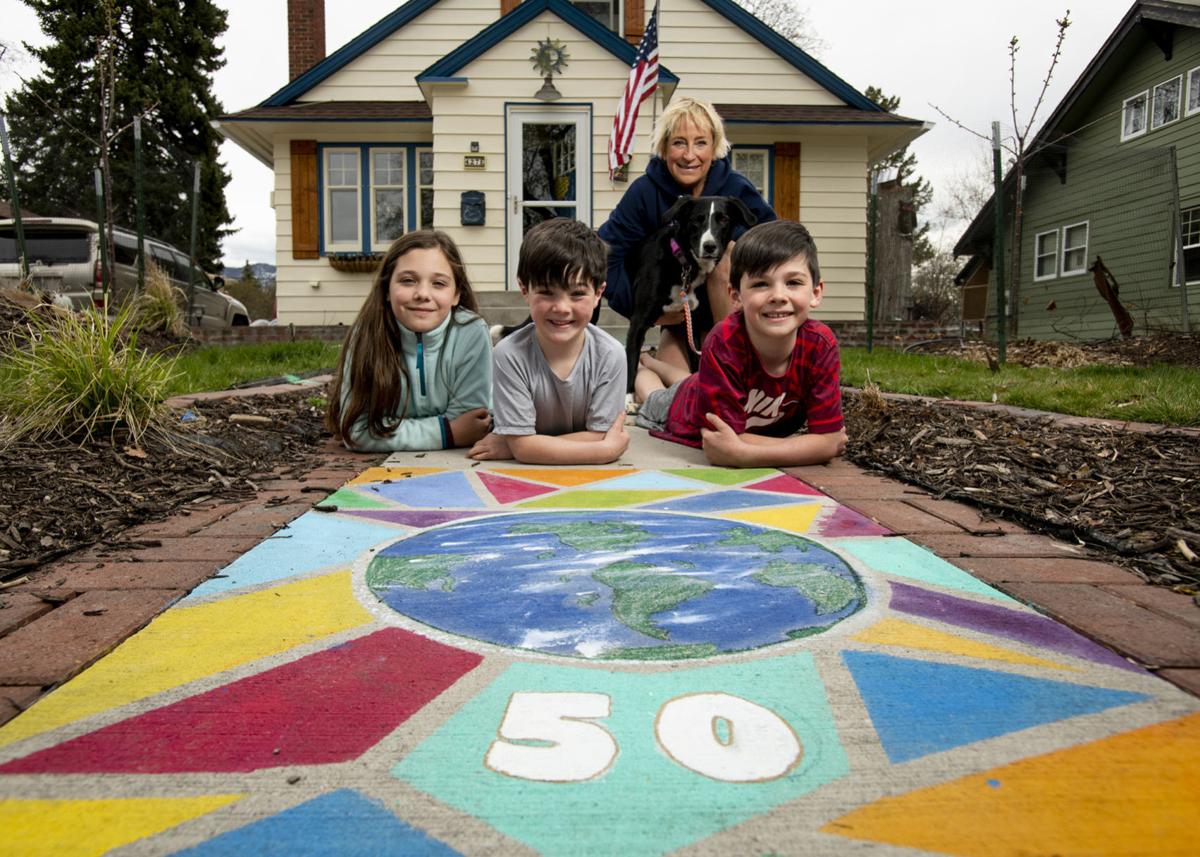 The 50th was by far the quietest, and maybe the most memorable.
Isolated pick-up projects and an online art show by Climate Smart Missoula were among the few activities around town Wednesday on the golden anniversary of Earth Day.
Even as Montana Gov. Steve Bullock rolled out plans for the gradual relaxation of stay-at-home orders during the COVID-19 crisis, the need to avoid traditional community cleanups, lectures and other be-kind-to-Mother-Earth activities remained keen.
The bizarre scene begged comparison to April 22, 1970, when Earth Day was born in Montana and around the country.
It was, news outlets explained, "a project of Environmental Action, a national student group formed to coordinate a date of protests against pollution of the environment."
Gov. Forrest Anderson set the stage as the day approached.
"There is a lack of public awareness of the impending environmental crisis," he said. "People must be awakened to the need for pollution control and reclamation of the natural environment."
In Missoula, Earth Day 1970 was marked by formal "teach-ins" at the university, anti-litter drives around schools and a special cleanup on Tremont Street near Sacajawea Park. There, GASP (Gals Against Smog and Pollution) filled more than 12 ash cans with dirt to demonstrate one form of air pollution and urge "better street sweeping."
The UM School of Forestry and a group of students, faculty and townspeople calling themselves The Environmentalists conducted an opinion poll to gauge attitudes on the subjects of population, forestry practices, garbage and air pollution. Missoula residents were urged to walk or ride bikes to work and school that day and to wear gas masks to show disdain for the valley's air particulate levels.
The event invited widespread scrutiny of the best-known polluters. In Montana in those days, the Anaconda Co. topped the list, though the company's lone aquatic biologist sought to change that perception.
"As a representative of industry, I'm expected to justify water pollution by the Anaconda Company. I hope to disappoint you," John Spindler said at an Earth Day symposium at Carroll College in Helena.
The company had learned from past mistakes, he assured. "Five years ago we didn't have a department dedicated to the proposition that great industry can exist with good environment."
Meanwhile, Anaconda's forest products division toppled the smaller of two tepee burners at its lumber mill in Bonner. Harley Hettick's photo of the tipping burner led the front page of the Missoulian the next day. The burner leaned neatly into a headline over a national AP story: "Nation Bends Over to Cleanse Earth."
"The larger tepee burner will be retained for wood waste storage," a local story explained, "but as of May 23 the wastes will be burned in a new boiler in compliance with pollution control regulations."
Another Missoula County polluter was the Hoerner Waldorf pulp mill west of town, but manager Roy Countryman offered optimism at a panel discussion in the University Center ballroom.
His company was spending $2.5 million to build a 13-story structure to house an "effluent clarifier" as part of a long-term program to reduce air pollution.
Anderson came to Missoula that night to speak to an Earth Day audience of 1,000 at the University of Montana (now Dennison) Theater. The crowd, made up largely of students, was "energetic and vocal, interrupting the talk with frequent applause and laughter and occasional shouts," wrote Missoulian staff writer Dennis Curran.
"It kept the governor on his toes, especially during a brief question period," Curran added, later characterizing it as a "somewhat stormy" session.
The Democratic governor's message wasn't exactly what they wanted to hear.
"We must look in two directions. We must protect the natural beauty of the environment of Montana, and we must protect the interests of the people of Montana," Anderson said.
Existing economic and social problems should not be ignored for the protection of the environment, he said. He urged his young audience to "take up the new cause while continuing to fight for the old cause."
Anderson proposed a 10-point program aimed at doing both, and later attempted to justify his pro-Anaconda Co. stance at a recent Land Board hearing on the company's request for an easement in Lincoln.
"I sounded like the devil's advocate. I sounded like I was on Anaconda's first ball club for a reason — to tell you there were two sides to the issue," the governor said.
Don't go "overboard" in pushing the environment cause, he advised students. You'll lose support that way.
"I was impatient at your age — I still am," the 57-year-old governor joked. "If I had 30 days to operate by edict, I could really make that store run."
Concerned about COVID-19?
Sign up now to get the most recent coronavirus headlines and other important local and national news sent to your email inbox daily.