There's an easy way to tell if you're talking to a ballerina: Look at her feet.
At her home last week, Ruby Jenni stood up from the couch and her feet naturally turned out into first position.
The 13-year-old has been home less than a month after spending the fall semester abroad. She studied ballet — specifically the Cuban methodology, an expressive style — at Academia Cubana de Ballet e Danca in Leiria, Portugal.
Her adventure began at the inaugural VIBE, USA event in Missoula a year ago this week. The Vienna International Ballet Experience, USA is a five-day dance challenge that brings dancers from around the world to Missoula, and includes competition, master classes, conferences and a film festival. The second annual VIBE, USA kicks off Tuesday.
Cuban-born ballerina Annarella Sanchez attended last year's VIBE and connected with Jenni. Sanchez didn't speak English, and because Jenni is a Missoula International School student, she speaks Spanish. Jenni was able to translate for Sanchez — and then Sanchez saw her dance. One of Jenni's solos made it to the finals.
She gave Jenni a full scholarship to study ballet at her school in Portugal.
"I loved the people over there," Jenni said. "Everyone at the academy is super close. They take in quite a few foreign dancers. Before I got there, there were dancers from Texas, and Brazil and Argentina. They're used to accepting new people, so everyone is super supportive of each other."
It's no surprise that Jenni and her older sister Ellie became dancers.
Their grandmother is Juliette Crump, retired dance professor and head of the University of Montana dance department.
Jenni started dancing when she was 4, but even if she hadn't, she suspects she always would have yearned to dance.
"Since I've been doing it so long, I feel like I don't have a choice, because I don't want to do anything else," she said. "If I hadn't, I think if I had seen others dance I would want to.
"What you can do with dance is so amazing. Ballet has been around so long ... it's a way to connect with everything."
Over the past nine years, Jenni has studied ballet (classical and neoclassical), tap, contemporary, jazz, pointe and some flamenco. Classical ballet is the foundation of all ballet styles today. Neoclassical came from the style developed by George Balanchine, a less rigid take on classical ballet.
"Whatever I'm thrown into, I try," Jenni said.
She was certainly thrown into it abroad. After school got out each day — Jenni attended a public school — she headed across the street to the dance academy, where she would dance until 8 or 9 every night. And on Saturdays, she danced from 9 a.m. to 8:30 p.m.
"The Cuban style is based around a 30-hour training week," she said.
She stayed with a host family whose daughter was also a dancer at the academy. They also hosted two other students, a boy and a girl, both from Portugal. Not only did Jenni grow physically stronger from the hours upon hours of training, but her language skills soared.
She said she can now read Portuguese almost as well as English.
This wasn't Jenni's first trip abroad for dance.
She's been to Canada twice, Austria twice, to China and a day trip to Germany. During her semester in Portugal, she and other dancers also got to travel to Paris and take master classes at the Youth America Grand Prix, the biggest dance competition for youth in the world.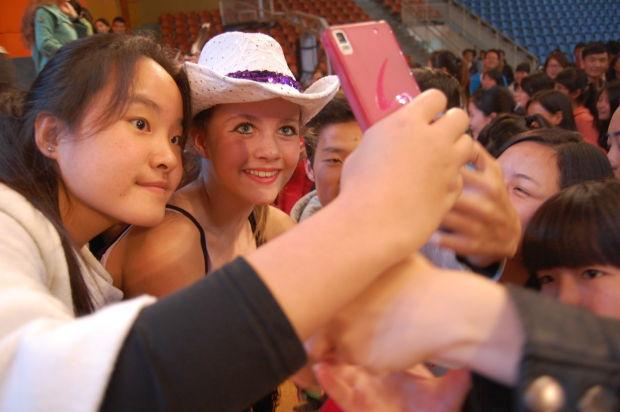 "It went really fast," she said of this fall. "I didn't want to come home."
There are a slew of variations on classical Russian ballet. Jenni studied the Cuban methodology at the school, but she said there was no difficulty in picking it up.
"They're called different things, but it's all ballet," she said. "It's all dance."
While at the academy, she studied ballet, contemporary and character — a folk style of ballet that she had never studied before. 
Injuries are inevitable in dance. Jenni dislocated a knee in flexibility class overseas, though she said it was a freak accident and not related to what they were doing in class.
Hanging out at her home last week, she stretched her feet, working through tendinitis that started in one foot and is now popping up in the other.
She's not concerned, though, and you'll be able to spot her on stage this week as she competes in VIBE USA again.
"It's an inner battle," Jenni said of her future. "Someday I want to be an actress in movies, but I never want to stop dancing."