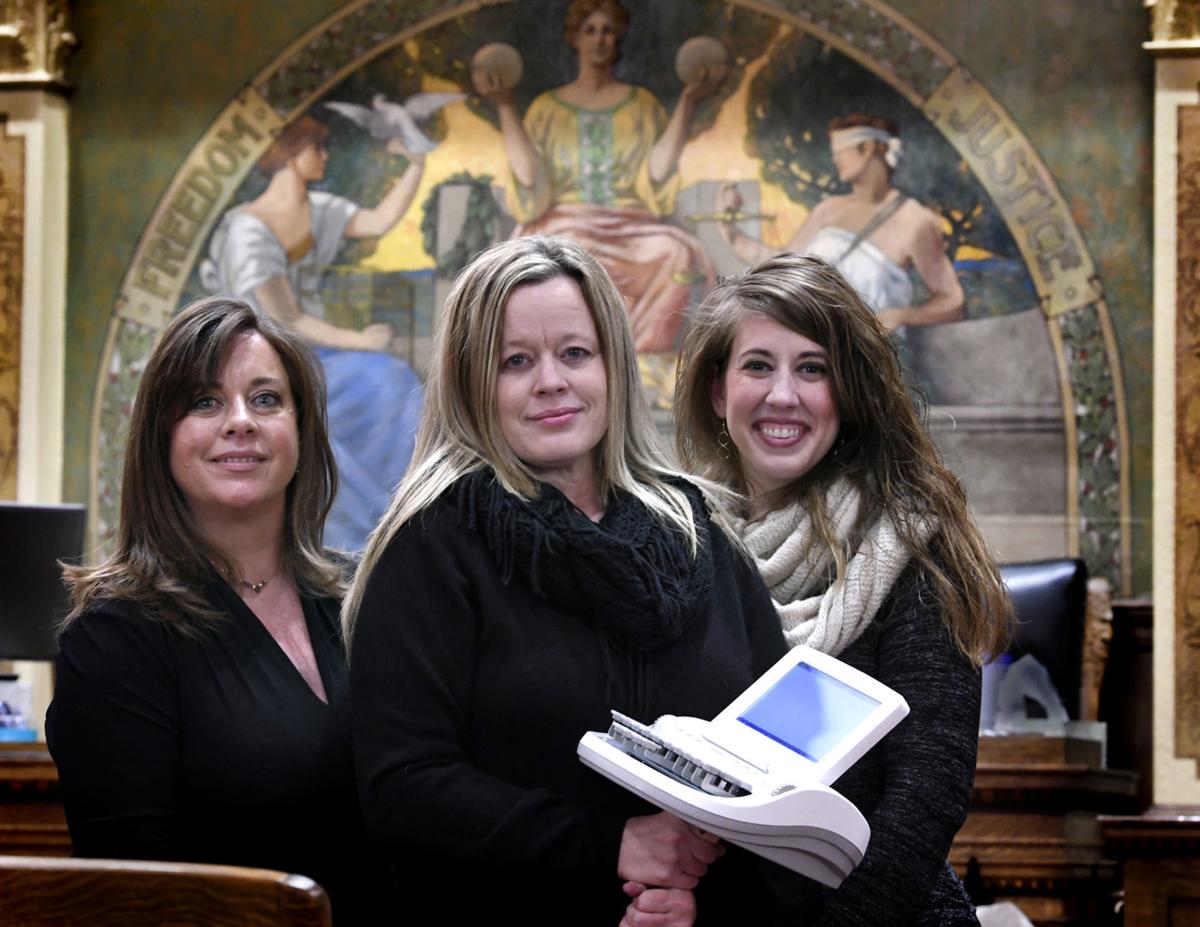 Regularly able to crank out roughly 300 words per minute, the official court reporters at Missoula County District Court make sure every word of every hearing is perfectly preserved.
To graduate from school and be certified, court reporters need to pass a test that includes keeping up a pace of at least 225 words per minute while taking a transcript, with an added accuracy component.
"For tests, including punctuation and everything, you have to pass with 95 percent accuracy," said Stephanie Morrow, Judge Robert "Dusty" Deschamps' court reporter who has been in the role for 15 years.
The tool of the trade for court reporters is the stenotype, which features a specialized keyboard that allows them to do phonetic writing. Morrow emphasizes it's not called typing. Consonant sounds that come at the beginning of words are under the left hand, she said, with vowels under the thumbs and word ending sounds on the right side. The layout allows them to write a complete phrase with a single stroke.
What court reporters key into the stenotype is sent across to a laptop running specialty software that translates their writing from the shorthand back to English. While each stenotype is laid out the same way, court reporters can customize their translation software to fit their specific needs.
"You make your own stuff up or maybe change depending on how you hear things," Morrow said. "It's called a dictionary. We program our own dictionary to read how we write."
For example, while Morrow would write out a commonly used term like "at this time" on a stenotype, Cathy Rebish — who works as Judge Karen Townsend's reporter — simply plugs in "tat" and her dictionary autofills in the term.
Rebish also develops other abbreviations for lengthy cases.
"So when I did Mountain Water, I did 'mour' and that was Mountain Water and it would come up so I didn't have to keep putting it in," she said.
Katie Oman, who has worked for Judge Leslie Halligan for the last 18 months, is the newest of the District Court reporters in Missoula.
"I got pitched the idea from my mother because I typed fast on AOL instant messenger and she thought this would be a great career," she said.
She researched what being a court reporter entailed and found that the skills that make someone good at it, such as being detail-oriented, lined up with her own traits.
"We're a bit of perfectionists as well," she said.
Oman went to Green River Community College in Washington, which offers a specialty program in court reporting, and was able to do most of her schooling remotely while living in Missoula. The Washington program allowed students to specialize in the field, choosing whether to focus on court reporting or captioning skills like those used to provide text for television.
Judge John Larson's court reporter, Cerese Parker, wasn't able to sit down with the Missoulian due to a scheduling conflict.
Sitting through hours and hours of court each week can be difficult, especially during each judge's law and motion day where routine hearings are back to back from morning to the end of the day. Oman said reporters need to take breaks every two hours at the most, but it still can be tiring.
"You have to remember we have the machine here so there's only so many positions we can sit and move around in," she said. "They teach you ergonomics so you don't get carpal tunnel, which is like the death of court reporters."
Morrow said to her, a long court day is often more exhausting mentally than  physically. The work can be even more complicated when a reporter is feeling ill, Rebish added.
"I had such a bad cold during the Jordan Johnson trial" of the former University of Montana Grizzlies quarterback who was acquitted of rape. "I was coughing and I couldn't stop and I had to stick my hand up because they kept talking and say, 'You have to stop for a minute.' And everyone had to wait until I stopped coughing," she said.
Because their job involves getting the record while trying to have the least number of interruptions possible, all three said they typically are able to divorce thinking specifically about what they are hearing, letting the words flow in and through their fingers. It's a skill that's especially useful when what they are covering is upsetting or, alternatively, humorous.
"Sometimes I want to just bust up laughing and then I go, 'Oh, this is not an appropriate time,' and you have to figure out how to turn it off and not think about it," Morrow said.
In addition to their work in court each week, court reporters also work to prepare transcripts for attorneys, parties in a case, or anyone else looking for a record of proceedings. Those who want to order a transcript pay the court reporters directly, as transcripts are considered their work product.
Morrow said she recently had to prepare roughly 400 pages of transcripts in just a few days, providing readouts for the attorneys of every hearing that took place in a case so they could prepare for a trial.
"What you don't see us doing is working on nights and weekends trying to meet deadlines with Supreme Court appeals or attorneys who need the transcript yesterday," Oman said.
A 2014 report commissioned by the National Court Reporters Association (NCRA) found that a combination of decreasing enrollment in court reporting programs and many current stenographers reaching retirement age would result in a 5,500-person shortage in the industry by 2018.
To help recruit new court reporters and captioners, the NCRA — which held National Court Reporting and Captioning Week last week — launched a program called Discover Steno, which partners with stenographers across the country to give people six- to eight-week mini-courses in the job, allowing people to experience the work and decide if it feels right for them.
Rebish said a career in court reporting allowed her to raise two kids, and she appreciates the ability to work from home on transcripts when she doesn't have court. Morrow added that she thinks it's a profession more people should consider because it provides a skill that is needed not just across the country, but around the world.
"I love my job and the attorneys and the judges and the people I get to work with," she said.
Get local news delivered to your inbox!
Subscribe to our Daily Headlines newsletter.