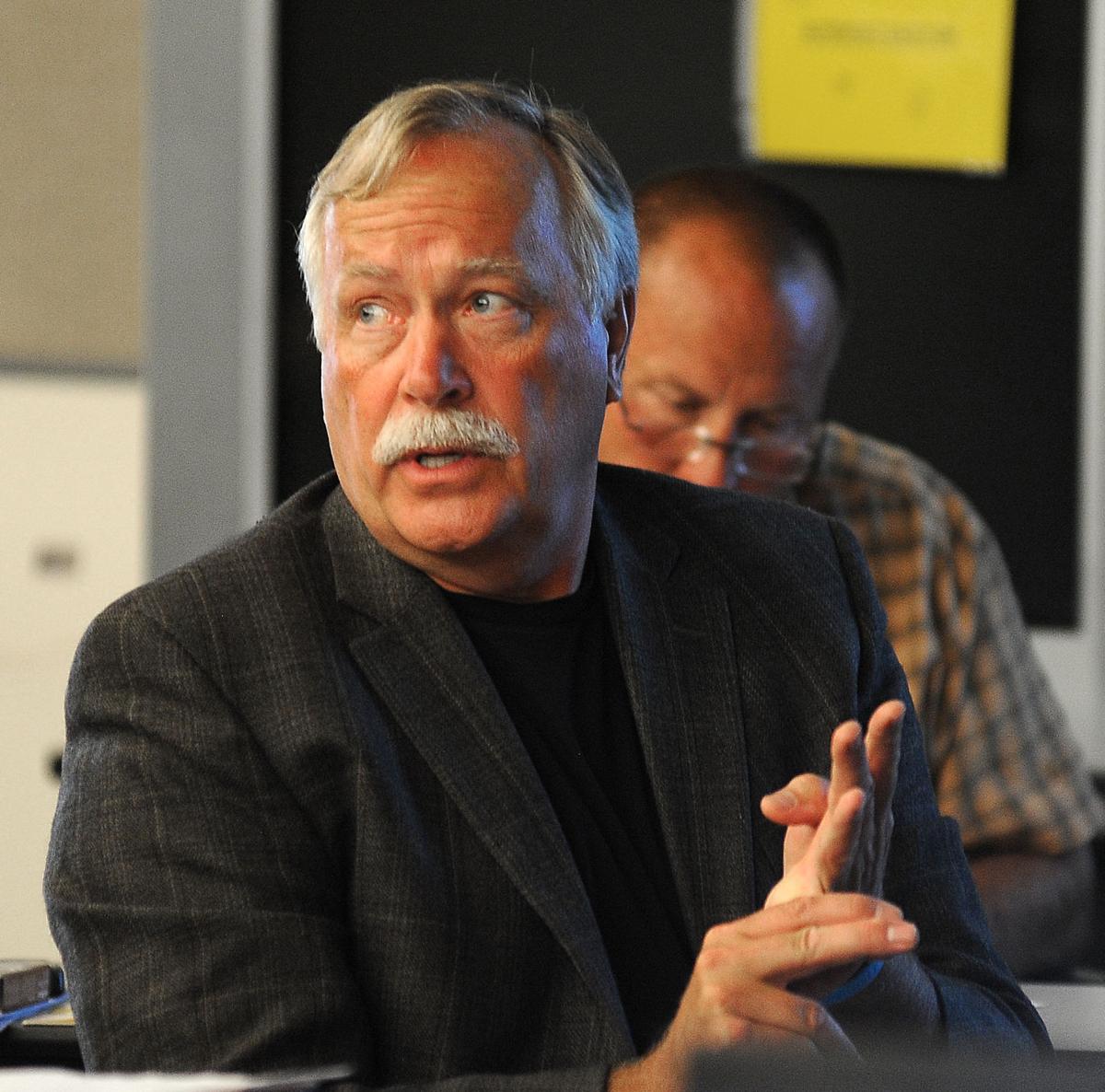 Gov. Steve Bullock did not enforce a mandate that a forensic pathologist with a problematic record refrain from conducting infant autopsies when Bullock was the state's top law enforcement officer.
Bullock served as Montana's attorney general from 2009 through early 2013.
Dr. Thomas Bennett, associate medical examiner, had problems with infant autopsies before he came to Montana, records show.
Over the course of more than a decade, head medical examiner Gary Dale at the State Crime Lab in Missoula repeatedly ordered Bennett, whom he had appointed as an associate in Billings, to refrain from performing autopsies on infants.
Dale resigned his post in April and terminated Bennett's appointment upon his departure.
The subsequent examiner, Walter Kemp, announced his resignation in June; he noted he had been required to reappoint Bennett and would "un-appoint" him when he left.
Earlier, a spokesman for the governor said Bullock agreed with the practice set forth by Dale.
"As attorney general, Steve Bullock agreed with the policy put in place by the state medical examiner, which precluded the state medical examiner's appointee, Dr. Bennett, from working on certain cases involving infants and young children," said spokesman Dave Parker in a statement.
Data provided by the Montana Attorney General's Office show Bennett conducted an estimated 30 infant autopsies requested by coroners in the years Bullock served as attorney general.
The Missoulian requested an interview with the governor; the governor's office requested written questions and provided written responses.
In a statement, the governor's office addressed whether Bullock, as attorney general, enforced the medical examiner's mandate, given Bennett's previous errors on infant autopsies and Bullock's stated support, through his spokesman, for the examiner's prohibition.
"Dr. Dale wrote a directive to Bennett after conferring the title of assistant medical examiner upon him, but there was no policy for DOJ to enforce," according to the governor's office.
In Montana, the attorney general appoints a head medical examiner, who is a state employee. The examiner appoints associates, and Dale had appointed Bennett to conduct autopsies for county coroners in eastern Montana through his private practice in Billings.
Bennett, however, arrived in Montana with a history of errors in his work on babies.
For instance, when the doctor was the medical examiner in Iowa, he declared one child's death a homicide due to violent shaking; the parents were sent to prison in 1997, and exonerated and released in 1998, according to the University of Michigan National Registry of Exonerations.
Numerous authorities in Iowa had called into question Bennett's conclusions that infant deaths were caused by shaken baby syndrome, and the doctor moved to Montana.
In 1998, Dale appointed Bennett to do autopsies for coroners in eastern Montana. However, he told the doctor not to handle infant autopsies.
Records show Dale made his request multiple times over the course of the years and through four different attorneys general. He declined to identify any incident that may have triggered his resignation and simultaneous termination of Bennett's appointment.
"This DOJ administration, and those previous, were aware of the problem and chose not to fund the solution, specifically, a staffed autopsy facility in Billings," Dale said in an email.
Former Attorney General Joe Mazurek is now deceased.
Mike McGrath served as attorney general from 2001 to early 2009, and he is now chief justice of the Montana Supreme Court. McGrath earlier declined to answer questions.
However, he told Bennett to disregard the mandate of the medical examiner, according to a deposition from the doctor.
Records from the attorney general show Bennett continued to perform infant autopsies, doing as many as nine in 2010 and 11 in 2012.
"Besides Dr. Dale and Dr. (Willy) Kemp at the crime lab in Missoula, Dr. Bennett was the only other forensic pathologist in the state," the governor's office said. "Dr. Bennett's work for county coroners in Montana or any other party was done exclusively as a fee for service arrangement through his business – he was not a state employee.
"The county coroners communicated directly with Dr. Bennett to request his services and did not ask the medical examiner for permission to use him, nor were they required to, as they are independently elected officials."
Earlier, the Attorney General's Office noted it had reviewed Bennett's infant autopsies; it declined to share results.
In September 2014, though, the matter erupted at the Attorney General's Office.
The incident, or incidents, that caused the situation to flare are not clear, but just three months later, Dale announced his resignation.
The Missoulian has requested public records from the Montana Attorney General's Office related to the matter, and the request is pending.
Evidence of questionable infant autopsies in Montana may have arisen.
In 2012, Bennett conducted an autopsy on a Billings infant who died that June at the age of 3 months. The infant had a skull fracture, but the medical examiner could not determine an official cause of death, according to a story in the Billings Gazette.
Last April, the mother turned herself in to authorities in California for abusing her daughter, and earlier this year, she pleaded guilty to negligent homicide.
The father has pleaded innocent to negligent homicide, but he was not charged until late September 2014, more than two years after the baby died.
The governor's office said Bullock has full faith in the county attorney's charging decisions. He did not specifically address this case, but he touted his support for children in general.
"Steve Bullock has made the safety of children a top priority, both as attorney general and as governor," read the statement. "As attorney general, he worked closely with elected county attorneys across the state and is confident they properly investigate and make appropriate charging decisions in crimes against children."
A recent guest column in the Missoulian alleges that political alliances protected Bennett. In 2008, Bennett divorced Melodee Hanes, and in 2011, Hanes married former U.S. Sen. Max Baucus, a high-ranking Democrat from Montana.
Baucus, now the U.S. ambassador to China, declined to comment through the press office in the U.S. Embassy in Beijing.
The previous four attorneys general all were Democrats.
Records, though, show Bennett also conducted coroner-requested autopsies on infants during the administration of current Attorney General Tim Fox, a Republican. Fox stepped into office in January 2013.
According to data provided by Fox's director of communications, Bennett conducted nine autopsies on infants in 2013, six in 2014, and one in 2015.
In an earlier interview, Mike Milburn, Fox's chief of staff, said the AG decided to restructure the State Medical Examiner's Office after a lengthy evaluation.
Going forward, the forensic pathologists who do autopsies for coroners will be state employees and report to the head medical examiner, who will have the ability to hire and fire.
The attorney general has appointed Jaime Oeberst of Kansas as the incoming state medical examiner, and she will begin work in August.
Oeberst will hire two deputy medical examiners – one will work with her in Missoula and the other will work in Billings.
John Barnes, communications director for the Attorney General's Office, said staff acted with haste once the situation presented itself as critical.
In his brief note, Dale noted the solution was a staffed autopsy facility in Billings, and Barnes said the attorney general's staff had advocated for legislation that would bring a fully equipped crime lab to Billings.
"We were fighting, arguing, pushing, lobbying for a morgue facility in eastern Montana," Barnes said. "At the time, we knew that's where we needed to go."
The legislation did not succeed in its original form, he said. 
Barnes attributes the paring down, in part, to the lack of time the AG's office had to develop a detailed operations plan for the new facility and present it to lawmakers.
Staff moved as quickly as they could in researching the concerns Dale raised, he said, but they had to be methodical in their approach and also separate the personal from the professional. He said they were still investigating the matter during the 2015 legislative session.
"We were still trying to get a full understanding of the whole situation, the whole issue surrounding Dr. Bennett and forensic pathology services in eastern Montana," Barnes said. "That whole thing was unfolding day by day."
The new structure means Bennett will no longer do any autopsies for coroners in Montana.
The controversy also means that Dale and Kemp, two lauded forensic pathologists, will not provide service to the state either.
A couple of months ago, both earned awards for their outstanding service and commitment to law enforcement in Montana, said Kelly Kemp, Walter Kemp's spouse.
Kelly Kemp attended the awards banquet in Missoula, and she reached out to Attorney General Fox and spoke her mind.
"I want you to know I blame you for this whole mess," Kemp said she told Fox.
He threw up his hands and told her he had inherited the problem, she said.
However, Kemp also said the attorney general failed to communicate with the doctors, even after they stated their intentions to resign; neither had an inkling that fixes were in the works.
She said she is certain the AG could have resolved the problem without losing the invaluable expertise of its medical examiners – or paying the new pathologists nearly 30 percent more.
Kemp is a native Montanan, and she has lived in the state 53 years, in Missoula for 28. She said the AG's office did not try to retain either Dale or her husband, and the Kemps are now living in North Dakota.
"If we're over here, and no grandma in Montana ever has to have him (Bennett) touch their grandchild again, it was worth it," Kemp said.