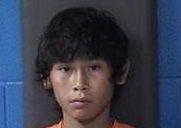 A 13-year-old Missoula teen considered missing for more than one week was found safe, the Montana Department of Justice said Tuesday afternoon.
Earlier in the day, the DOJ announced that Tyrin Lee Killsnight could be in danger, according to a Montana Department of Justice news release.
You have free articles remaining.
"The Missing and Endangered person advisory for Tyrin Killsnight is being canceled. Tyrin has been located and is safe. Missoula Police thanks you for your assistance," the announcement said.
Missoula Police first received the missing persons report on Jan. 16 and it was immediately assigned to an officer, Sgt. Travis Welsh said Tuesday.
"We've been looking for him since then," Welsh said.
Killsnight's name had not yet been uploaded to the Montana Missing Persons Clearinghouse, which lists missing "school-aged children." The roster, last updated on Jan. 13, two days before Killsnight was last seen, lists 21 missing Native Americans and 18 whites.