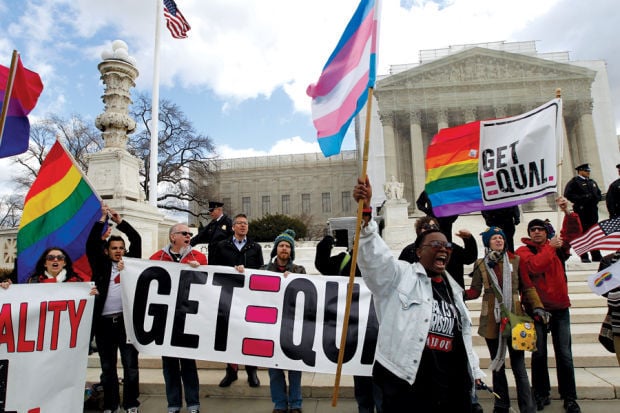 Montana's constitutional definition of marriage as one-man, one-woman is similar to other states where legal decisions have overturned such provisions, but same-sex marriage advocates are following a different strategy for change.
"Clearly the momentum is forcing policy makers and members of the judiciary to reexamine the status quo," said Scott Crichton, executive director of the Montana Chapter of the American Civil Liberties Union. "You've got to take notice when state after state attorneys general won't defend the case. But if the U.S. Supreme Court takes up the marriage case, and they don't rule favorably, what we're doing in Montana becomes very germane."
The past couple weeks have seen a steady march of developments across the nation in support of gay marriage. Arizona Gov. Jan Brewer vetoed a bill last Wednesday that would have let businesses refuse service to gays and lesbians on religious grounds. Federal judges in Texas, Kentucky, Virginia, Oklahoma, Ohio and Utah have ruled that marriage discrimination laws or constitutional amendments violate the U.S. Constitution.
The Montana case, Donaldson v. Guggenheim, could be an alternate legal path if those federal cases stall, Crichton said. That's because it ignores the 2004 amendment that voters passed by a nearly 2-to-1 margin in favor of an older clause.
"We decided to litigate to ensure the rights of same-sex partners as domestic partners," Crichton said. "We didn't mention the constitution in our complaint. We're arguing that committed same-sex couples have the right to equal protection and human dignity that's guaranteed by our constitution, and they should be so recognized in all affairs that relate to state law."
That discrimination shows up in a variety of ways. For example, gay couples can't file joint Montana income tax returns even if their unions are recognized in another state, despite a federal IRS ruling allowing such returns.
However, state Revenue Director Mike Kadas said last October he had no plans to start asking taxpayers to prove their marital status, nor did he have funding to institute such a verification program.
University of Montana law professor Anthony Johnstone said the Montana case could grow in significance as other states work their way through the federal system.
"The U.S. Supreme Court in U.S. v. Windsor struck down the Federal Defense of Marriage Act, but it did so on ambiguous federal constitutional grounds," Johnstone said. "Not even all the justices on the prevailing side agreed what constitutional right they were vindicating. And after Windsor, there have been multiple federal court decisions and none have upheld a ban on same-sex marriage. But they all interpret the Windsor case slightly differently."
Those decisions have fallen in three main boxes, Johnstone said. Some make a 14th Amendment argument for equality, saying there's no rational basis to discriminate based on sexual preference. Others see a fundamental liberty to marry whomever you wish. And a third tack takes a federalist position that the U.S. government has no business telling states how to define marriage with a federal law.
Meanwhile, Montana attitudes appear to have shifted closer to a midpoint from the previous strong support for opposite-sex marriage. The 2013 Montana State University-Billings poll found 75 percent of President Barack Obama's supporters also supported same-sex marriage, while 85 percent of those opposed to Obama also opposed gay marriage.
The poll found 46.6 percent of its respondents supporting same-sex marriage, while 42.6 percent opposed it and 10.8 percent were undecided. Supporters included 76 percent of Democrats and 47 percent of independents. A majority of Republicans, 61 percent, opposed same-sex marriage.
The poll reached 410 Montanans in October, and had a margin of error of plus or minus 5 percent.
R-Columbia Falls, is a supporter of Montana's constitutional marriage definition. He said he hasn't heard of any efforts to change the amendment, but he's considering a move of his own in the 2015 legislative session.
"I'm thinking of carrying a bill for freedom of association," O'Neil said. "Say I've got a gay friend and he's a landlord. He ought to be able to reserve his property to rent to another gay person, or a Lutheran or whatever. We have a right to freedom of association under the First Amendment. I think that ought to be put in the constitution or statute."
Legislators in Georgia, Idaho, Mississippi, Missouri, Ohio and South Dakota all have proposed similar bills to the one that passed the Arizona Legislature, and Oregon activists are proposing a "Protect Religious Freedoms Initiative" on the statewide ballot. Other recent legislative efforts have been withdrawn from consideration, including the measures in Colorado, Kansas, Maine, Tennessee and Utah.
The Episcopal Diocese of Montana's 2012 general convention decided to allow congregations to institute same-sex partnership blessings, and Missoula's Holy Spirit Episcopal Church is one of the first to offer it. But the Rev. Terry Ann Grotzinger said the move was not a new form of marriage and had no connection to outside events.
"There was no associated intent to link to anything else," Grotzinger said. "For us, it was a question of who are we as a people, and is this something we believe. We're an open and inclusive community, that's what we've always been. If they want a blessing, they come talk to me, just like any other committed relationship. There's preparation involved and things that have to be done."
At the UM School of Law, Johnstone said changes in other state legislatures or federal courts won't necessarily trigger a similar change in Montana's legal framework. But if federal appeals courts or the Supreme Court rule same-sex marriage bans violate the U.S. Constitution, that could make the Montana constitutional amendment moot.
"What it means is it's unenforceable," Johnstone said of that outcome. "If you tried to go into court and enforce any law, the other side would have a clear defense."