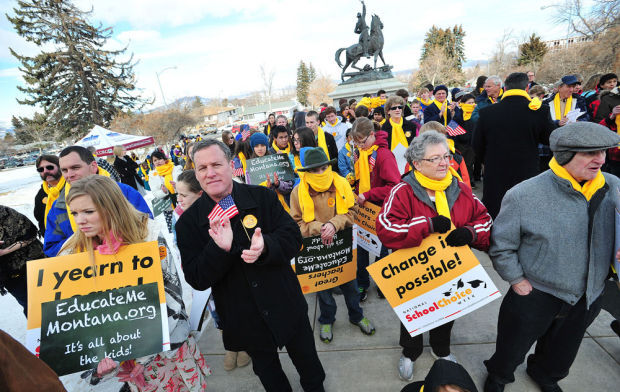 HELENA – House Republicans on Monday endorsed a trio of "school choice" bills, including ones that authorize charter schools in Montana and create state income tax credits for families sending their kids to private schools.
"Not all kids are educated well in the public school system," said Rep. Christy Clark, R-Choteau, arguing for the tax credit bill. "This is a modest bill … that gives kids options."
The three bills gained debate stage approval on mostly party-line votes, with Republicans in favor; not a single Democrat in the House voted for any of the measures.
"If you want to have access to private schools, that's fine," said Rep. Franke Wilmer, D-Bozeman. "Just don't ask for taxpayer money to fund them."
Bills advancing school choice, which usually means using public money or tax credits to help finance charter schools or private schools, have become one of the clearly partisan issues at the 2013 Legislature.
Republicans argue that not all children flourish in public schools, and the state should help parents who want other education options for their children in kindergarten through 12th grade.
Democrats say Montana's public schools already are performing well, and that the push for school choice is a nationally driven agenda that will benefit a small minority of families and drain away money available to fund public schools.
The three bills endorsed Monday face a final vote in the House on Tuesday, after which they'll advance to the state Senate, which also is controlled by Republicans. Two other school choice bills were heard in a House committee Monday afternoon and a sixth bill awaits action by the full Senate.
The measures endorsed Monday are:
• House Bill 213, which offers state income tax credits worth up to $550 per student attending a nonpublic school. The tax credit can be taken by anyone who pays the child's tuition for private school.
Rep. Steve Fitzpatrick, R-Great Falls, is sponsoring the bill, which is estimated to cost the state treasury $6 million the next two years. The House endorsed the measure Monday 59-41, with two Republicans voting no.
• HB315, allows creation of public charter schools, although they could be run by a private entity. It won endorsement on a 56-44 vote, with five Republicans opposed. Rep. Austin Knudsen, R-Culbertson, is the sponsor.
• HB288, sponsored by Rep. Nicholas Schwaderer, R-Superior, would set up "special education savings accounts" that can use public school funds to pay for a special-needs student to attend an alternative, private education program. It passed 61-39 on a strictly party-line vote.
The charter school bill garnered the most debate Monday, as Democrats blasted the measure as a "slap in the face" to taxpayers, teachers and rural Montanans, because it allows creation of schools that are exempt from most education regulations and that are unlikely to serve rural areas.
Rep. Casey Schreiner, D-Great Falls, said while public money from all across the state would support the schools, they're likely to be in urban areas, where they can attract the most students.
Rep. Kris Hansen, R-Havre, said it's true the schools would be exempt from "excessive state regulations," but that the schools will be public and that she expects most of the teachers to be certified professionals.
Knudsen, the bill's sponsor, also admitted the bill was written by the Washington, D.C.-based National Alliance for Public Charter Schools, but that shouldn't matter.
"I don't care who wrote this bill," he said. "It could come from the Democratic National Committee, for all I care. It's meant to help our Montana students. It's meant to give our parents choice. It's the right thing to do."
Missoulian State Bureau reporter Mike Dennison can be reached at 1-800-525-4920 or at mike.dennison@lee.net.