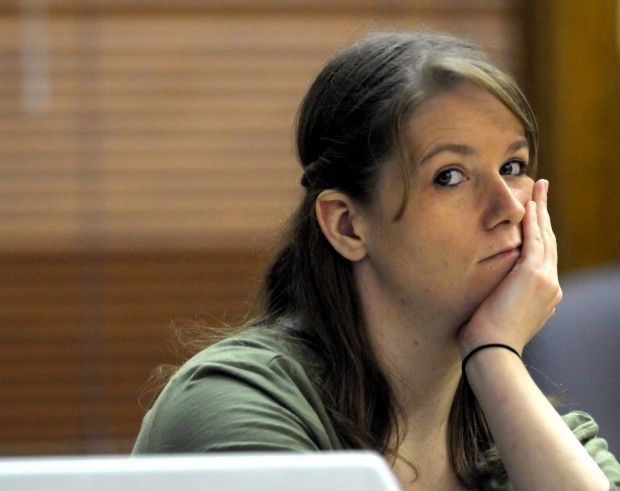 It's been a busy year for the Montana Innocence Project.
Richard Raugust, who faced life in prison for the 1997 murder of a Trout Creek man, was released late last year through work by the nonprofit, which focuses on exonerating prisoners they believe are innocent. Rather than retry him, the Sanders County Attorney's Office dismissed the case last month, making Raugust a free man.
Last fall, the cases of Robert Wilkes, convicted of shaking his 3-month-old child to death, and Cody Marble, convicted in the 2002 rape of a boy in juvenile detention, were sent back to district court by the Montana Supreme Court for further review.
And the Innocence Project played a supporting role in the homicide case of Barry Beach, who was granted clemency by Governor Steve Bullock last November.
Now, the Innocence Project is readying for its next court fight: getting a new trial for Katie Irene Garding, the Stevensville woman sentenced to 40 years in prison after being convicted of the New Year's Day 2008 vehicular homicide of Bronson Parsons in East Missoula.
In September 2015, the Montana Innocence Project filed a petition seeking to overturn that conviction and obtain a new trial for Garding, saying prosecutors lacked enough evidence to tie her to Parsons' death. Several court filings later, the next step is likely to be a hearing in front of a judge.
The Montana Innocence Project believes Garding's 2011 trial and conviction lacked enough evidence to tie her vehicle to Parsons' death.
Parsons, 25, had been walking along Montana Highway 200 with his roommate when a vehicle swerved to the side of the road, killing him. Both Garding and her ex-boyfriend James Bordeaux had been drinking that day, and were on the road that night, but since the incident she has denied hitting anything.
Almost a year after the incident, a Missoula County jail inmate said Garding had gone to his house the day Parsons was killed to have him repair a broken fog lamp on her car, saying she hit a deer.
No charges were filed in the case until Bordeaux, who was also in custody at the Missoula County jail, said Garding had hit something that night. In exchange for testimony at her trial, Bordeaux was given a plea agreement for a five-year suspended sentence on his burglary charge, according to the Innocence Project's court filings.
The Montana Innocence Project has put forth newly developed crash reconstructions and expert testimony as evidence it believes the court needs to consider in deciding whether to overturn Garding's conviction. It contends the evidence shows in part that her SUV should have sustained more damage from such an impact, and that Parsons' injuries would more likely have been caused by another vehicle.
The petition also argues prosecutors violated a court order to provide all evidence to the defense, and that Garding received ineffective counsel from her public defense attorney, Jennifer Streano, who did not conduct a crash reconstruction to refute the prosecution's narrative.
In June, Deputy County Attorney Jennifer Clark wrote the response brief for the state, disputing the Montana Innocence Project's three primary claims.
Clark said the prosecution did not attempt to hide evidence in the case – specifically the X-rays done on Parsons' body – adding that those X-rays were in the possession of the Montana State Crime Lab, which her office doesn't control. The X-rays, she said, were also referenced in the reports by expert witnesses, and Garding's defense would have known about them and could have asked for them if necessary.
Larry Mansch of the Montana Innocence Project, in a reply brief issued in September, disagreed, saying the crime lab falls under the control of the Montana Department of Justice and should have fully complied with a court order to produce evidence in the case. Mansch and his agency believe their expert witness would have reached different conclusions and offered different testimony had he seen the X-rays.
Clark also denied a claim that Streano's defense was deficient.
"Even instances where counsel could have done a 'better' or 'more thorough' job do not rise to the level of ineffective assistance," she wrote in her response. "A mistake or omission in strategy does not rise to such a level because counsel are not expected to be flawless tacticians."
The deputy county attorney highlighted what she views as a conflict between the claims made by the Innocence Project that the defense attorney was ineffective for not getting reconstruction experts, and a claim that the reconstruction the agency has done is now new evidence, rather than just a new analysis.
"If the Court finds that a new expert looking at the same evidence in another way constitutes newly discovered evidence, the finality of convictions will never be obtained," Clark wrote.
Both sides have asked for a hearing so a Missoula County District Court judge can make a ruling on whether Garding deserves a new trial. No date for such a hearing has been set.