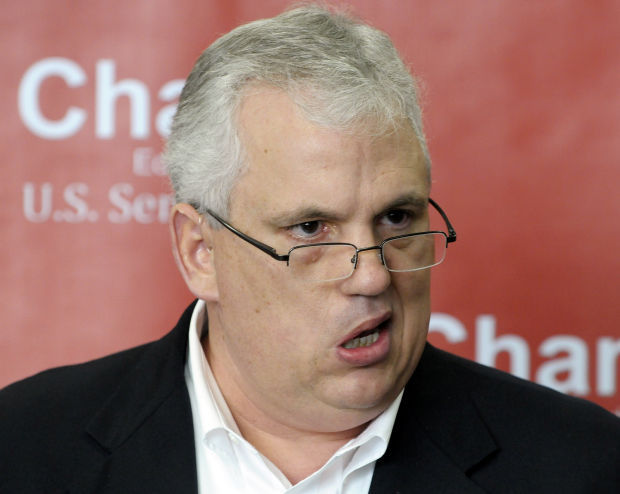 HELENA – Noisemakers went off at 5 p.m. Monday in Secretary of State Linda McCulloch's office to mark the deadline for candidates to file for office this year.
It was a busy day as more than 63 candidates filed Monday for the Montana Legislature and seven filed for statewide or district offices. In all, 376 candidates filed to seek office this year, including some who later withdrew.
It was also a festive day at McCulloch's office, despite the rush of all of last-day filings. In keeping with office tradition, McCulloch provided visitors with cookies shaped like American flags and stars, decorated with red, white and blue icing.
Three new candidates filed Monday for the U.S. Senate. They are state Rep. Champ Edmunds and Susan Cundiff, both Missoula Republicans, and Roger Roots of Livingston, a Libertarian.
Mike Fellows of Missoula joined the U.S. House race as a Libertarian.
Lawrence VanDyke, state solicitor general under Attorney General Tim Fox, jumped into the race for the Montana Supreme Court. He's running against Justice Mike Wheat.
McCulloch, the state's chief election administrator, said she was pleased by the total filings this year and by how smoothly the filings went, with a record 69 percent of the candidates filing electronically this year.
"Candidates and voters are plugged in and ready for another exciting election," McCulloch said.
She said the filings this year kept pace with the usual numbers for off-year elections.
Three Democrats, three Republicans and one Libertarian are now running for the U.S. Senate. On the Democratic side, Sen. John Walsh, appointed by Gov. Steve Bullock in February to succeed Sen. Max Baucus, faces two Democratic challengers, Dirk Adams, a rancher from Wilsall, and former Lt. Gov. John Bohlinger of Helena.
On the Republican side, U.S. Rep. Steve Daines, who is running for the Senate, has two primary opponents in Cundiff and Edmunds.
Edmunds, who has worked in banking, announced last year he was considering running for the Senate, but waited until the final day to file. He took some shots at Daines in his statement.
"In his first year in office, the party's candidate has voted repeatedly to increase spending, has gone along with the violation of our privacy rights and approved the implementation of Obamacare," said Edmunds, a Navy veteran who has served two terms in the state House.
Cundiff couldn't be reached for comment, but her website said she has served in the National Guard and is raising three children as a single mother. She is a University of Montana graduate who works for the UM School of Business Administration and also is involved in retail clothing sales and as an independent consultant for a cosmetics company.
"In my life, I have been fortunate enough to have endured hardships and trying times as well as times of prosperity and joy which have made me wiser, savvy and more compassionate," Cundiff said. "These qualities and experiences drive me to work hard and challenge expectations every day."
Roots, who could not be reached for comment, ran as a Libertarian candidate for secretary of state in 2012, placing third in the three-way race. His website said he has both juris doctor and doctorate degrees and is a criminologist, legal scholar and civil liberties activist.
He is an advocate for the fully informed jury movement. Under that theory, a jury can acquit a criminal defendant if jurors disagree with the law or believe it shouldn't be applied in that particular case.
Fellows' candidacy brings to eight the number of candidates running for the open House seat, which Daines is leaving to run for the Senate.
On the Republican side, the candidates are state Sen. Elsie Arntzen of Billings, state Sen. Matt Rosendale of Glendive, former state Sen. Corey Stapleton of Billings, Drew Turiano of Helena and former state Sen. Ryan Zinke of Whitefish.
Democrats running are former Public Service Commissioner John Driscoll and John Lewis, both of Helena.
Fellows, frequently a Libertarian Party standard-bearer, said, "We're not as large as Democrats or Republicans, but we still want to get our views out. I do get this rap about being a perennial candidate, but I do care about how this country is run. We are going downhill, basically. We need good people to step up."
Fellows, 55, is self-employed in the computer business.
VanDyke's candidacy for the Montana Supreme Court ensures there will be contested races for both sitting justices' seats.
VanDyke, who graduated from Harvard law school with high honors, now appears before the Supreme Court on the state's behalf as solicitor general.
"Constitutional law has always been a passion of mine," he said. "I've argued cases before several states' Supreme Courts, numerous federal appellate courts and appeared many times before the U.S. Supreme Court. I would like to bring that history to the Montana high court."
He will challenge Wheat, a former Democratic state senator from Bozeman who was appointed as a Supreme Court justice by then-Gov. Brian Schweitzer and took office in 2010.
In the other court Supreme Court seat, W. David Herbert of Billings filed last week to challenge Justice Jim Rice, a former Republican state representative from Helena. Rice was appointed to the court by then-Gov. Judy Martz in 2001.
Chuck Johnson is chief of the Lee Newspapers State Bureau in Helena. He can be reached by email at chuck.johnson@lee.net or by phone at (406) 447-4066 or (800) 525-4920.