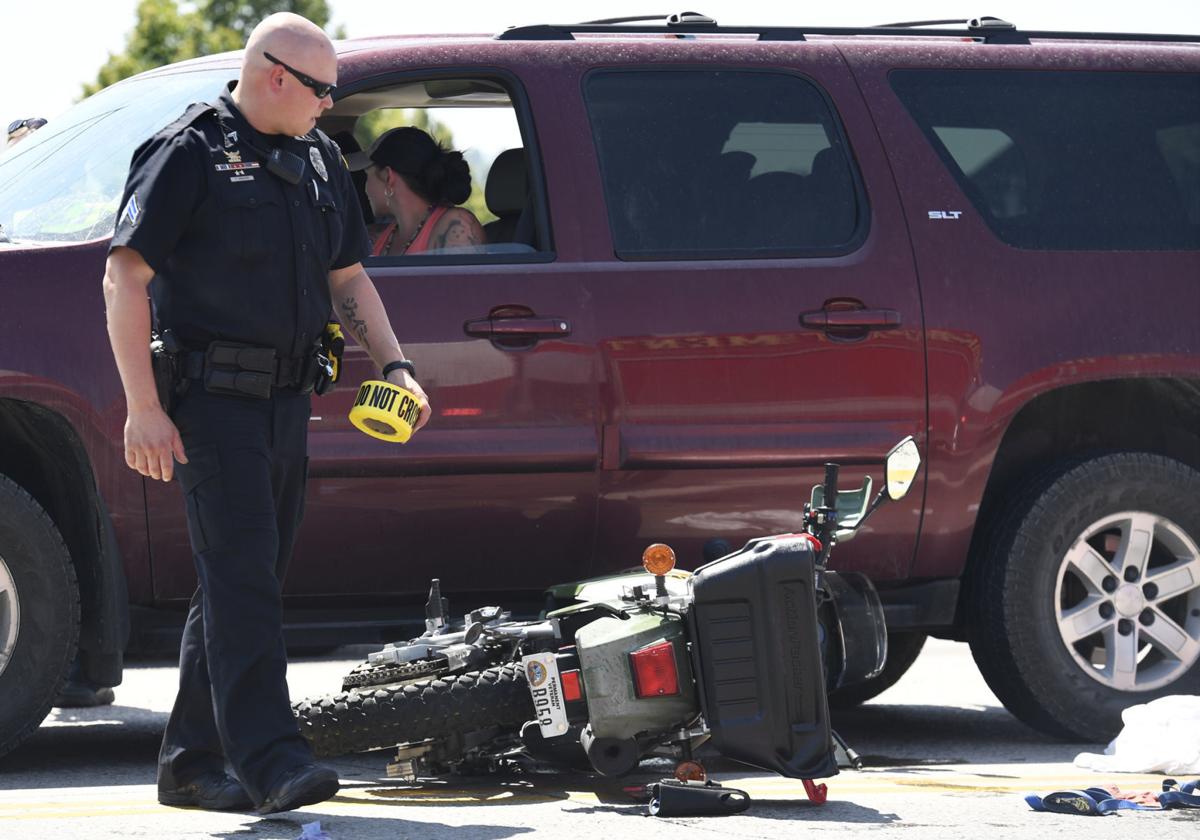 A study that calls Montana the least deadly state for motorcyclists suggests an even more startling nugget:
In a cold-weather state with barely 1 million people, there are more than 300,000 registered motorcycles.
That's one for every 3.4 Montanans, and here's hoping that .4 person has a minibike.
For sure, the ratio's skewed because many bike owners have more than one. But only eight states have more bikes, and they're the seven most populous ones along with Wisconsin, No. 20. Montana ranks 43rd in population.
"Isn't that nuts?" said Maj. Steve Lavin of the Montana Highway Patrol in Helena. "That really shocked me. I never heard that before. I can't figure out why Montanans own so many motorcycles."
No doubt his wonderment is shared by even those who ride, sell and share the road with hogs, choppers and crotch rockets. But Mike Schroeder said maybe it shouldn't be so surprising.
The general manager of Grizzly Harley-Davidson in Missoula said he wouldn't have guessed there were that many, either.
"But it kind of figures. Because we have such a short season of summer activity, everybody wants to take advantage of it, and there's not a better way to do it than on a motorcycle," Schroeder said. "We've got such good riding. It's part of the reason I moved here."
Seattle-based Quote Wizard, an insurance comparison website, released the study earlier this month. It ranks all 50 states in terms of fatalities and registered motorcycles based on 2017 numbers from the National Highway Traffic Safety Administration and the Federal Highway Administration.
Mississippi wore the tarnished crown as the most dangerous with 14.22 fatalities per 10,000 registered motorcycles that year. Texas (13.44), South Carolina (12.27) and Florida (10.06) were all in double figures. Montana was way last at just .75 with 23 motorcycle fatalities compared to 306,655 registered cycles.
South Dakota was next least dangerous at 1.36, followed by Alaska (1.88) and New Hampshire (1.90).
Highway Patrol and the Montana Department of Transportation will tell you 23 motorcycle deaths, or almost two a month, are still too many. They share in the Vision Zero initiative with a stated goal of eliminating all highway fatalities.
Montana's unofficial 2018 numbers indicated 20 people died in motorcycle-related crashes last year. Through May 20 this year, two people lost their lives on state roads where motorcycles were involved. That's the same number as last year going into Memorial Day weekend, and down from four in 2017.
"Riding a motorcycle no matter where you are is dangerous," Quote Wizard noted when it released its report. "The open exposure compared to the confines of a vehicle presents a greater risk of bodily harm. Safety features are better than ever but injuries and death are an ever-present risk."
"The big takeaway we saw on both sides of the ranking list was the southern, warmer states came out on top in terms of having the highest rate of motorcycle fatalities, whereas the colder weather states had the lowest," said Adam Johnson of Quote Wizard, who compiled the study. "It's what we figured it would be. The less time folks are outside on motorcycles, the less danger they're in of having a fatal accident."
That explains the general pecking order, but it doesn't clarify why little old Montana, among all the northern tier states and Alaska, ranks so much better than any of them.
"Both statistics really surprised me, but as I dug into it a little bit I guess I was surprised a little less," Lavin said.
Yes, he agreed, fewer months of good riding weather plays into the low fatality rate for motorcycles.
"The only other reason I could think of is we're in less urbanized areas, so you don't have as many vehicles in congested traffic where motorcycle fatalities are probably happening in states with bigger urban centers," Lavin said.
"It's wide-open roads," Schroeder agreed. "The only thing you've got to worry about here are critters."
Rentals at Grizzly Harley-Davidson are picking up as summer approaches and get "basically out of control" from June through August, Schroeder said. Local riders are active well into October, and it's no wonder.
"Montana's got probably the most scenic, wide-open roads where you're not so worried about traffic no matter which direction you go," Schroeder said. "Especially on the west side it's just fantastic. We have a huge rental business. People come from all over the world, really, to ride here."
Of course, those rental bikes are registered, so they're counted among Montana's 306,000. Not all states consider three-wheelers to be motorcycles. Montana state law defines motorcycles as motor vehicles that have seats or saddles and not more than three wheels. They include side-by-sides but not tractors, mopeds or two- or three-wheeled all-terrain vehicles used exclusively on private property.
Schroeder speculated on one thing that might bump Montana's motorcycle numbers up: All the cycles and dirt bikes that were registered years ago but sit collecting dust in barns and garages.
Johnson said Quote Wizard produces such studies to give insurance companies fodder when they're setting rates.
Lavin, the Highway Patrol major, has never had a motorcycle.
"I guess I'm still in the majority," he quipped.
But the Quote Wizard study has his attention.
"It kind of intrigues me. I think I'll continue to dig as well," said Lavin.
"But it's good news for a change," he added. "Usually we're hearing about leading the nation in DUIs and DUI deaths, so it sounds like an encouraging report." 
| Rank (worst) | State | Registered Motorcycles | Fatalities | Fatalities per 10,000 Registered Motorcycles |
| --- | --- | --- | --- | --- |
| 1 | Mississippi | 28,124 | 40 | 14.22 |
| 2 | Texas | 364,690 | 490 | 13.44 |
| 3 | South Carolina | 118,132 | 145 | 12.27 |
| 4 | Florida | 586,267 | 590 | 10.06 |
| 5 | Arizona | 164,055 | 163 | 9.94 |
| 6 | North Carolina | 188,843 | 176 | 9.32 |
| 7 | New Mexico | 57,718 | 53 | 9.18 |
| 8 | Kentucky | 101,163 | 90 | 8.90 |
| 9 | Missouri | 138,294 | 121 | 8.75 |
| 10 | Louisiana | 113,664 | 96 | 8.45 |
| 11 | Tennessee | 165,968 | 134 | 8.07 |
| 12 | Maryland | 118,277 | 86 | 7.27 |
| 13 | Arkansas | 89,457 | 65 | 7.27 |
| 14 | Nevada | 76,032 | 54 | 7.10 |
| 15 | Alabama | 112,185 | 79 | 7.04 |
| 16 | Hawaii | 35,576 | 25 | 7.03 |
| 17 | Oklahoma | 136,190 | 93 | 6.83 |
| 18 | Georgia | 203,922 | 139 | 6.82 |
| 19 | Connecticut | 90,131 | 57 | 6.32 |
| 20 | California | 842,543 | 529 | 6.28 |
| 21 | Virginia | 193,951 | 117 | 6.03 |
| 22 | Indiana | 250,579 | 149 | 5.95 |
| 23 | Wyoming | 28,960 | 17 | 5.87 |
| 24 | Kansas | 95,892 | 56 | 5.84 |
| 25 | Michigan | 258,487 | 150 | 5.80 |
| 26 | New Jersey | 152,979 | 83 | 5.43 |
| 27 | Colorado | 190,002 | 103 | 5.42 |
| 28 | Maine | 51,467 | 26 | 5.05 |
| 29 | Pennsylvania | 377,158 | 187 | 4.96 |
| 30 | Illinois | 333,943 | 162 | 4.85 |
| 31 | Nebraska | 55,736 | 27 | 4.84 |
| 32 | Utah | 83,993 | 39 | 4.64 |
| 33 | West Virginia | 60,582 | 26 | 4.29 |
| 34 | Vermont | 30,955 | 13 | 4.20 |
| 35 | Oregon | 142,738 | 57 | 3.99 |
| 36 | Idaho | 63,297 | 25 | 3.95 |
| 37 | Ohio | 410,187 | 157 | 3.83 |
| 38 | New York | 392,178 | 145 | 3.70 |
| 39 | Delaware | 27,810 | 10 | 3.60 |
| 40 | Rhode Island | 30,914 | 11 | 3.56 |
| 41 | Washington | 231,401 | 80 | 3.46 |
| 42 | Massachusets | 168,931 | 51 | 3.02 |
| 43 | Iowa | 194,603 | 48 | 2.47 |
| 44 | Wisconsin | 324,670 | 77 | 2.37 |
| 45 | North Dakota | 51,941 | 12 | 2.31 |
| 46 | Minnesota | 241,556 | 55 | 2.28 |
| 47 | New Hampshire | 78,798 | 15 | 1.90 |
| 48 | Alaska | 31,859 | 6 | 1.88 |
| 49 | South Dakota | 117,461 | 16 | 1.36 |
| 50 | Montana | 306,655 | 23 | .75 |